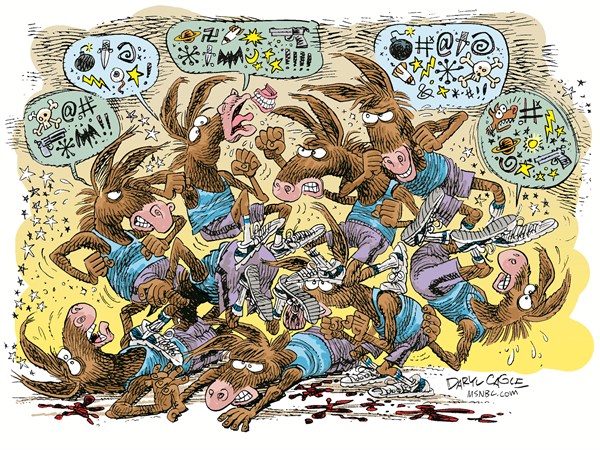 Democrats cheered Tuesday's primary elections across Texas, where more than 1 million of the party's voters cast ballots - the biggest number in more than a decade. And a new class of rising stars emerged, among them Rep. Beto O'Rourke, now the Democratic nominee for the U.S. Senate challenging Republican Sen. Ted Cruz.
But the results also foreshadowed the unresolved identity crisis facing Democrats nationally as the primary season kicked off, leaving that coveted blue wave a real but still distant possibility.
One bitter U.S. House primary that drew the heavy-handed involvement of the Democratic Congressional Campaign Committee headed to a runoff with standard-bearers for the party's establishment and liberal wings suspicious of each other and feuding over how best to take on President Donald Trump. In another House primary, the liberal message of little-known former math teacher Mary Wilson carried her into a runoff with a higher profile, better-funded candidate.
These squabbles, while at times seemingly parochial, could have sweeping implications for the future of Congress and the political soul of the party as it barrels toward November and then the 2020 presidential election.
At issue are vexing questions of ideology and style, forcing Democrats to decide whether to embrace or reject the outsiders who are driving the party hard to the left on issues such as universal health coverage and free college tuition.
Reactions among top Democrats to the tussles on Tuesday and to what may lie ahead range from roaring encouragement to unease. While there is widespread optimism about the record number of Democrats running, there are concerns that the infighting could end up distracting from the goal of hobbling Trump.
Sen. Bernie Sanders, I-Vt. - whose supporters are a force in many races and still fuming over his defeat in the 2016 Democratic presidential nominating contest - welcomed vigorous primary debates as a means of turning out an enthusiastic coalition of the party's voters this fall.
"It's very clear that the momentum is in strong opposition to the Trump and [House Speaker] Paul Ryan agenda," Sanders said in an interview. "At the grass-roots level, you're seeing young people and working people getting involved."
Democrats in red states that were won by Trump two years ago are far more muted about that call by liberal voices for the party to tack further left this year. Sen. Joe Manchin, D-W.Va., is one of them.
"I'm worried about this: Can we all unite together?" Manchin said.
That question remains unanswered in Texas' wealthy 7th Congressional District, where seven Houston-area Democrats squared off Tuesday and the two top finishers- corporate attorney Lizzie Pannill Fletcher and liberal activist and writer Laura Moser - will compete in a May 22 runoff.
From the start, Fletcher was the type of contender whom national Democrats have been seeking out in districts they need to win to take back the House. She is an able fundraiser, supported by abortion rights groups including Emily's List, and has a business background that could appeal to swing voters. Yet Moser, who is well-known in the Trump resistance movement and was endorsed by Our Revolution, an advocacy group founded by Sanders, plowed forward regardless.
Then the DCCC sprang into action as Moser ascended, issuing an unusual memo that cast her as out of touch with Texas and too liberal to beat Rep. John Culberson, R-Texas, this fall. Instead of crippling Moser's bid, the DCCC intervention gave her more attention and enraged her supporters.
"Being in the national spotlight was unexpected," Moser said in an interview. "I'm running a local race, and when something like this goes national, it has its challenges." She said her approach to politics - "plain-spoken and forthright" and linked to the women's movement and anti-Trump organizing - is reflective of scores of Democratic primary campaigns this year.
Wilson, the former math teacher and political neophyte in Central Texas's 21st Congressional District, raised only $40,000 last year but won more votes on Tuesday than Army veteran Joseph Kopser, who raised about $700,000 and was endorsed by prominent local Democrats and newspapers.
Former congressman Steve Israel of New York, who chaired the House Democratic campaign arm, said the Texas episode should be a learning experience for the party.
"If you do put a thumb on the scale, you want to do it artfully," Israel said. "Bottom line, you want to win. If we want to have a check and balance on President Trump, we just have to win in purple districts."
The unbridled energy among Democratic voters was also evident late last month when Sen. Dianne Feinstein, D-Calif., was denied the endorsement of her state party. More than 54 percent of convention delegates backed a Feinstein challenger, state Senate leader Kevin de León, who has Our Revolution's support and has championed a proposal that would expand Medicare to the entire U.S. population, putting him at odds with Feinstein, who has been wary of the cost of such a change. Despite the snub, Feinstein is pressing ahead.
Illinois has the next round of primary elections, on March 20, followed by Indiana, North Carolina, West Virginia and Ohio on May 8. Pennsylvania, Georgia and others will vote later that month.
Republicans, meanwhile, have cringed as primary insurrections they would rather have avoided keep popping up across the map with varying degrees of success, all as the party navigates the frenzy around Trump.
"There is a populist mood in both parties, and it hasn't abated," said David Axelrod, a onetime adviser to President Barack Obama.
The GOP is trying to figure out just how far Trump's overhaul of traditional Republicanism should go as the party aims to protect its 24-seat majority in the House and two-seat majority in the Senate. The defensive mood of Republican voters as Trump deals with a string of political controversies in Washington, plus a spate of GOP retirements, has left many lawmakers on edge. In several crowded Texas primaries Tuesday, most Republican candidates competed over who was closer to Trump in spirit and on the issues.
In Illinois, primaries on both sides are riven by tensions over wealth and the insider-outsider dynamic, underscoring how the lines are being drawn this year on those fronts as well as on ideology.
Gov. Bruce Rauner, R-Ill., a moderate, has been busy fending off firebrand state Rep. Jeanne Ives, R. Democratic gubernatorial candidate J.B. Pritzker, a billionaire who is friendly with the Clinton family, has spent millions in his primary race against state Sen. Daniel Biss - a 40-year-old math professor who has attracted strong support from liberal activists - and Democratic businessman Christopher Kennedy, the son of Robert F. Kennedy.
"Republicans and independents and even some Democrats want an outsider," Ives said in an interview. "This is going to be a change election in Illinois, since we missed the tea party movement." Ives added that she would "be much more aligned" with Trump, although her campaign has struggled following her use of television ads that have been called homophobic and racist for how they portray transgender people and immigrants.
Down ballot, Rep. Daniel Lipinski, D-Ill., one of the last House Democrats opposed to abortion rights, has watched as his challenger, Marie Newman, has become a cause for the left nationally. Speaking Sunday on WGN radio, Lipinski railed against "those who want to have a tea party of the left."
Problems for the GOP elsewhere echo the issues that have gripped the party dating to the 2010 election cycle when "the Republicans released the tiger" in primary races and saw some incumbents toppled, said Democratic strategist Robert Shrum.
The recently announced Senate primary campaign by Mississippi state Sen. Chris McDaniel, R, against Sen. Roger Wicker, R, is problematic. Wicker, who has been a loyal supporter of Trump's agenda, has the president's support, but his polished demeanor and ties to Senate Majority Leader Mitch McConnell, R-Ky., has made some GOP consultants nervous.
McDaniel came close to beating Sen. Thad Cochran, R-Miss., in a brutal 2014 primary race that defined that year's GOP civil war. He said Monday, after learning of Cochran's decision to resign April 1, that he is "focused on my campaign against Roger Wicker, but all options remain on the table."
Trump's alliance with incumbent Republican senators who have backed him and his policies - in Mississippi and in Alabama's special election for U.S. Senate last year - complicates McDaniel's chances of stoking voters' wrath about Washington in general and becoming a right-wing sensation. So does the ouster of former White House chief strategist Steve Bannon from Trump's circle. Months ago, Bannon had grand ambitions to mount an assault against Republican incumbents and boost outsiders, but incendiary comments in journalist Michael Wolff's book "Fire and Fury: Inside the Trump White House" led to his fall and the fizzling of his primary efforts.
"Republicans know that if a candidate is on a seek-and-destroy primary mission like Bannon was promoting, the end result is you elect a Democrat and get destroyed," said Josh Holmes, an adviser to McConnell.
Nevada Republican businessman Danny Tarkanian, running against Sen. Dean Heller, R, has seen his campaign fade as the president's clashes with Heller over policy have subsided. Arizona has also seen its Trump-style candidates looking at uncertain paths in the race for the seat held by retiring Sen. Jeff Flake, R. Early polls in Arizona's Aug. 28 Senate primary show the establishment-backed front-runner, Rep. Martha McSally, ahead of state Sen. Kelli Ward, who has sought Trump's support, and former Maricopa County sheriff Joe Arpaio.
"I do wonder about where the party will end up," Flake said in an interview. "The goal has to be to win the general."
Comment by clicking here.