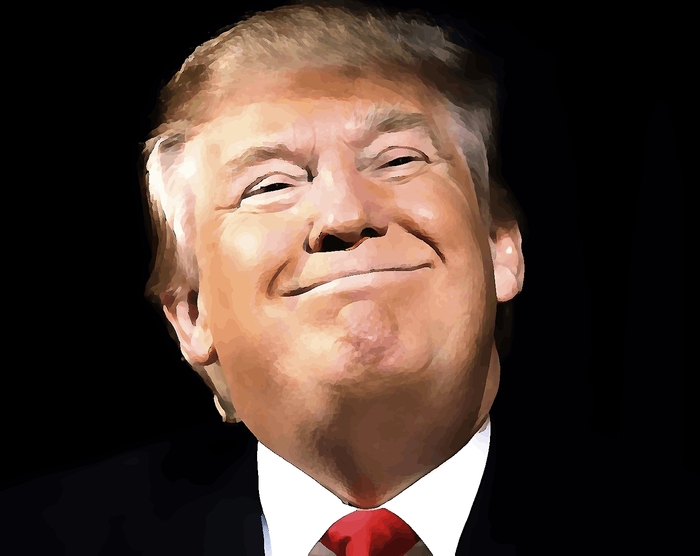 Today, President Donald Trump will make his first visit to New Hampshire since the 2016 election. It is an official trip, dealing with the opioid crisis, which has hit the Granite State particularly hard. But it is not lost on some of his political advisers that it comes just days after Sen. Jeff Flake, R-Ariz., made an explicitly political trip to the state, which will host the first presidential primary in 2020.
Flake has been unambiguous in stating his belief that the president should face a primary challenge in 2020, although he has been noncommittal about whether he is the person to make the race. He uses the typical language of someone considering a candidacy: He has no plans to run but is not ruling anything out.
But the decision to go to New Hampshire on Friday and to make his first appearance at the Politics & Eggs breakfast hosted by the New England Council and the New Hampshire Institute of Politics, a venue long established as an obligatory stop for potential or active presidential candidates, suggests Flake will actively test the proposition.
The question of a primary challenge to the president, however far into the future it might be, is not an idle one. Eugene McCarthy's showing in the 1968 Democratic primary helped persuade Lyndon B. Johnson not to seek re-election. Ronald Reagan's 1976 primary campaign preceded Gerald Ford's loss to Jimmy Carter in the general election that year. And Ted Kennedy's 1980 primary challenge contributed to Carter's defeat against Reagan that fall. In 1992, Patrick Buchanan's challenge to George H.W. Bush helped weaken the incumbent, who went on to lose re-election again Bill Clinton.
No one is suggesting there is the equivalent of the Buchanan brigades forming in New Hampshire for Flake or anyone else who might be contemplating a primary campaign against the president. But it is worth mentioning that, on Friday, when Flake finished his prepared remarks, he received a standing ovation. That is not the standard reception for political candidates at Politics & Eggs, according to those who were there.
Flake has become the president's most vocal antagonist among Republican elected officials. He believes that Trump is a president whose behavior and attacks on the institutions of democracy represent a grave danger to the country and to the GOP.
Flake used the forum in New Hampshire to carry forward a message he delivered at the National Press Club a day earlier, and which is the core of a book he published six months ago, "Conscience of a Conservative: A Rejection of Destructive Politics and a Return to Principle." He says the Republican Party must turn away from this president, return to its conservative principles and, as he puts it, abandon "this brand of poisonous politics."
The president's allies were quick to pounce on Flake's New Hampshire visit.
"He has no party supporting him," said Corey Lewandowski, the New Hampshire resident who was Trump's campaign manager during the nomination battles in 2016. "He has no base of support. He has no financial support. He wasn't going to win his primary in Arizona. If he thinks the people of New Hampshire are more likely to support him than the people of Arizona, then he's sadly mistaken."
Lewandowski was referring to the damage Flake has suffered back home. After his popularity plummeted, he decided not to seek re-election to the Senate.
If Flake were to take on the president in 2020, he would start with few traditional assets, save for the clarity of a message that would highlight the cleavage inside the Republican coalition.
Some Republicans think a primary challenge to the president is almost inevitable. One of them is Stuart Stevens, who was the chief strategist for Mitt Romney's 2012 campaign and who battled rhetorically against Trump throughout the 2016 campaign. "There's a certain percentage of Republicans who are unhappy with Donald Trump, and they would need a voice," he said.
Stevens concedes he was plainly wrong about Trump's ability to win both the GOP nomination and the 2016 general election. He was therefore hesitant to make any predictions about how a 2020 primary battle, even if Trump prevailed relatively easily, might affect the president's prospects of winning the general election. History is an uncertain guide when it comes to this president.
Republican pollster Whit Ayres was more cautious in projecting ahead to a possible 2020 GOP primary contest. He suggested that the variables that will determine whether there is or isn't one include the outcome of this year's midterms - will Republicans still hold the House and Senate, hold one of those or hold neither - and where special counsel Robert Mueller's investigation ultimately leads.
If Republicans hold the House and Senate, that will reduce the anxiety inside the party over Trump and 2020. But, Ayres said, "If we spend a year and a half leading up to a Republican convention in a battle over impeachment, that will increase the likelihood of someone taking a run."
Flake isn't the only possible Republican who could decide to go after Trump. Ohio Gov. John Kasich has been acting like a potential candidate, though he had little luck when he ran in 2016 and has seen his popularity in Ohio decline. He could end up running as an independent, or not running at all.
Inevitably, if pressure rises for someone to take on the president, Romney's name will enter into this conversation, assuming he wins the Senate seat in Utah this November. Having won his party's presidential nomination once, Romney has attributes that Flake and Kasich both lack, including access to more financial support. But though the former Massachusetts governor has been critical of Trump's behavior, he is a cautious politician. No one can say now whether he would have the stomach to mount a campaign to take down the president.
In New Hampshire, Trump's overall approval rating stands at 35 percent, according to the Granite State Poll conducted by the University of New Hampshire. Among Republicans, however, it is 80 percent, and among Trump voters it is 86 percent. Independents can vote in either party primary, and among that group Trump's approval is 33 percent. But could a GOP challenger to Trump attract those independents at a time when Democrats will be holding what's likely to be a lively and highly contested battle for their nomination?
The president's standing among Republicans in New Hampshire highlights the dilemma for anyone who would like to see Trump face a nomination contest. The Republican Party is now firmly in the grip of the president, redefined in his image and to the apparent satisfaction of those most likely to participate in any primary contests in 2020. Pockets of resistance still exist, but they have even less influence than they did during the 2016 nomination battle.
The president's allies see no particular threat brewing, but it is notable how early Trump's re-election operation has taken shape. He recently named his campaign manager for 2020 - Brad Parscale, the digital strategist who was instrumental in the 2016 victory - and announced other staffers as well. He has tightened his hold on the Republican National Committee machinery, and the Trump operation is raising as much money as it can.
That makes the hill that Flake or Kasich or anyone else would have to climb extremely steep, at least as things appear today. The reaction to Flake's appearance in New Hampshire suggests there is an audience for the message he is delivering. The coming months will determine whether it is substantial enough among Republicans for someone in the party to take the daunting step of challenging the president directly.