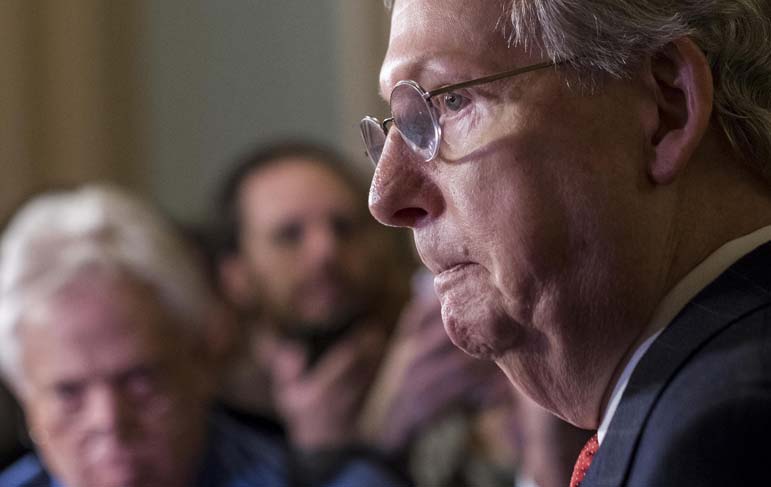 WASHINGTON - The daunting effort to salvage the Republican Party's governing agenda has fallen suddenly and squarely on the shoulders of one man: Mitch McConnell.
After the GOP's humiliating health-care defeat in the House last week, the Senate majority leader is under heavy pressure to put President Donald Trump's to-do list back on track by confirming his Supreme Court nominee and averting a late-April federal government shutdown - all in the face of intensifying Democratic resistance.
While House Speaker Paul D. Ryan, R-Wis., struggled as the chief advocate of the health-care bill primarily because of Republican recalcitrance, McConnell's challenge is different yet no less challenging: persuading enough Democrats not to obstruct the plans of an increasingly unpopular president.
"We've got a lot of work to do," Sen. John McCain, R-Ariz., said. "And one of the things we need to do - and it's going to be harder now because we just failed - is there's got to be bipartisanship."
Hunger for a win and the belief that ambitious goals are still achievable are fueling McConnell, R-Ky., and his team. But dim prospects for cooperation in the upper chamber, where Republicans control 52 seats, have forced him to ponder extreme measures, including a rule change known by insiders as the "nuclear option" that would allow Judge Neil Gorsuch to overcome a Democratic barricade and be seated on the Supreme Court with a simple majority vote.
Such a move would likely enrage Democrats heading into a fight over funding the government, when McConnell will once against need the support of his Democratic colleagues to avert a government shutdown that would begin April 29 if Congress fails to pass a stopgap bill. Democrats have already threatened to thwart the measure - again by requiring a 60-vote procedural hurdle to be cleared - if it includes any money for a U.S.-Mexico border wall.
"Do they really think history books or the American people will look kindly on them for filibustering this amazingly well-qualified and widely-respected nominee?" McConnell asked in a floor speech Wednesday, in an effort to shift to burden to Democrats.
The minority party has considerably more leverage in the Senate than in the House, making McConnell's task as critical as it is challenging. It also creates a moment of reckoning for the six-term senator's leadership - and national profile.
McConnell, 75, has struck major agreements with Democrats in the past, notably then-Vice President Joe Biden, a longtime Senate colleague with whom he negotiated a deal in 2012 to avert deep cuts and tax increases known as the "fiscal cliff."
But he has also been blamed for leading Republican obstruction on many occasions, including last year, when he blocked hearings for Judge Merrick Garland, then-President Barack Obama's choice for the current Supreme Court vacancy.
Now, suddenly, McConnell's task is to bring the chamber together.
McConnell can often be spotted making the short walk from his office suite to the Senate chamber with the same calm demeanor he presents in all of his public appearances. He is soft-spoken and studiously on message, parrying reporters' questions without ever appearing flummoxed.
During an interview with The Washington Post last month, McConnell addressed a question about border wall funding by turning to an aide to ask whether White House officials had sent over their spending proposal yet. They hadn't, the aide responded. The following day during a news conference, McConnell addressed a similar question precisely the same way - asking a different aide, and receiving the same response.
Aides and allies say McConnell does not like to expend energy on matters beyond his control - or use more words than necessary to make his point. He is known as a blunt negotiator who is inclined to court Democrats over brief chats rather than long, drawn-out conversations.
"He's very direct, to the point," said Josh Holmes, his former chief of staff. "He doesn't try to, shall we say, underestimate the intelligence of his opposition."
In McConnell's inner circle, there is a sense that Senate Democrats are largely operating as a coherent unit, even as some red-state moderates facing re-election may stray on some votes, including Gorsuch. But these Republicans believe such moments will be anticipated by Democrats and factored into a larger strategy to oppose Trump and Republicans but also protect their own vulnerable members.
While some believe that sweeping aims including tax reform were dealt a devastating blow by the health-care fiasco, Republicans are also under pressure to achieve major legislative accomplishments heading into the 2018 midterms, a factor that McConnell's inner circle believes could spur legislative action.
McConnell's most immediate priority is Gorsuch, whose fate will be decided solely by the Senate. The Kentucky Republican has made clear that he is deeply invested in that battle, publicly guaranteeing that the federal appeals judge who has won large-scale praise in the GOP will be confirmed by the end of next week.
"Gorsuch will come out of committee, will be on the floor of the Senate next week and confirmed on Friday," McConnell confidently told reporters Tuesday. He added that it will be "up to" his Democratic colleagues "how the process to confirm Judge Gorsuch goes forward."
Left unsaid is the increasingly likely prospect that McConnell will have to go nuclear. Democrats have said they intend to use Senate rules to force Gorsuch to clear a 60-vote threshold. If McConnell can't find at least eight crossover votes - and his list of targets is shrinking - his only remaining option will likely be a deeply divisive one: to persuade a majority of senators to back the rules change.
The ripest targets are the handful of Democratic senators up for re-election next year in states won by Trump. But some say there has been little direct outreach.
"I was invited to the White House right after Gorsuch was nominated with other red state Democrats," Sen. Claire McCaskill, D-Mo., said. "I had a conflict that night. But other than that, that's the only reach-out I've had from the administration or from Republicans in Congress."
McCaskill also attended a bipartisan reception at the White House for senators and their spouses on Tuesday night, but she characterized it as a mostly "social" gathering.
McConnell and other veteran GOP senators have seemed uncomfortable discussing the nuclear option in public, though Trump has casually encouraged the Republican leader not to think twice about using it if needed. The maneuver would eliminate the Senate's empowerment of the minority party, rendering its methods much closer to those in the more partisan House.
Republicans have instead focused their public comments on how Democrats are the ones upending Senate norms with their Gorsuch blockade - and their hopes on the few Democrats they think might help them vote down a filibuster.
A single-party filibuster has never successfully blocked a Supreme Court nomination; however, a bipartisan coalition used the procedural vote to defeat Abe Fortas' 1968 nomination to be chief justice.
The Democratic resistance to Gorsuch is heavily rooted in broader concerns about Trump, whose approval rating fell to 36 percent this week, according to Gallup. Democrats cite concerns about the president's controversial travel ban, his criticism of the federal judiciary and questions about his ties to Russia. Democrats are also under pressure from a restive base of activists who have demanded obstruction of Trump's agenda.
"We're worried that this president is more susceptible to overreach than any other, and Judge Gorsuch has not shown any independence," said Senate Minority Leader Charles E. Schumer, D-N.Y.
A similar pattern has emerged in negotiations over a must-pass, stopgap funding bill to fund the government beyond April 28. Democrats have signaled they will block any attempts to include money for a wall along the Mexican border, one of Trump's key campaign promises and now a top administration priority.
In part because of Democratic opposition, Senate Republicans have signaled they will reject wall money in the temporary funding bill to avoid a shutdown. Many in the GOP conference also reject the idea of marshaling funds for a wall on its merits.
"I think we need border security funding. But I think building a 2,220-mile wall is a waste of money," Sen. Lindsey O. Graham, R-S.C., said.

On funding the government, McConnell said: "We fully anticipate getting an outcome before the end of April. We have to, actually."
McConnell's relationship with Trump will also be key in the coming weeks. The Senate leader has said he is not a fan of the president's antagonistic tweets, arguing they distract from the GOP agenda. Asked recently whether Trump would be able to live up to his promise to eventually make Mexico pay for the wall, the senator responded with characteristic dryness: "Uh, no."
It remains to be seen how effective a dealmaker McConnell can be in the current Senate, with Democrats firmly united against Trump. Some Democrats argue that McConnell, through his resistance of Obama's agenda, is partly culpable for the toxic relations in the chamber.
"I felt that if the Republicans had followed the Constitution . . . Chief Judge Merrick Garland would be on the Supreme Court today," Sen. Patrick J. Leahy, D-Vt., said during Gorsuch's confirmation hearing.
"There are a lot of issues where we can work together, if they are willing to truly be open to Democratic proposals," Sen. Richard Blumenthal, D-Conn., said.