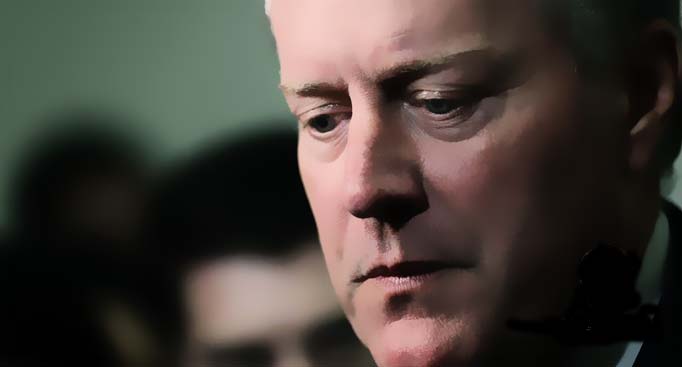 WASHINGTON - President Donald Trump on Sunday accused a pair of conservative organizations and a group of hard-right House lawmakers of being at least partially responsible for the collapse of the Republican effort to overhaul the nation's health-care law.

But the House group's leader and another member declined to respond to the criticism in a pair of television interviews.

"Democrats are smiling in D.C. that the Freedom Caucus, with the help of Club For Growth and Heritage, have saved Planned Parenthood& Ocare!" Trump tweeted Sunday morning.

Asked about the tweet on the Sunday news shows, two Freedom Caucus members appeared set on avoiding a confrontation with the president.
"If they're applauding, they shouldn't," Rep. Mark Meadows, R-N.C., the head of the Freedom Caucus, said of the Democrats on ABC's "This Week." "Because I can tell you, conversations over the last 48 hours are really about how we come together in the Republican Conference and get this over the finish line."

"Instead of doing the blame game, let's get to work," Rep. Jim Jordan, R-Ohio, another Freedom Caucus member, said on Fox News.

Jordan added: ""We did the country a favor. Because this bill didn't repeal Obamacare."

White House chief of staff Reince Priebus defended Trump's tweet, saying on Fox that the president "hit the bull's eye" with it.

The Freedom Caucus and the groups Trump mentioned opposed a House GOP health-care bill that leaders pulled Friday after concluding that it did not have enough Republican support to pass. The White House backed the bill and negotiated with the Freedom Caucus.

The Freedom Caucus wanted to amend the bill so that it would go even further in ending key provisions of the Affordable Care Act.

Priebus said some Republicans are "scrambling" this weekend, mentioning the Freedom Caucus and the Tuesday Group, a coalition of moderate Republicans that also resisted the House bill.

"We can't be chasing the perfect all the time, " he said. The top White House aide repeatedly raised the prospect of potentially working with moderate Democrats on a health-care reform bill at some point.

"We are going to be prepared to lead again, and if Democrats come on board with a plan down the road, we'll welcome that," Priebus said.

But he also noted, "At the end of the day, I believe it's time for the party to start governing."

Democratic leaders say they will work with Republicans on health care only if they drop their efforts to undo the ACA.

"Stop undermining ACA, and we'll work with them," Senate Minority Leader Charles E. Schumer, D-N.Y., said on ABC.