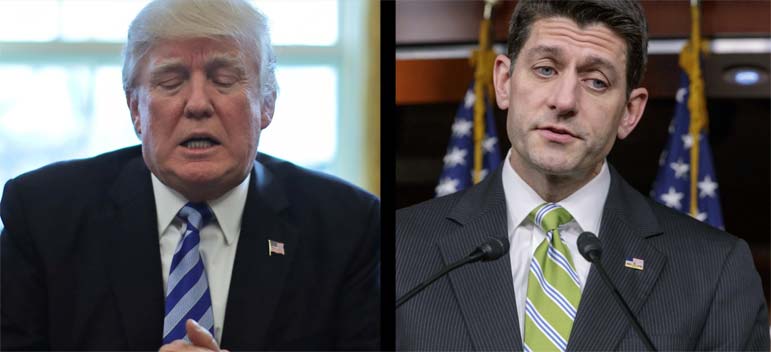 Here's where things stand heading into Day 67 of the Trump administration:

President Donald Trump will spend this week trying to move forward from Republicans' failed attempt to replace Obamacare. A few upcoming policy and political tests should give us an indication of how much Trump plans to rely on his own fractured party to get the rest of his agenda done - or whether he'll test a new strategy of reaching out to Democrats.

A BUDGET DEADLINE LOOMS

With health care behind them, Congress is barreling toward an April 28 deadline to fund federal agencies until October, when another fiscal year starts.

Nonpartisan budget analysts warn that this budget debate could be another major flash point between the GOP establishment and the 30 to 40 conservative House lawmakers known as the House Freedom Caucus. One side desperately wants to show it can govern by passing a spending bill on time; the other demands ideological purity - like a deficit-neutral budget - and isn't afraid to risk a shutdown over it.

Republicans don't want a shutdown on their watch. But it remains to be seen what leverage Trump has to stop it. After trying - and failing - to get House conservatives on board with health care, watch to see how much effort he puts on wooing conservatives to agree to a short-term spending bill.

His top advisers say Trump is considering putting more emphasis on negotiating with Democrats instead. But that would be no easy feat, because Democrats have drawn a red line on any federal money going to Trump's U.S.-Mexico border wall.
CONGRESS: CAN WE HAVE YOUR TAXES, MR. PRESIDENT?

On Friday evening, just hours after Trump admitted defeat in the health-care debate, one of the top Republicans in Congress made a somewhat awkward announcement: Rep. Kevin Brady, R-Texas, chair of the powerful Ways and Means Committee, said his committee will consider a bill Tuesday directing the treasury secretary to hand over Trump's tax returns to Congress.

Republicans aren't having a change of heart on whether to make Trump release his taxes: Capitol Hill newspaper Roll Call reports that Democrats used a procedural tactic to force Brady to bring up the bill in committee.

There's almost zero chance this bill will move beyond committee Tuesday. But Democrats have successfully given themselves a small stage to try to hammer the president on this.

WATCHING THE SUPREME COURT NOMINEE

With four marathon days of hearings behind him and a Senate Judiciary Committee vote scheduled for April 3, the spotlight for Judge Neil Gorsuch's Supreme Court confirmation now turns to moderate Senate Democrats.

Facing pressure from the left, Senate Minority Leader Charles Schumer, D-N.Y., said Thursday he would oppose Gorsuch's nomination and thus require 60 votes in the Senate - instead of a simple 51-vote majority - to get him approved. Republicans have 52 lawmakers on their side, which means they'll need to find eight moderate Democrats to cross the aisle and support Gorsuch.

That's not out of the realm of possibility for Sen. Joe Manchin, D-W.Va., and other moderate Senate Democrats who are up in 2018 and whose states Trump won in November. Watch for any signs this week they'll cross party lines and support Gorsuch - or conversely, whether they'll fall in line with the Democratic base and force an epic showdown that could end up undoing the centuries-old filibuster for presidential nominees.

In the end, Trump is likely to get his Supreme Court nominee on the bench. But Democrats may make it as painful as possible for him and Senate Republicans.
A SCRAPPED RUSSIA HEARING

Tuesday had the potential to be another jaw-dropping day on Capitol Hill with regard to revelations into Russia's meddling in the U.S. election and whether any Trump associates had anything to do with it. Rep. Devin Nunes, R-Calif., chair of the House Intelligence Committee, had invited top Obama national security officials - such as former director of national intelligence James Clapper, former CIA director John Brennan and former deputy attorney general Sally Yates - to testify in another rare public hearing.

But that hearing was scrapped late last week. Rep. Adam Schiff, D-Calif., the top Democrat on the intelligence committee, said Trump ally Nunes was trying to "choke off public info."

Meanwhile, the committee has yet to figure out when former Trump campaign manager Paul Manafort will be interviewed over his ties to Russia. Other former Trump advisers with ties to Russia - Roger Stone and Carter Page - also volunteered themselves to speak to the committee.