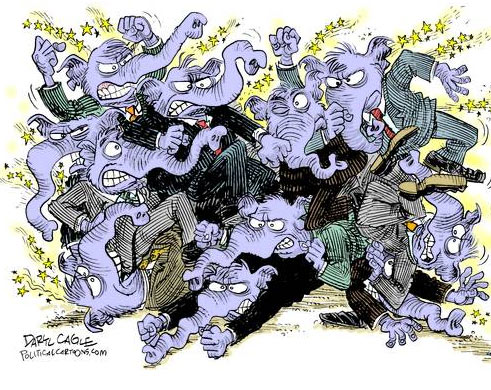 WASHINGTON - As they roll out their Obamacare replacement plan, Republicans are quickly finding out what Democrats learned eight years ago: Even if you win control of Congress and the White House, there are still plenty of obstacles to passing laws that, in principle, your whole party agrees with.
Several factions within the Republican Party don't like some key details about this new health care plan. In fact, there's enough opposition that these Republicans could derail the bill as it stands. It's something President Donald Trump himself appeared to acknowledge when he offered up in a tweet Tuesday morning the opportunity for "review and negotiation."
"Our wonderful new Healthcare Bill is now out for review and negotiation. ObamaCare is a complete and total disaster - is imploding fast!"
Trump appears to have done his math. Assuming no Democrats in either chamber support the bill, Republicans can't lose more than two GOP senators or 21 Republicans in the House of Representatives. That doesn't leave a lot of wiggle room.
Which means the factions opposed to Obamacare suddenly have a whole lot of leverage. Here's a look at the three main ones:
1) Western/Midwest GOP senators: Don't touch Medicaid in our states
What they're saying: "We will not support a plan that does not include stability for Medicaid expansion populations or flexib
ility for states." Who's saying it: Sens. Rob Portman, Ohio, Shelley Moore Capito, W.Va., Cory Gardner, Colo., and Lisa Murkowski, Alaska, wrote this in a letter to Senate Majority Leader Mitch McConnell, R-Ky., reported the Washington Post's congressional team.
This faction could soon grow, says Molly Reynolds, a congressional analyst with the Brookings Institution. GOP senators in Nevada and Arizona, two states that adopted the Medicaid expansion, are up for reelection in 2018 and might be under pressure back home to protect millions of people from losing their Medicaid coverage -- or the state having to bankroll those people. A significant number of Republican governors also want to keep the Medicaid expansion in place.
Their argument, explained: One of Obamacare's primary tools to insure low-income Americans got insurance was to expand Medicaid to people above the poverty line, an expansion the federal government mostly paid for. (Over the years, Obamacare would wean states off federal funding.). Thirty-one states agreed to the plan.
These senators are saying that if you whittle down how much the federal government funds an expanded Medicaid program (as this plan does), you will leave states on the hook financially to cover all those people. Or those people will simply watch their coverage lapse.
That's a lot of money. In fact, a January report by the nonpartisan Urban Institute found Medicaid is the largest component of state spending in fiscal 2016 -- almost a third of their budget.
2) Conservative/libertarian senators: Don't subsidize peoples' health care
"The House leadership plan is Obamacare Lite. It will not pass. Conservatives are not going to take it. #FullRepeal"
Who's saying it: Sen. Rand Paul, Ky. -- yes, the guy who led that quixotic crusade with a copy machine to try to find the "secret" Obamacare bill the other day -- is one of the most vocal.
But there are also plenty of House Freedom Caucus members, that ultra-conservative group of lawmakers who generally oppose increasing federal spending, joining him.
These lawmakers are buoyed by several influential conservative groups on the right that plan to actively oppose any bill they deem is not a "full repeal" -- i.e. no tax credits.
What they mean: The government shouldn't be funding people's health care for two reasons: 1) That's what Obamacare did. 2) It could end up costing the government more money in the long-run, and that's a non-starter for many of these budget hawks, especially given that Trump's wish list on infrastructure and a border wall could get real expensive, real quick.
"The fundamental question is, when we see the full plan, will it reduce health-care costs and will it do so over time?" said Rep. Mark Meadows, N.C., chair of the House Freedom Caucus. "And when will we see the repeal of Obamacare insurance mandates if this is enacted?"
3) The moderate Planned Parenthood supporters
What they're saying: Well, nothing yet. But this bill does cut off most federal funds for the nonprofit women's health care clinic, which performs abortions and has been in the crosshairs of conservatives for years.
It's possible, Reynolds says, that moderate GOP senators oppose the bill over this.
Sen. Susan Collins, Maine, said in January she's "not happy" at the prospect of tying Planned Parenthood and Obamacare together, but she stopped short of saying that would prevent her from supporting the GOP bill. In 2015, she teamed up with Murkowski to try to keep defunding language out of an earlier Obamacare repeal bill.
Collins told reporters in January she believes there are a "significant number" of House Republicans, like Rep. Charlie Dent, Pa., who might join her.
The bottom line: We count six GOP senators with concerns about this bill and an unclear number of House Republicans -- somewhere in the range of a dozen. In the Senate, six is four too many. And that likely means the bill as it was rolled out Tuesday will have to change if Republicans want to get it to Trump's desk anytime soon.