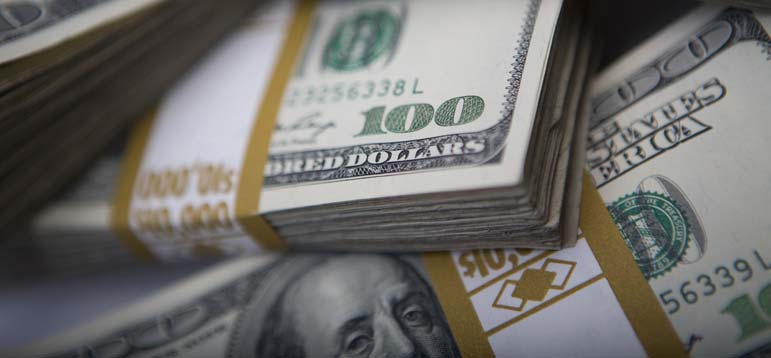 MSNBC's Rachel Maddow had a seemingly big scoop on Tuesday night: A previously unreleased tax return from President Donald Trump.
In the end -- as Maddow acknowledged repeatedly -- the more significant story was actually that this return was leaked to a reporter, not the return itself.
It turns out Trump didn't avoid income taxes for nearly two decades, after all.
The New York Times back in October obtained Trump's state tax return from 1995. Based on that return and the realities of how real estate developers can avoid income taxes due to devaluation of their properties, the newspaper and others deduced that Trump could have avoided paying any income taxes for up to 18 years afterward.
Here's the Times' report at the time, titled "Donald Trump Tax Records Show He Could Have Avoided Taxes for Nearly Two Decades, The Times Found":
"Donald J. Trump declared a $916 million loss on his 1995 income tax returns, a tax deduction so substantial it could have allowed him to legally avoid paying any federal income taxes for up to 18 years, records obtained by The New York Times show.
"The 1995 tax records, never before disclosed, reveal the extraordinary tax benefits that Mr. Trump, the Republican presidential nominee, derived from the financial wreckage he left behind in the early 1990s through mismanagement of three Atlantic City casinos, his ill-fated foray into the airline business and his ill-timed purchase of the Plaza Hotel in Manhattan.
"Tax experts hired by The Times to analyze Mr. Trump's 1995 records said that tax rules especially advantageous to wealthy filers would have allowed Mr. Trump to use his $916 million loss to cancel out an equivalent amount of taxable income over an 18-year period."

The new return, as The Washington Post is reporting, shows Trump paid about $38 million in income taxes on more than $150 million in income in 2005. The White House has confirmed those figures, while accusing MSNBC of illegally releasing the return.
While Trump may want to discourage similar disclosures in the future, this particular return suggests the worst assumptions about Trump's tax habits haven't been borne out.
Indeed, if there were a return to release, this might actually be a good one for Trump. And the journalist who obtained the document, David Cay Johnston, said in his interview with Maddow that the return was mailed to him anonymously and may have even come from Trump.
"It's entirely possible that [Trump] sent this to me," he said in his first comments, citing Trump's habit of leaking things about himself. (The documents read "client copy" which adds to that idea.)
During the campaign, though, Trump didn't exactly throw cold water on the idea of not paying income taxes for all those years, suggesting that if he avoided income taxes for that period of time, it would be "smart."
Here's a debate exchange with Hillary Clinton from just before the Times report, when she suggested he didn't pay income taxes:
CLINTON: Or maybe [the reason Trump doesn't release his tax returns is that] he doesn't want the American people, all of you watching tonight, to know that he's paid nothing in federal taxes, because the only years that anybody's ever seen were a couple of years when he had to turn them over to state authorities when he was trying to get a casino license, and they showed he didn't pay any federal income tax.
TRUMP: That makes me smart.
The Trump campaign released a statement after the Times report to the same effect. "Mr. Trump is a highly-skilled businessman who has a fiduciary responsibility to his business, his family and his employees to pay no more tax than legally required," his campaign said at the time.
It seemed to be a liability at the time, yet Trump didn't disclose anything more. And he still won.
Apparently he could have.