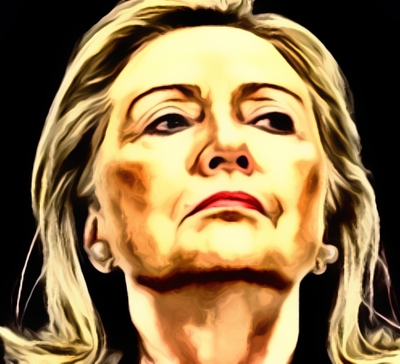 The Hillary Clinton campaign has gone on the attack against the government official who conducts oversight of the State Department she used to run, accusing him of partisanship and misconduct without any direct evidence. That strategy could backfire by politicizing the role of the government's inspectors general and undermining needed State Department reforms.
This is not the first time Team Clinton has accused a federal inspector general of trying to foil her presidential ambitions. In January, the campaign publicly accused the inspector general of the intelligence community of acting in concert with two Republican senators to leak details of now-classified information found on her private email server. This week, the Clinton campaign set its sights on Steve Linick, who has served as the State Department's inspector general since 2013.
Linick has never been regarded as a partisan official. President Barack Obama appointed him as the State Department IG and the Senate confirmed him. Before that appointment, the role had remained unfilled for more than five years and there was only an "acting" IG at state the entire time Clinton was secretary, a career foreign service officer.
When he joined the State Department, Linick brought with him Emilia DiSanto, who worked for him at the office of the inspector general for the Federal Housing Finance Agency. Previously, DiSanto worked as an investigator for Charles Grassley, an Iowa Republican and one of senators pushing for more transparency in the Clinton email controversy.
After the newspaper the Hill published an anonymous accusation this week that Linick's office had an "anti-Clinton bias" and that Linick was "excessively deferential" to DiSanto, Clinton campaign chairman John Podesta added that the anonymous source's accusations raised "serious questions about the independence of this office."
Linick's office denies that they have any anti-Clinton bias. Spokesman Doug Welty told me that "Partisan politics play no role in OIG's work" and "at all times, State OIG operates as an independent organization, consistent with the law."
On Tuesday, Rep. Eliot Engel, the ranking Democrat on the House Foreign Affairs Committee, wrote a letter to Linick demanding he instruct DiSanto to recuse herself from the review altogether and provide all related internal records to his committee.
"I regret that the OIG has been brought into the political three-ring circus aimed at derailing Secretary Clinton's presidential bid," Engel, who has endorsed Clinton, wrote. "We need to act quickly and shut down any speculation that impugns the Office's motives so that you can get back to your important work."
DiSanto is an easy target because she worked for Grassley and because Democrats have already publicly accused her of leaking information about another investigation, a look into Clinton aide Huma Abedin's status as a special government employee at the State Department while she also drew checks from the Clinton Foundation and Teneo, a firm run by Clinton confidante Doug Band.
The Clinton campaign argues that a series of leaks coming from Grassley's office can be traced back to the State Department IG office. Documents related to the office's referral of Abedin to the Justice Department wound up in the Washington Times, but both the Times and Grassley have publicly denied DiSanto was the source.
While there's no direct evidence that DiSanto provided the leaks, the Clinton team agrees with Engel that she should recuse herself from all Clinton-related investigations. For them, the anonymous leak to the Hill accusing DiSanto of misconduct is only the latest in a string of clues that point back to the IG office as being biased.
Clinton allies on the Hill have not limited their accusations to Linick and DiSanto. In January, Rep. Steve Israel, a Clinton supporter, accused David Seide, another official in the State Department IG shop, of having a vendetta against Clinton because he previously investigated her senate campaign finance chairman, David Rosen. Rosen was indicted on four felony counts related to filing false campaign finance reports but was acquitted by a jury.
For the State Department IG staff, the accusations are impossible to confront head on because they are not authorized to speak on the record about ongoing investigations. Also, the office is now devoting enormous resources to defending themselves from the Clinton campaign's efforts.
In addition to Engel's demands, they have been receiving dozens of FOIA requests aimed at gathering information on office staffers themselves. Sources in the inspector general office tell me they see the requests and accusations as an attempt to intimidate them and deter them from continuing Clinton-related work.
In fact, the State Department inspector general's investigation is not about Clinton's private email server; they are reviewing the email practices of four previous secretaries of State and the current officeholder, John Kerry. Later this month, the State Department will release the third and final report as part of its review of information-handling at the State Department, an investigation of practices by the last five secretaries of state.
I obtained a memo dated March 2 from Linick to the undersecretary of state for management, Patrick Kennedy, confirming that they had found that sensitive information was transmitted by personal email accounts to Colin Powell and Condoleezza Rice or their staffs.
The State Department inspector's entire review was part of an effort initiated by the Janice Jacobs, the department's transparency coordinator for managing information and records, who was appointed by Kerry last September. That review is run by the office of evaluations and special reports, not by DiSanto or her staff. None of this has stopped Clinton's allies from pushing the idea that DiSanto and Linick are on an anti-Clinton crusade.
The Clinton campaign declined to comment for this story.
Accusing Linick's staffers of misconduct due to their past work affiliations is a slippery slope; tons of government employees have connections on Capitol Hill. Meanwhile, the State Department IG's credibility is suffering and they are wasting resources over what are so far unsubstantiated allegations. If Engel is serious about protecting the inspector general's office from becoming politicized, he should tell Clinton to hold her fire.
Comment by clicking here.
Josh Rogin, a Bloomberg View columnist, writes about national security and foreign affairs. He has previously worked for the Daily Beast, Newsweek, Foreign Policy magazine, the Washington Post, Congressional Quarterly and Asahi Shimbun.
Previously:

• 02/18/16: Congress wary of Chinese deal for Chicago Exchange
• 02/16/16: Obama weighs looser rules for Iranian travelers
• 02/15/16: Revealed: Hillary building her own national security council
• 02/02/16: Revealed: The Trump foreign policy doctrine
• 01/27/16: Bergdahl defense could call his loudest foe, Trump
• 01/07/16: Why when North Korea forces Obama's Washinton to pay attention all the U.S. government can do is grieve
• 01/06/16: Obama's Mideast balancing act tilts to Iran
• 12/28/15: Assad is reaching out to Washington power brokers
• 12/23/15: U.S. quietly negotiating to free Americans in Syria
• 12/21/15: Russian arms in Syria keep U.S. grounded
• 11/17/15: Assad's Paris win
• 11/12/15: The Pentagon's lonely war against Russia and China
• 11/05/15: Iran, Saudi Arabia clash inside Syria talks
• 10/28/15: U.S. is driving Mideast allies to Putin
• 10/26/15: Source of Hillary's Libya data a mystery
• 10/21/15: Team Jeb calls out Trump for trashing Freedom Tower
• 09/23/15: Xi visit marks downturn in US-China relations
• 08/31/15: Walker stakes his territory on foreign policy
• 06/08/15: Hillary just lost one of her only selling points
• 03/02/15: An Obama deal with Iran could die with his days in office
• 02/23/15: Shock, awe and Jeb Bush's foreign policy dream team
• 01/22/15: At GOP pow-wow 2016 front-runners pledge, lay out vision to restore America's world leadership role