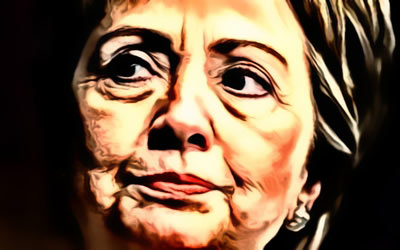 A CBS Poll conducted at the end of March shows that Americans accept, for now, Hillary's explanation of why she kept all her emails on a non-government server. While 62% feel it was "inappropriate" to do so, they largely buy her explanation of why she did so -- 49% accept that it was just for the convenience of not having to use two devices while 38% suspect that she wanted to conceal their content.
But Hillary has, in effect, stepped into quicksand. The more she struggles to keep her server and e mails private, the more voters will believe she used a separate server to cover them up. Her explanation that she did so out of "convenience" will wear thin with each subpoena battle, court order, and instance of Clinton stonewalling.
More broadly, the CBS News poll, taken in the wake of the email scandal (poll dates: March 21-23) show that Hillary's popularity is underwater nationally with only 26% viewing her favorably while 37% hold an unfavorable opinion. This 11 point deficit contrasts with a 5 point net positive rating by CBS during the fall of 2015 when her ratings were 38-33 favorable.
Particularly important are Hillary's abysmal ratings among Independents where she has 36% unfavorable and only 19% favorable ratings.
Is she "honest and trustworthy"? Americans as a whole say no 42-47, while Independent give her a scorching negative of 34-52. With only one Independent voter in three finding her honest or trustworthy, there is clearly big trouble ahead for Hillary as she announces her candidacy.
Reports of Clinton wealth and massive speaking fees, often from foreign nations, has led to a sharp drop in the perception that she "cares about the needs and problems of people like you" from 73-25 in the fall of 2013 to 56-39 now.
But, by its very nature, the more the emails are litigated, the more sinister Hillary's motivation for concealment will appear.
Will she survive the email scandal? Of course she will. Nixon survived the White House tapes scandal. It was what was on those tapes that forced his resignation. And so it is with Hillary. When we all learn the real reason she concealed the e mails, the impact will be that much more drastic because some of us once trusted her simple explanation that it was all for personal convenience. She will fall all the harder for our sense of disillusion.
Comment by clicking here.
Dick Morris, who served as adviser to former Sen. Trent Lott (R-Miss.) and former President Clinton, is the author of 16 books, including his latest, Screwed and Here Come the Black Helicopters.