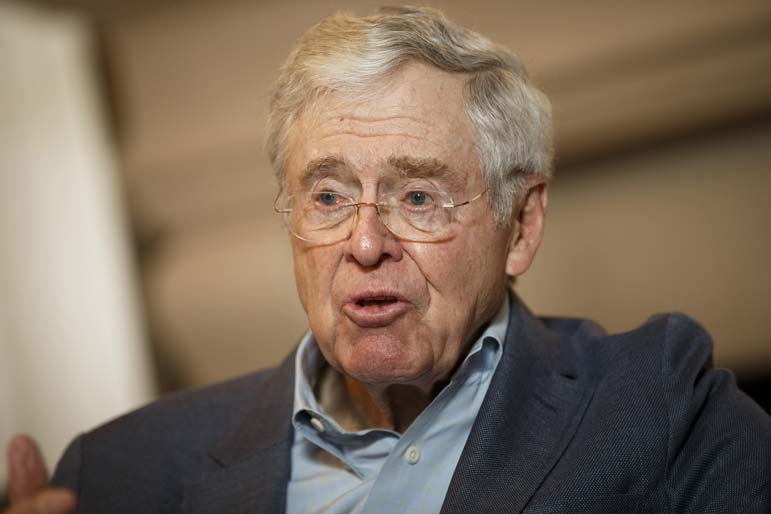 INDIAN WELLS, Calif. - Liberal activist Van Jones protested the Koch brothers outside their donor meeting in 2011. Groups funded by the billionaire-backed network had successfully clamored for his ouster as President Barack Obama's green jobs czar two years earlier, labeling him a dangerous radical.
At the 2019 Koch seminar, however, there was a giant banner with Jones's smiling face hanging inside the lobby of the posh hotel that's hosting the meeting. He's literally become the poster child for how the network of conservative and libertarian donors hopes to seek out unlikely allies to advance its agenda.
Jones, now a CNN talking head, recorded a video with Koch Industries general counsel Mark Holden about their partnership to pass the First Step Act, a sweeping overhaul of the criminal justice system that President Donald Trump signed into law last month.
"The problem is there's a lot of stuff we do agree on that we aren't working on together," Jones says in the video, which organizers played last month for 634 donors who have each agreed to contribute at least $100,000 per year to Koch-sponsored groups. "You've got awesome people and beautiful people on both sides."
You could be forgiven for thinking you accidentally showed up for a No Labels conference. That's been the vibe here in the Coachella Valley as the network aggressively seeks to rebrand itself as kinder, gentler and less political.
Wearing purple, the color of bipartisanship, industrialist Charles Koch - who remains a boogeyman on the left - declared that his top goal is "uniting with people across the whole spectrum, including those who have been adversaries in the past," to pursue shared priorities.
"This attitude of holding things against others who have different beliefs is tearing our country apart," the 83-year-old said during the Saturday night cocktail reception. "What we need to do, and what we're doing, is bringing people together."
His brother David stepped away from the network last year, citing poor health. Charles has concluded that reaching across the aisle to build coalitions is the best way to maximize his network's impact with a president in the White House he personally doesn't like but whom many members of his network do. The network plans to stay out of the presidential race again in 2020, as it did in 2016.
Koch World believes the sentencing bill is its new recipe for success. In that video, Jones accuses what he calls the "liberal establishment" - naming groups such as the ACLU and NAACP - of playing politics during negotiations over the bill.
"Publicly they were saying it doesn't go far enough," Jones said. "I think privately they just didn't want Trump to have a victory."
Americans for Prosperity chief executive Emily Seidel said many Republican lawmakers had the same mentality when they were in the wilderness.
"Just a few years ago, Republican after Republican told us they didn't want to give Obama a win on this issue," she told donors.
Even though the president has attacked Koch personally, network officials were still able to work constructively with White House senior adviser Jared Kushner on criminal justice. "It shows how you can break though the partisan gridlock, and it's the model for everything else we'll do going forward," Seidel said.
Indeed, the president's son-in-law appeared in the same video as Jones. "One of the things that really surprised people, including myself, was how broad the coalition we were able to build was," Kushner said.
Koch officials were back at the White House for a meeting on a potential immigration deal that could protect "dreamers" in exchange for wall money, and were scheduled to return.

In past years, network leaders announced how much money they planned to spend on politics and policy in the upcoming election cycle. This year, they're not providing a target. Brian Hooks, the chairman of the Seminar Network, which includes the constellation of Koch groups, said they still plan to devote "significant resources" but that the opportunities will dictate the amount.
"We see this as the next big step forward in the evolution of this network," Hooks said.
The network continues to increase financial support for nonprofits focused on civil society. That's how Koch wound up hugging Deion Sanders that Saturday night.
The donors have invested heavily in Urban Specialists, which helps the disadvantaged in South Dallas, as well as other groups that the former Cowboys cornerback is involved with.
"The Kochs make me smile," Sanders said. "This is no sham. This is no gimmick. . . . I can see through the smoke at 51 years old. They are who they say they are and more."
Speaking before a dinner program that Saturday night, Sanders addressed the 181 first-time attendees: "To all the newcomers, I just challenge you to get in the game." Koch got up from his seat, and the two embraced afterward.
The discussion that followed over dinner was about the Charles Koch Foundation's Courageous Collaborations initiative, which was launched to support research on overcoming intolerance. One entity getting a big grant is StoryCorps and its One Small Step program, which brings together people who have opposing political views so they can have respectful conversations. (The StoryCorps van, which has a sound booth inside, was parked on the well-manicured lawn next to the swimming pool so that donors could record their personal stories of overcoming political differences.)


Dave Isay, the founder of StoryCorps, said his wife recently made him watch a documentary on Netflix about Roger Stone called "Get Me Roger Stone." In the film, Stone says one of his "rules" is that hate is a more powerful motivator than love."We have to prove Roger Stone wrong," Isay declared. The crowd cheered.
"We're in an existential crisis here," Isay continued. "Democracy cannot survive in a swamp of mutual contempt. . . . I don't know that this country can survive if we all despise each other. You don't have to change your mind about something. You just have to realize the person you're talking to is a human being. And we're not doing that."

To be sure, the Koch network remains a potent political force on the right. Since Trump took office, Koch-linked groups have successfully pushed for deregulation, tax cuts and judicial appointments that will significantly benefit the bottom line of many network donors and the businesses they run. But they've been stymied in their demands for free trade, a more open immigration system and deficit reduction. It was opposition to President George W. Bush's steel tariffs that inspired Koch to convene the first seminar of like-minded business types in 2003. The network has gathered twice a year ever since.
Network officials identified 10 "barriers" preventing people from realizing their full potential: bad fiscal policy, overregulation, cronyism, joblessness, a failing education system, persistent poverty, counterproductive immigration policy, free speech restrictions, a broken criminal justice system and tariffs. The sessions that were open to reporters focused primarily on the poor and the imprisoned.
• One big change from past Koch donor seminars is the relative absence of politicians. This twice-annual retreat used to be one of the premier cattle calls for Republicans with presidential ambitions to cultivate the biggest donors on the right. But fewer and fewer have been invited, and others have chosen to stay away because of the optics - and the fear that their presence will be used against them in attack ads.
Only three elected officials are at this seminar, and none are members of the House. Sen. Mike Lee, R-Utah, touted his bipartisan work with 2020 Democratic presidential candidates, including teaming up with Bernie Sanders to cut off U.S. support for Saudi Arabia in Yemen and with Cory Booker to allow a vegan company to sell "mayonnaise" without eggs. Over breakfast on that Sunday, Sen. Ben Sasse, R-Neb., gave a talk about his book "Them: Why We Hate Each Other - and How to Heal." Kentucky Gov. Matt Bevin, R, who has been an ally of the Koch network on criminal justice, also flew in.
Instead of giving politicians a platform, organizers showcased several regular people with sympathetic personal stories in an effort to humanize the issues they're focused on. Last June, for example, Trump commuted the life sentence of Alice Marie Johnson, a grandmother in her 60s from Tennessee who has been serving a life term since 1996 for nonviolent, first-time drug offenses.
The president acted after reality TV star Kim Kardashian West brought the case to his attention. The Koch network had been highlighting her case for some time, and she thanked the donors for their support in a speech.
"I'm the living proof that second chances work," Johnson said, fighting back tears. "One thing I know for sure is that people don't remember statistics, but they remember a face." The crowd responded with a standing ovation.
The Koch network also flew in Melony Armstrong, an African American woman from Mississippi who wanted to braid hair but didn't have a cosmetology license. The Koch network has made her the face of its effort to relax occupational licensing laws across the country. Armstrong received training from the network, and it deployed significant resources to successfully change the laws in her home state in 2017. Nebraska last year and Ohio this month passed similar bills after Koch lobbying.
• "We're getting much better at storytelling," Holden said in an interview. He's been a top Koch lieutenant for more than two decades and is the network's point man on criminal justice. "I'm by nature a litigator," he said. "I like facts and figures. That's okay. But that doesn't move the needle. You tell the stories about people - human beings - that changes everything. . . . We know we have the facts and the figures . . . but when you get the emotion on your side, and the stories on your side, it's over. You're going to win."
"It's important to put human faces on problems," added James Davis, who oversees communications for the Koch network. "Stats don't convey empathy."

One major focus of this meeting has been encouraging attendees to hire more ex-cons to ease their reentry into society. The people attending the seminar collectively employ upward of 2 million people.
Koch, worth somewhere around $50 billion, is one of the 10 richest men in the world. His company "banned the box," which means that job applicants aren't asked about prior criminal convictions anymore. "Whatever we're doing in business, we haven't scratched the surface," Koch said in a speech that Sunday. "If all of us join together, just think about the difference we can make."
The head of the Society for Human Resource Management unveiled a new website at the meeting on Sunday, GettingTalentBacktoWork.com, for corporate leaders to sign a pledge that they will hire more formerly incarcerated people. Richard Branson recorded a video greeting touting his company Virgin's efforts to hire former convicts. "Hello, Charles," the billionaire said in the taped message. "Cheers."
After lobbying by the Koch network, Weldon Angelos of Utah was released in 2015 after serving 11 years of a 55-year prison term in connection with selling marijuana. His case had become a symbol of excessive mandatory minimums. Once he got out, a Koch donor from Colorado hired him at his company. The two came onstage Sunday afternoon with their arms draped over each other's shoulders. They departed to "Here Comes the Sun." There have been many moments like this in the heavily choreographed program.
"It's funny," said Kevin Gentry, a top Koch aide who works on special projects and fundraising for the network. "A few minutes ago, one of our first-timers grabbed me and said, 'I've got to tell you. This meeting is nothing like I thought it was going to be. When did you start this new thing?' I said, 'Well, I've got to tell you, whenever it was we started it, we should have done it a long time ago.'"
Sign up for the daily JWR update. It's free. Just click here.
(COMMENT, BELOW)