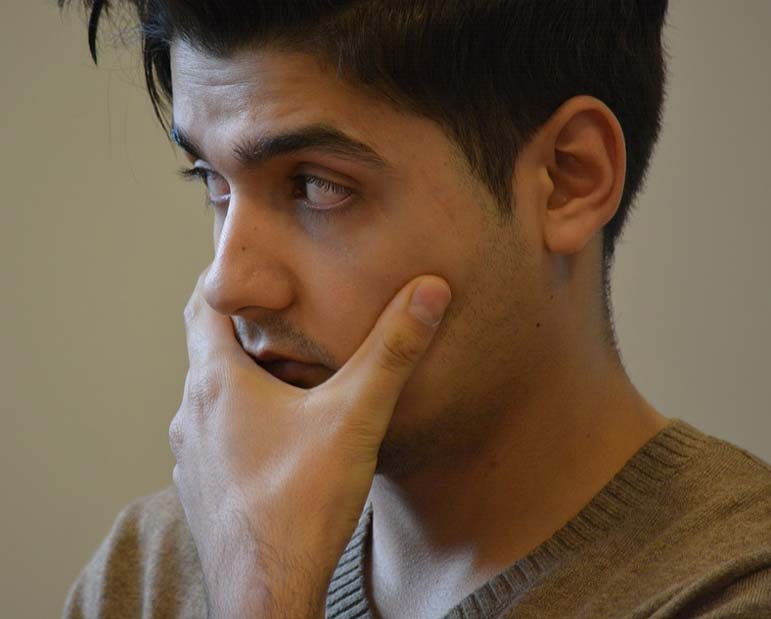 Today I want to tell you about a person who is one of the best known woman in the Jewish world, and I suspect that none of you present have ever heard her name. Her name is Sivan Rahav-Meir.
See? I told you! You've never heard of her. All she is, is a prime time anchorwoman, a columnist for Israel's most popular newspaper, a biblical scholar and author, has 130,000 followers on Facebook, and to top it off, she's a rebbitzin (who shares spiritual duties with her husband, a rabbi)!
And you've never heard of her!
Sivan Rahav-Meir was born and raised in a secular home in Herzliya. At 18 she entered the army, having already completed a bachelor's degree in political science. In the army she served as a reporter for the Israel Defense Forces radio station, after which she grew increasingly observant and met her husband, the rabbi, who was also a newspaper columnist.
Today she is a prime time anchorwoman on Israel's Channel 2, a radio show host and a columnist for Israel's most popular newspaper, Yediot Acharanot.
While on maternity leave for her fifth child she began to feel bored by her interviews with the political leaders at Israel's parliament, Knesset and the justices of its Supreme Court. So she began to give lectures on Jewish subjects, specifically on the Torah portion of the week.
One week she had one million readers on her website, and now she gives a weekly lecture which is attended by 1,000 people, with 130,000 following on Facebook and another 10,000 subscribers to her daily WhatsApp Torah thought.
She put her thoughts on the weekly Torah portion into a book which became a bestseller in Israel, and now is available in English translation as " #Parasha".
Why do I tell you all this? Because what she has to say about a recent Torah portion provides me with a thought on a subject that has been uppermost in my mind in recent weeks, but which I can't talk about ... but she can!
Her Torah thought is titled, "Don't Jump to Conclusions."
In the Torah portion of "Mishpatim" (Exodus 21:1-24:18.), the reading has within it 53 laws, the majority of which make up the civil laws of the Jewish people.
Civil law was considered so important that one of the seven Noahide laws that non-Jews must observe tells of the importance of having a legal system.
In fact, our sages go as far as to say that one who rules incorrectly plays a role in destroying this world.
Of all the laws in our Torah portion, Sivan Rahav-Meir seizes on one which tells us, "You shall not favor a poor man in his lawsuit." It's a surprising choice!
Of all the biases and mistakes that could be made in a judicial system, few would think that we had to be warned not to favor the poor or weak in judgment.
Sure, there is a concern about favoring the rich and famous, the popular and the powerful. They have friends in high places, can afford high-powered lawyers and a well-oiled PR machine. But a danger of favoring the poor? The weak?
But Sivan Rahav-Meir writes, and I quote: "The Torah warns us not to automatically take the side of the poor person, because the underdog is not always right. Just because he is dressed in rags, it does not necessarily mean that justice is on his side and sometimes the person dressed in a designer suit just may be in the right."
Let me give you an example of how right she is by telling you about a woman who is better known than Sivan Rahav-Meir. In fact, she is an international celebrity and once again, I have a feeling most of you don't know who she is.
Her name is Ahed Tamimi. She is all of 16 years old, but she has won the hearts of international protest movements. Amnesty International is one of her major supporters. Posters regarding her are found at bus stops in Europe, where some have called her "the Rosa Parks of Palestine." Why?
Recently, with her mother videotaping the incident, Ahed, a cute, blonde Palestinian girl, along with one of her friends, approached two Israeli soldiers near her home, shoved them, kicked them, slapped them. You know what the Israeli soldiers did? Nothing!
They refused to be provoked. As CNN described it, "The clip has captured imaginations and divided assessments in the region and further afield --- the court of public opinion trying the case, as it always does, on the Internet."
Yes, on the Internet, on Facebook, that is where judgement takes place these days. The courts have been replaced by social media and there this was just another one of Israel's war crimes; a big, bad soldier confronting a poor damsel in distress.
You would never know from the picture that this poor little girl has members of her family who have murdered Israelis, and her parents encourage her behavior. But no! Just look at social media, look at the pictures.
This poor little girl is fighting oppression. How can she possibly be wrong standing up to the mighty Israeli army which went and arrested her. Poor baby.
And people who you would think should know better fall for this!
From Haaretz, Israel's most prominent daily, February 1, 2018:
Young Jewish demonstrators in New York, Boston and Washington joined global protests on January 31 marking Tamimi's birthday and condemning Israel's imprisonment of Palestinian minors.

Hundreds of U.S. Jews also wrote Tamimi birthday messages lauding what they perceive to be Tamimi's courage to oppose Israeli control of the West Bank. One note read, "Dear Ahed, my name is Shula and I am 17. We're [the] same age and we live in different worlds. Your courage inspires me to stand up for what I believe in. Your actions are not done in vain.
No, they are not. They help encourage knifings and killings of Jews! This is oftentimes what happens on the Internet. People who know nothing about nothing believe the little guy.
In Sivan Rahav-Meir's words, "The Torah is hinting to us that in many cases public opinion unwittingly favors the underdog. This might be due to populism or the influence of Hollywood movies, but it is a given."
She continues, "A soldier who feels he has been mistreated will get more public sympathy than his commanding officer, and a parent who organized a petition against the school principal will be considered a hero who fights against the corrupt and indifferent establishment."
Those are her words, not mine! Just how dangerous this mindset is, is reflected in the words of a third woman, one more famous than the first two I spoke of, and one that all of you certainly know for sure. Her name is Oprah Winfrey.
Once, appearing on her show was the famous magician David Copperfield, who went through a two year investigation by the FBI when a former Miss Washington runner-up accused him of trapping her on his private island in the Bahamas and repeatedly sexually assaulting her.
No evidence was ever found against Copperfield, and the charges were dropped after his accuser went on to accuse another man of something similar.
Copperfield spoke to Oprah after the incident was over and he told her that, "To be falsely accused of something that horrendous is a devastating thing not just for yourself, but your family, friends. It is really bad. When the truth comes out -- you know, she was arrested and not me -- finally things come to light. Unfortunately, in the press what happens is . . . " and Oprah cut in, "People remember the charge, they don't remember the exoneration." "People remember the charge … they don't remember the exoneration."
No wonder our tradition tells us: "He who judges incorrectly destroys the world" . . . destroys the world of innocent people and institutions whose names have been besmirched before the full story gets to be told.
The lesson for today is a simple one. It's the words of Sivan Rahav-Meir: "DON'T JUMP TO CONCLUSIONS."
To which I can only say: Amen.
Rabbi Mitchell Wohlberg is Senior Rabbi of Baltimore's Beth Tfiloh Congregation. He appreciates your feedback. Comment below, please.