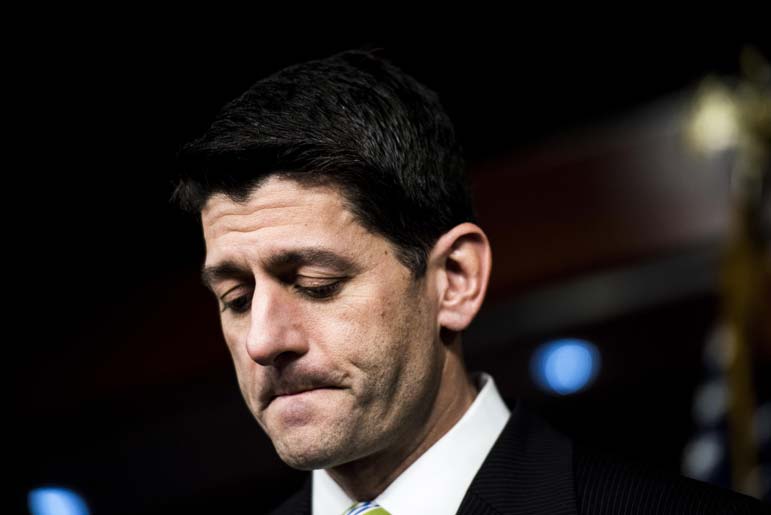 WHITE SULPHUR SPRINGS, W.Va. - Speaker Paul Ryan tried to walk an impossibly narrow tightrope around the House Intelligence Committee's release of a controversial memo criticizing the FBI's handling of its Russia investigation.
The memo was merely about oversight of a very few potentially bad actors in the FBI and Justice Department, the Wisconsin Republican assured reporters Thursday, before its release. "It does not impugn the Mueller investigation or the deputy attorney general."
Less than 24 hours later the memo was out, and many rank-and-file Republicans disregarded Ryan's narrow approach. Instead, they directly impugned the reputations of Deputy Attorney General Rod Rosenstein, special counsel Robert Mueller and the overall direction of the federal investigative agencies.
"My heart sank," Rep. Matt Gaetz, R-Fla., said in a statement, alleging a sweeping conspiracy against President Donald Trump. "Not only did it lay bare a systemic pattern of abuse within the FBI and the DOJ, it confirmed my worst fear: America's free and fair elections were being threatened from within."
Some called for the firing or resignation of the No. 2 leader of the Justice Department, who is overseeing the Russia investigation, and Mueller. A super PAC with ties to the president launched online advertising calling for Rosenstein's ouster. One Republican suggested the deputy attorney general should be prosecuted as a traitor.
Some Republicans bolted from the annual policy retreat here and made the 250-mile drive to Washington in time for Friday evening cable news hits to blast the highest levels of the investigative bodies. During an interview on Fox News, Rep. Devin Nunes, R-Calif., the committee chairman, declined to say whether Rosenstein should be fired and instead accused top FBI and Justice officials with sweeping violations of the law against Trump.
"That's the type of stuff that happens in banana republics," Nunes said.
Many Republicans followed Ryan's approach - defending the FBI overall and narrowly questioning the actions of a few agents. But those voices were drowned out by more prominent and vocal House Republicans, who accused the agency of a vast conspiracy.
It left the House speaker looking somewhat isolated and powerless in terms of overseeing the investigations into Russian efforts to impact the 2016 presidential elections.
Long considered a policy expert on domestic issues, Ryan does not have the same gravitas on issues related to national security or intelligence. At times during the sprawling Mueller probe, it has looked as if the House speaker is leading from behind, trying to discern which way things were headed in terms of the mood of his caucus.
Ryan had hoped to use the three-day retreat at the Greenbrier resort to get GOP lawmakers focused on touting the $1.5 trillion tax cut passed and signed into law in December, believing that anecdotal stories of worker bonuses and rising wages had boosted the party's standing ahead of the November midterm elections.
During his media briefing Thursday, Ryan took a question about Democratic calls for him to replace Nunes as the intelligence chairman and turned it into praise for the tax bill, suggesting Democrats were guilty of trying to turn the discussion away from tax cuts and onto Russia.
"I think what they're trying to do is just sidetrack us with some political game," he said.
But it was Nunes and other rank-and-file Republicans who drove the effort to release memo - and who amplified the coverage of the issue.
That assured the dominant theme coming out of what was a somewhat successful gathering west of the Shenandoah Valley would be the noise of the Russia investigation and not the policy victories won at the end of 2017.
The retreat site placed Republican Rep. Mark Meaodows about halfway to his district in western North Carolina, but instead of heading home when it concluded Friday morning, he drove north, to the Washington bureau of MSNBC, to join Rep. Jim Jordan, R-Ohio, in studio for Chuck Todd's "Meet the Press Daily." Neither Republican is on the intelligence panel, but both accused the Justice Department of improperly using a dossier financed by Democrats in 2016 as grounds for getting a secret surveillance order of a Trump campaign adviser with frequent contacts to Russian officials.
To these two, this decision undermined every aspect of the FBI investigation into Trump's ties to Moscow. "When you look at the facts, everything revolves around a single source. A single source that continued to put it out with multiple people to appear that there were multiple sources," Meadows told Todd.
Those two are leaders of the House Freedom Caucus, a staunch conservative group frequently out of line with Ryan's leadership approach. But even Rep. Lee Zeldin, R-N.Y., a moderate from a swing district on Long Island, tweeted that "the process & misconduct at highest levels here must be addressed."
These comments went much further than where Ryan had tried to set the bar a day earlier. The speaker tried to focus on the "legitimate function of oversight" of Foreign Intelligence Surveillance Court approval of warrants on one individual, the campaign aide Carter Page.
"This memo is not an indictment of the FBI, of the Department of Justice," Ryan said. "It does not impugn the Mueller investigation or the deputy attorney general."
Ryan's much more narrow approach to the memo stands at odds with how many Republicans view it. They very much see the memo as a bid to undermine Rosenstein, who signed off on later warrant requests after Trump appointed him last year, and by extension then undermine Mueller.
Ryan's attempt at moderation has simply been steamrolled by a more aggressive wing of his caucus. "Let me just say the vast, vast, vast majority of the men and women of the FBI are doing a great job," he said Thursday afternoon.
An hour before he addressed the media, Rep. Jeff Duncan, R-S.C., took an entirely different approach, sowing the seeds of vast conspiracy because the FBI was trying to thwart the release of the Nunes memo.
"The FBI is right to have 'grave concerns' - as it will shake the organization down to its core - showing Americans just how the agency was weaponized by the Obama officials/DNC/HRC to target political adversaries," Duncan said.
It was Duncan who was last seen on the aisle of the House chamber Tuesday as Trump exited the State of the Union address, shaking the president's hand and urging him to "release the memo."
Duncan got his wish.
Comment by clicking here.
Previously:

• 12/02/17: If Cotton moves to the CIA, it would say a lot about how the GOP star views his party's future
• 11/02/17: Senate Majority Leader Mitch McConnell finally has something to brag about: Conservative judicial appointments
• 08/29/17: In the Year of the Deciding Vote, one Dem's corruption trial could change the Senate --- or not
• 08/28/17: President is distancing himself from Hill GOPers to inoculate himself from blame for midterm losses. He may be helping Dems take the House
• 07/27/17: GOP senators warn Trump that getting rid of Sessions would be terrible move
• 05/30/17: Rahm Emanuel on Dem problems: 'You're not going to solve it in 2018'
• 05/29/17: Sen. Lindsey Graham: Comey needs to be 'held accountable' over Clinton investigation decisions
• 05/29/17: Montana election proves liberal outrage isn't enough
• 03/22/17: Gorsuch steals Dems' line of attack
• 02/27/17: 'All politics is local'? Not any more
• 02/01/17: Fight over Supreme Court nominee could forever change the nature of ... the Senate
• 01/23/17: A possible cushion for Trump's Cabinet nominees: Dems with elections in 2018
• 01/12/17: Trump outsmarts Dems and their media sycophants yet again
• 01/11/17: Rubio is the man to watch in Tillerson's confirmation hearing
• 11/08/16: Sometimes even the best Senate candidates can't win
• 07/14/16: The likely end of vice presidents as congressional emissaries
• 05/02/16: Is the 2016 election about to change again? Dem Schumer, a one-man super PAC?
• 03/31/16: And now for some good newsCan Trump become so unpopular that Dems take back the House?