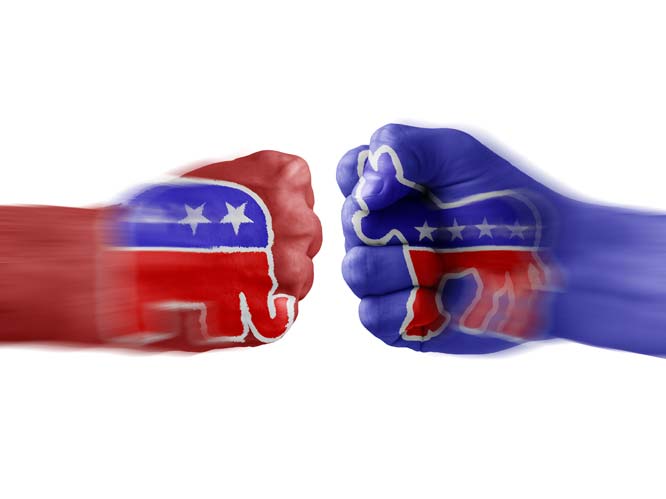 Democrats talk about the years since 2010 as the Lost Decade, a time when a generation of future leaders was wiped out by a pair of devastating midterm elections and the absence of a strategic plan to recoup from those losses. That's one reason this year's gubernatorial elections are the most important in years.
Most of the current political focus, understandably, is on the upcoming congressional elections, when Democrats could retake control of the House and possibly even the Senate. Democratic control of the House would put a roadblock in the path of President Trump and dramatically alter the terms of debate heading toward the 2020 election.
But the Democrats need significant gains in the gubernatorial elections this November if they want to begin a broader rebuilding effort to restore the party to the kind of strength it once enjoyed. Without vitality in the states, the Democrats will remain what they became in recent years: a hollowed-out political institution.
Those 2010 and 2014 midterm elections cost Democrats dearly in Congress, but the damage was even more consequential in the states. Republicans made massive gains in state legislatures and among the governors. That gave them the power to implement their policies in the states at a time they were stymied in Washington.
But it also gave Republicans the power, after the 2010 Census, to control the redistricting process in many states, helping them to cement some of their gains through subsequent elections. "We were all asleep at the switch," said Washington Gov. Jay Inslee, the current chair of the Democratic Governors Association.
Democrats say they are determined not to repeat past mistakes. "I ran in 2010," said Connecticut Gov. Dannel Malloy. "There was no coordinated effort or concern about the census and what redistricting would look like. . . . We wanted to make sure that the DGA and Democrats in general didn't take their eye off what was going to happen after the next census."
Inslee and Malloy were part of a group of Democratic governors who held a news conference on Friday to highlight what they said would be a targeted investment in gubernatorial races this fall in states where the redistricting battles after the 2020 Census could be especially consequential.
They were joined by Pennsylvania Democratic Gov. Tom Wolf, who has become a symbol to politicians in both parties of the stakes in this year's gubernatorial races. "I am in fact a living, breathing example of why Democratic governors matter," he said.
The Pennsylvania Supreme Court, with five Democrats and two Republicans voting on party lines, recently threw out the current boundaries for House districts, saying they represented an example of partisan gerrymandering by Republicans. The state court ordered legislators to draw a new map.
Republicans prepared a new map, which again gave Republicans an advantage. Wolf vetoed that map, throwing the issue back to the court, which then produced a map with new boundaries that give Democrats the opportunity to pick up several more seats in House elections this fall. Republicans have protested and have asked the U.S. Supreme Court to intervene. Some Republicans also have called for impeaching the judges.
On Saturday, President Donald Trump highlighted the battle with an afternoon tweet. "Democratic judges have totally redrawn election lines in the great State of Pennsylvania," he tweeted. "This is very unfair to Republicans and to our country as a whole. Must be appealed to the United States Supreme Court. ASAP!"
The Pennsylvania map is important for the balance of power in the House come January. But the controversy underscores the impact that the November gubernatorial contests could have on congressional and legislative districts in the decade after the 2020 Census. That's not the only reason to pay attention to these state races; the focus on gerrymandering and redistricting has added to their visibility.
Tennessee Gov. Bill Haslam chairs the Republican Governors Association. He noted the degree to which his party is on the defensive, both because the midterm climate in the first election of a new presidency favors the opposition party - "You're facing an energized left," he said - and because Republicans have so many governorships to defend.
Democrats are near rock-bottom in their control of governorships, now totaling just 16 after picking up New Jersey last year. There will be 36 gubernatorial contests this year, including 26 where Republicans are now in power. Fourteen Republican incumbents are seeking reelection while 12 are open seats. "It's the most in 35 or 40 years that either party has defended," Haslam said.
Democrats have focused attention on how redistricting could affect this year's races partly as a way to attract more attention, and therefore money, at a time when so much focus is on congressional contests. Republican governors said Saturday that they will use redistricting as motivation for their donors and organizers. "The argument works both ways," Haslam said. "Pennsylvania is the case in point."
Texas Gov. Greg Abbott said another way to energize Republicans on these races will be to point to former president Barack Obama and former attorney general Eric H. Holder Jr., who have teamed to work on redistricting and the elections.
"They have targeted various states to try to basically win back the losses that were suffered during the Obama administration," he said, noting with some irony the degree to which Republicans made huge gains at the state level during Obama's presidency.
Abbott said Republicans will come to understand the significance of Obama's efforts in both the electoral process and the legal redistricting process. "If you have a governor who vetoes the redistricting process, they will have an opportunity to fight it out in court," he said. "That's precisely the scenario right now in Pennsylvania. We want to make sure we don't have any replication of what has happened in Pennsylvania."
Democratic governors insist that their efforts are aimed merely at assuring that future congressional and legislative maps are drawn fairly and not subjected to partisan gerrymandering. They are playing defense now, but when they have had full power in states in the past, they have done what the Republicans did after 2010, which is to draw lines that disproportionately benefit their party.
Pennsylvania's Wolf said Democrats' goal should be simply to assure that maps and boundaries are drawn fairly, not distorted to help the party with power in the states. "To the extent that we allow this kind of distortion to our democracy to exist is a real blemish on all of us who are public servants," he said.
Some states have moved to take politicians out of the process and to assure that partisanship is kept to a minimum. Inslee, speaking not for the DGA but personally, said he thinks that systems that remove partisanship from the redistricting process would be healthy for democracy. But he added: "The first order of business is to put out the fire, and the house is on fire right now."
That assures that redistricting will be one more flash point in American politics for the foreseeable future, with both sides now tuned up to fight this out in upcoming elections and then in the courts in the next few years. The first critical conflict in this struggle will be the governors' races in November.