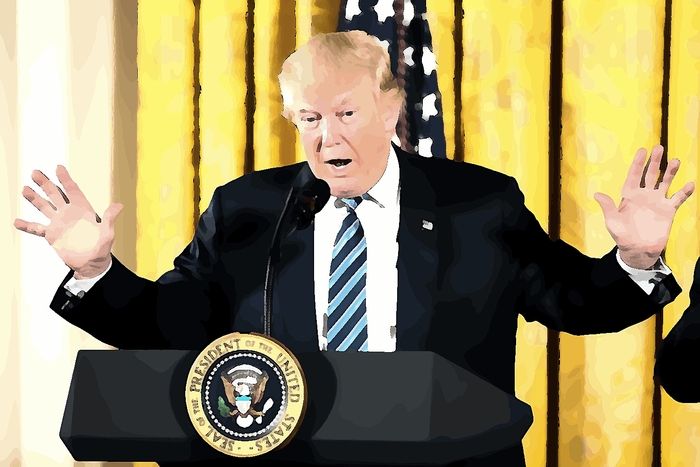 In the aftermath of the judicial roadblock of his immigration executive order, President Trump doesn't lack for options.
He can ride the sucker to the Supreme Court, where two of the three outcomes aren't pleasant - a 5-3 defeat, or a 4-4 tie that would send the matter back to the 9th Circuit Court of Appeals (I'm reminded of a football coach's lament: "Three things can happen to you whenever you throw the football, and two of them are bad.")
Trump could start anew, with a revised and revamped order that might be on more solid legal footing. "We have a lot of other options, including just filing a brand-new order," he told reporters last week.
Or the President could do something far more vengeful - to the delight of red-state conservatives: break up the 9th Circuit.
Arizona Sen. Jeff Flake is pushing the idea in Congress. Under his bill, his state along with Alaska, Idaho, Montana and Nevada would be part of a new circuit (California, Hawaii, Oregon and Washington would remain part of a downsized 9th Circuit).
Here's yet another option for President Trump: don't get mad and don't get even.
Just get to work and start filling vacancies on the federal bench.
According to the United States Courts web site, there are 18 appellate court vacancies and 91 federal district vacancies at present (the total number of authorized judgeships for the two: 170 and 677, respectively).
That includes four vacancies on the 9th Circuit Court of Appeals, and a total nine district court vacancies in California (five) and Washington (four), which could prove to be two of the more litigious states as far as blocking Trump Administration initiatives is concerned (of the nine total vacancies in California, six are former Democratic appointees).
But wait, there's more.
Another 14 vacancies will occur by the end of September (12 district court, two appellate). Sum total: 20 appellate and 103 federal district vacancies awaiting Trump in the first 20 months of his presidency - while he has a GOP-controlled Senate awaiting his choice.
I'll give you three reasons why Trump should start rolling out judicial nominations beginning as soon as a month from now.
First, it's smart politics in that it solidifies his base. Judicial over-reach not only enrages core Trump supporters, but was a considerable factor in convincing reluctant Republicans to lend their support last fall (you might have noticed the relative lack of outrage from GOP congressmen when Trump teed off on the "so-called judge").
Second, partisan wrangling over judicial picks is a fight Republicans would relish in that smattering of Trump states - Indiana, Missouri, Montana, North Dakota and West Virginia - where vulnerable Democratic Senate incumbents up for reelection in 2018 likely wouldn't follow Chuck Schumer's marching orders (you might have noticed their relative lack of outrage over Judge Gorsuch).
Third, Trump prolifically forwarding nominations to the Senate Judiciary Committee sends a strong signal that this administration, so busy yet at times dismayingly disorderly, is getting into a governing groove.

How quick of a groove, you ask?
Barack Obama nominated his first federal judge - David Hamilton, 7th Circuit Court of Appeals - on March 17, 2009. He rolled out two appellate picks apiece in April, June and August, plus another four for the remainder of 2009.
As for district court judges, Obama's first two picks weren't until the final Thursday in June. He made two selections apiece in July and August and then picked up the pace with four district court nominations in October and seven in December.
Two noticeable traits of Obama's nominations: speed (for the most part) and presidential indifference.
All of Obama's 17 district nominees were on the bench by May of the following year (10 of them, by January). The 12 appellate nominations made by Obama in 2009 moved at a slower pace: all were in place by the end of 2010 - 9 by the end of April).
I
Yes, there was partisan bickering surrounding Obama's early picks - minority Senate Republicans did their best to gum up the works in some instances. But that was before Harry Reid rewrote the Senate rules pertaining to non-Supreme Court judiciary picks, allowing judges to go through on simple-majority votes.
The other complicating factor in the early stage of Obama's presidency with regard to judicial picks: the President didn't seem much interested in engaging in a dust-up with the quarrelsome minority.
If you go back and review the numbers and the politics of the moment, Obama was (a) slower to fill existing vacancies than the left had hoped when he took office; (b) didn't urge Reid to push harder for floor votes; and (d) didn't activate liberal interest groups to make the logjam a national debate.
The first two mistakes are ones Trump can easily avoid.
As for the final point: making the judiciary a national debate? Seems to me this worked pretty well for Trump - and Republicans - last November.
Comment by clicking here.
Bill Whalen is a research fellow at the Hoover Institution, where he studies and writes on current events and political trends. In citing Whalen as one of its "top-ten" political reporters, The 1992 Media Guide said of his work: "The New York Times could trade six of its political writers for Whalen and still get a bargain." During those years, Whalen also appeared frequently on C-SPAN, National Public Radio, and CNBC.