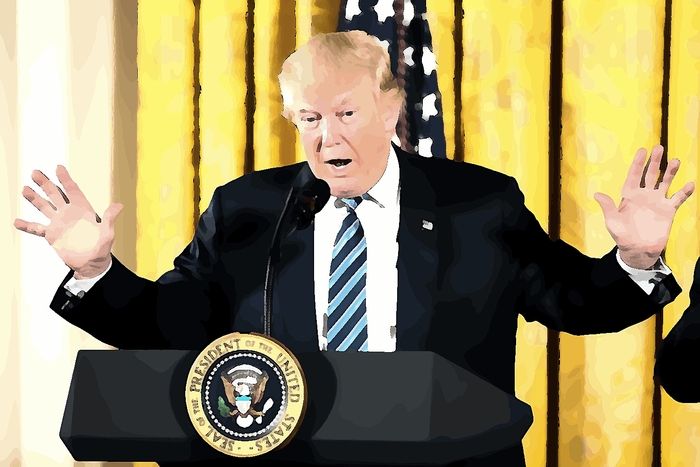 An unofficial rite of passage for new presidencies is allowing NBC News a glimpse under the tent - letting the network inside the West Wing, cameras in tow, to film "a day in the life" of the White House.
With its breathless accounting of long hours, dramatic decision-making moments and a cheerful, reverent, multi-tasking commander-in-chief, all that's missing from this "reality" are the longwinded Sorkin soliloquies from the fictional political drama that ran for years on the same network.
I always walk away from these shows with mixed emotions:
It's fascinating to watch the inner workings of the place, sanitized and staged as it may be.
I fear for the republic if the aides don't ease up on the 16-hour workdays.
The Trump White House is different. Given it's hostile media relations, it may not grant such access to NBC anytime soon (the Obama, Bush 43, Clinton and Reagan White Houses all did so in their first years).
Meanwhile, there's a question among four parties with a stake in this presidency as to who can keep up with the current pace of executive orders, internal White House drama and external near-hysteria.
The four parties:
1. All The President's Men (And Women). This weekend piece in The Wall Street Journal discusses what one historian characterizes as "a shock and awe presidency", a torrent of meetings and executives orders and announcements meant to make good on campaign promises - some done effectively (the Gorsuch Supreme Court nomination) and some not so well (the sloppy rollout of the travel moratorium/refugee ban).
The story reads: "How much of the first two weeks' tumult was strategic and how much was a result of infighting, inexperience or simple disorganization is hard to pinpoint. This account - based on interviews with White House officials, lawmakers, federal officials, people close to the White House and others who have met with the president in his time in office - shows Mr. Trump has work to do before his White House is running at peak performance. It shows, too, that while he might try to impose more discipline among his staff, his own freewheeling style drives some of the turmoil."
Here's one way to look at the top of the West Wing pyramid: at least four people seem to be at the heart of the operation - chief strategist Steve Bannon, chief of staff Reince Priebus, counselor Kellyanne Conway and senior advisor Jared Kushner (a two-fer, given that he's married to Ivanka Trump).
Two of these people - Priebus and Conway - are media fixtures. Two others - Bannon and Kushner - have their fingerprints on most key decisions.
Will any of these four pull back a bit (Conway, for example, letting cabinet secretaries do more of the talking)? Are any destined for power struggles (Bannon and Priebus)?
2. The Media. I grew up in Northern Virginia worshiping The Washington Post - delivering that paper was my first job. Here's a sample of Post headlines from two Fridays ago:
"The Leaks Coming out of the Trump White House Cast the President as a Clueless Child"
"President Trump and Mexican President Speak By Phone Amid Crisis in Relations" (the CNN Version: "Mexican Leader Talks to Trump on Phone After Canceled Visit")
"Reality Check: Many of Trump's Early Vows Will Probably Never Happen"
"In Trump's Mind It's Always "Really Sunny", And That's Terrifying"
"Are Any Republicans Willing to Start a Truth Caucus?"
Meanwhile, The New York Times now uses the word "lie" in its headlines (the same publication reporting back in 1998 that Bill Clinton "misled" the nation with regard to Monica Lewinsky).
Yes, the Trump White House goes out of its way to provoke the media? But it's a two-way street. At what point will publications like the Post decide that the screaming headlines aren't necessarily warranted and The New York Times and others give Trump the same latitude as his predecessors?
3. The Protestors. I wrote this Sacramento Bee column half-joking that if it's Saturday in California, it must be protest time. Turns out I was right.
On this Super Bowl weekend, there is no over-under wager on the number of protests that are plausible in the first 100 days of a presidency. But there are two good questions moving forward, if this continues as a weekly fixture:
At one point does the public tire of the spectacle?
What's the point if the energy isn't channeled into a more productive use - i.e., voter registration and turnout?
4. The President. I saved Trump for last because I don't think there's much of a debate here. The thought of Donald Trump tiring of the dust storms and an almost daily dose of controversy?
About as likely as him pulling into Supercuts.
The longer this pace continues, the louder the calls will be from the punditocracy for Trump to dial it down - lay off the tweets, choose his words more carefully.
Circle Feb. 28 on your calendar. Trump's been invited by House Speaker Paul Ryan to address a joint session of Congress on that date. Congressional Democrats have schemed to make it an uncomfortable visit - loading the House gallery with minorities, undocumented immigrants and the like.
Maybe a more conciliatory Trump shows up that night. Perhaps the hostile reception convinces him to double-down on the same language that got him elected.
It's a shame. Something's got to give.
Comment by clicking here.
Bill Whalen is a research fellow at the Hoover Institution, where he studies and writes on current events and political trends. In citing Whalen as one of its "top-ten" political reporters, The 1992 Media Guide said of his work: "The New York Times could trade six of its political writers for Whalen and still get a bargain." During those years, Whalen also appeared frequently on C-SPAN, National Public Radio, and CNBC.