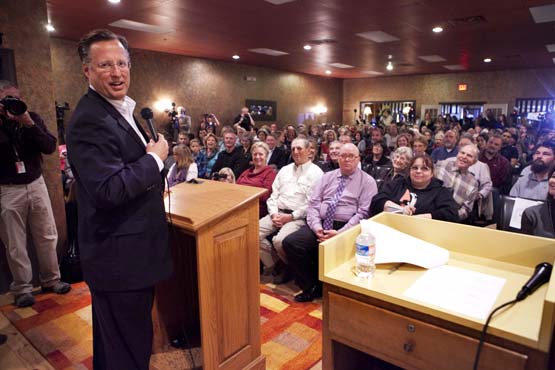 These days, Tip O'Neill must be rolling over in his grave.
The late House speaker famously declared that "all politics is local," but that adage has been put to the test over the past decade by an increased level of national news consumption by an electorate watching cable TV and reading the Facebook pages of friends across the country.
Surging seas of activists on the left and the right are drowning out local issues and forcing senators and representatives to answer locally for every national controversy.
Never has that new environment been so perfectly captured than over the past week, when lawmakers returned home to their congressional districts. They discovered, if they didn't know already, that most voters were no longer paying much attention to core issues in their own communities.
From a high school in Grand Rapids, Mich., to the cornfields of Iowa to a Muslim center outside Washington, thousands of voters headed to events hoping to ask their members of Congress a question or two. Again and again, rather than mimic a local civics class, the meetings took on the tone of a national news show.
Reporters for The Washington Post attended at least 10 meetings involving members of the House and Senate and spanning more than 14 hours. The lawmakers faced more than 160 questions from the public or local moderators. The questions were often thoughtful and knowledgable.
Only 11 focused on issues of purely local concern.
More than 93 percent of the questions these lawmakers faced dealt with some national or international issue, including Trump's personal and financial ties to Russia and the level of support for repealing the Affordable Care Act. Some lawmakers were asked to define what "fake news" meant to them.
In Blackstone, Va., more than 60 miles southwest of Richmond, Rep. David A. Brat, R-Va., faced a barrage of questions Tuesday about the health law and whether millions would lose insurance if it was repealed. According to The Post's Jenna Portnoy, Brat fielded three dozen questions in a 70-minute session.
Just two constituents focused on local topics.
One question dealt with how Brat could help rural hospitals. The other question came on a piece of paper that didn't include a constituent name, simply reading: "Rural. Internet. Help."
More than 110 miles east in Yorktown, Va., at the same time Tuesday, Rep. Scott W. Taylor, R-Va., faced hostile questions about Trump's attack on national news organizations as "the enemy."
The region's local shipbuilding industry as well as its many military bases are remarkably reliant on federal funding. Just one constituent asked Taylor - who serves on the subcommittee that funds military construction projects - about what he could do to boost the local economy with military ship projects.
At 37, Taylor said he is not surprised by the lack of focus on local concerns. He won his first race in 2013, for state delegate. In a campaign in which he knocked on nearly 10,000 doors, he found that the focus was overwhelmingly national.
"That's what's in the news, that's what's on the social media," Taylor said in an interview after the second of three town hall meetings he held over the week. "There's definitely local issues as well, too, but to me they seem to be a minority, and they have been ever since I've been involved in politics."
Republican critics might contend that these citizens are merely mouthing the questions that national liberal advocacy groups encourage them to ask. In one instance, before a Grand Rapids town hall event held by Rep. Justin Amash (R), a freelancer for The Post, Steve Friess, came across fliers distributed by the group Indivisible, explaining to the public how they should address the congressman and the issues.
But, overwhelmingly, these were residents of the local district, real constituents angered by the early days of Trump's presidency. In many ways, they are mirroring the heavy focus on national issues that conservative activists, under the tea party banner, focused on over the past seven years.
Still, the whole scene of the past week turns upside down the original purpose of town hall meetings.
The point of scheduling congressional recesses - formally known as "district work periods" - is for senators and representatives to go home and talk to real people to discover what their constituents really care about.
O'Neill, who was speaker from 1977 to 1987, encouraged his caucus to focus on local bread-and-butter issues, helping to maintain large Democratic majorities even as Ronald Reagan's Republican presidency remained very popular.
Town halls had become mandatory for presidential candidates in the early-voting states of Iowa and New Hampshire, whose leaders have long asserted that their constituents had unique issues that would test the candidates.
But Alex Conant, an adviser to Tim Pawlenty's and Sen. Marco Rubio's 2012 and 2016 Republican presidential campaigns, respectively, said that by 2011, he could see the tone of voters in Iowa and New Hampshire growing angrier and shifting on national issues.
In 2016, Sen. Ted Cruz, R-Texas, rejected decades of precedent and opposed federal support for ethanol, a critical issue to Iowa's corn growers that had previously been seen as a crucial position for presidential contenders. He won the state's Republican presidential caucus anyway. Trump barely did any town halls and won the New Hampshire GOP primary in a blowout.
Now, seemingly, that sentiment has taken hold with members of the House, each of whom, on average, represents just 750,000 people.
Lawmakers used to be able to dole out millions of dollars' worth of earmarked funds each year for local projects, but that practice was prohibited six years ago after many federal corruption investigations.
That leaves rank-and-file lawmakers with less to talk about now in terms of their own achievements. At the same time, as local media budgets have collapsed, the public increasingly has turned to national venues for news, whether the 24/7 cable channels, websites or social media.
The result is that, at a town hall before 900 people, Rep. Leonard Lance, R-N.J., a moderate whose focus is on health issues, faced four questions about Trump's ties to Russia and three more about the president's financial investments and potential conflicts of interest - and just two questions about the ACA.
It is happening at Democratic town halls, too. Reps. Steny H. Hoyer, D-Md., and Anthony G. Brown, D-Md., spent three hours with constituents at the Diyanet Center of America, a mosque and cultural center in Lanham, Maryland, with just two questions relating to local concerns. Even those issues - how could Maryland retain parts of the ACA, and what could be done about drawing congressional districts? - had a national undertone.
The Washington Post's Arelis Hernandez summed up her report this way: "One by one, Marylanders posed the same question in their own words: How can they stop Trump?"
Comment by clicking here.