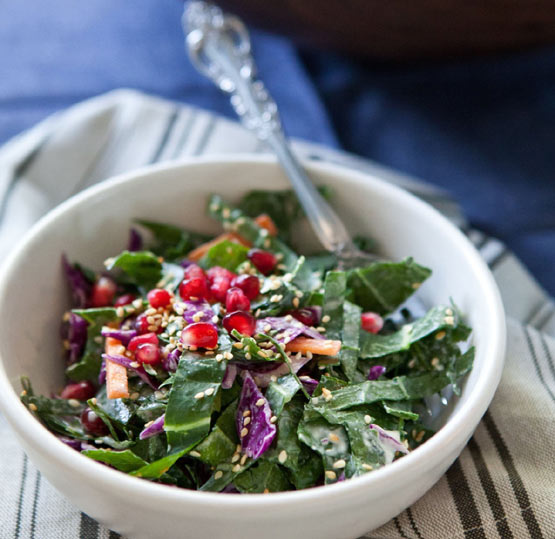 At this time of year we can use all the color we can get in our food. This wintery coleslaw has become a real mood booster, with its purples and oranges and reds. I think it just might carry me through the season.
I first got the idea for a collard green coleslaw at my local co-op. They do a really delicious version flecked with bits of carrot and raisins and cloaked in a creamy vegan-mayonnaise dressing.
For my recipe, I wanted to experiment with a lighter (although still creamy) dressing that would let the vegetables shine through, so I came up with this tahini dressing spiked with a little honey and apple cider vinegar. It's so good that I always make a double batch and keep the rest on hand for salads throughout the week.
Now as far as recipes go, this one is a cinch. The most time-intensive part is the chopping, and I prefer to have the carrots and apples thinly julienned, so that takes a bit of time (I'm scared of my mandoline so I do them by hand). Then you thinly slice the cabbage and collards and you're on your way.
I usually make this for lunch on a slow weekend day. It's good with a piece of good bread or a warm tortilla with a little butter. It's also a prime candidate for adapting and tweaking, especially if there are any vegetables here you don't care for or ingredients you wish were featured. A salty cheese might be nice, as would avocado or some additional crunch from toasted almonds or hazelnuts.
COLLARD GREEN SLAW
Serves 6 to 8
For the slaw:
1 bunch collard greens, rinsed and thinly sliced into 2-inch-long pieces
2 medium carrots, peeled and julienned
1 ripe red apple, cored and julienned
1/2 bunch flat-leaf Italian parsley, finely chopped
1/2 cup pomegranate seeds, plus more to top
1/2 small head red cabbage, finely shredded
3 green onions, thinly sliced
1/3 cup toasted sesame seeds
Kosher salt and black pepper, to season
For the dressing:
1/4 cup tahini
1 heaping teaspoon Dijon mustard
1/4 cup apple cider vinegar
1 teaspoon honey
Generous pinch of kosher salt
Combine all of the slaw ingredients into a very large salad bowl.
To make the dressing, whisk together the tahini, mustard, vinegar, honey and salt until smooth and creamy. If the dressing seems clumpy or too thick to coat the greens well, add a little water, 1 teaspoon at a time.
Toss the salad with the dressing. Sprinkle extra pomegranate seeds on top and serve.
When dressed, salad is best served the day it is made.
Comment by clicking here.
Megan Gordon is a writer for TheKitchn.com, a nationally known blog for people who love food and home cooking. Submit any comments or questions to kitchn@apartmenttherapy.com