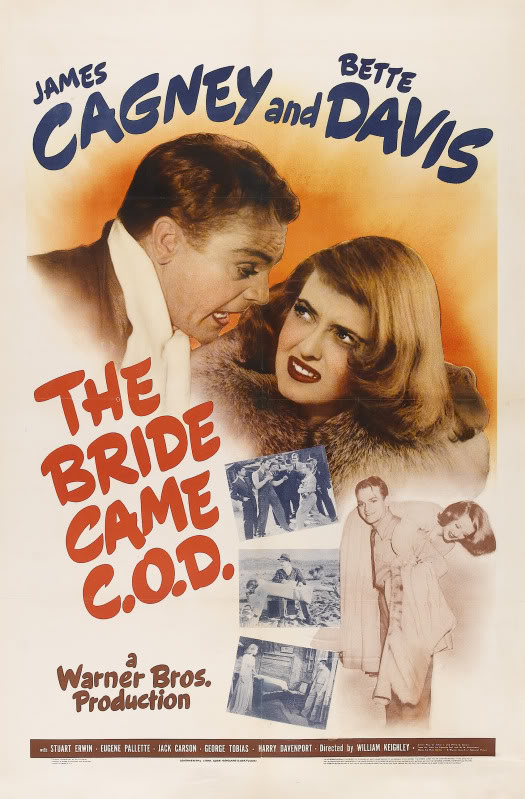 Thanks to modern technology we movie fans now have wonderful access to classic pictures we otherwise might never have ever had a chance to see. Beyond the usual popular classic films such as "Casablanca," "Gone With the Wind," "Mr. Smith Goes to Washington," "Ben-Hur," "Singing in the Rain," "Psycho," and so on, there are a treasure trove of many lesser known little gems that have never gotten the airplay that they deserve. Happily, many of these are being made available on DVD, Turner Classic Movies, and Netflix.
No matter how great a movie is, if you watch it too often in too brief a time span the picture can actually wear itself out for you. An all time favorite of mine since I was a kid has been "The Wizard of Oz," but unfortunately I've seen it so much over the course of my life that I don't know if I'll ever be able to watch it again. The same goes for "It's a Wonderful Life," "Yankee Doodle Dandy," and several other terrific pictures. It's a shame but sometimes you can love something so much that you literally love it to death.
That's why it's great when you come across an obscure little picture with big stars that has somehow fallen through the cracks in your movie watching experience. One excellent case in point for me is "The Bride Came C.O.D." starring James Cagney and Bette Davis released in 1941. I'd seen bits and pieces of it on TCM in the past and I liked what I saw, but until recently I'd never seen it from start to finish. What a surprisingly delightful picture!
Think of Frank Capra's "It Happened One Night" starring Clark Gable and Claudette Colbert. Now, with a few different twists and turns, think of James Cagney and Bette Davis in those roles. Sounds crazy, but believe me when I tell you it works beautifully. The plot goes like this: a financially-strapped charter pilot hires himself out to an oil tycoon to kidnap his spoiled screwball daughter to prevent her from eloping to Las Vegas with a dopey egocentric bandleader/singer whom she's only known for four days.
This 1941 movie is a true throwback to the screwball comedies of the 1930's, particularly the ones where the madcap heiress is running away and has a "meet cute" setup with an average Joe. Following the success of "It Happened One Night," suddenly there were a slew of pictures with variations on this theme starring some big name stars. Some were bombs, a lot of them were fun, but none were better than Cagney and Davis in "T."
The teaming of Jimmy Cagney and Bette Davis in this film was brilliant. Their onscreen chemistry is a joy to watch and their comedy timing perfect. Besides the two stars, the picture has a gang of first-rate supporting and character players such as Eugene Pallette as the father, Jack Carson as the pompous ass, Harry Davenport as the lone inhabitant in a ghost town, as well as Stuart Erwin, Edward Brophy, William Frawley, and George Tobias.
Directed by William Keighley, the script was written by the prolific Epstein brothers, Julius J. and Philip G. to be precise. The action is"non-stop and there are several really funny lines, but the magic is definitely in the interplay between Cagney and Davis.

The music score by Max Steiner (with a little help from Ray Heindorf and Hugo Friedhoffer) is also quite excellent, borrowing snatches of familiar popular songs for comic effect (e.g., "Trade Winds" during Cagney's first appearance in the hangar; "Hark! The Herald Angels Sing" and "Jeannie with the Light Brown Hair" to denote unconsciousness after getting slugged; "Oh Susannah" and "Clementine" when Cagney and Davis spot the ghost town; and Wagner's famous Bridal Chorus scattered throughout the film).
I've seen Cagney do comedy before, but his character in this one is truly different. The real surprise however is how good Miss Davis was at screwball comedy. And, by the way, she never looked better than she does in this film. Together they made a wonderful team, playing off one another's personalities; she the emotional bratty rich girl, he the cocky airplane pilot who delights in teasing her. The film is so much fun that it leaves you wanting more. Too bad they didn't team up to do a few more pictures like this.
=
Comment by clicking here.
JWR contributor Greg Crosby, former creative head for Walt Disney publications, has written thousands of comics, hundreds of children's books, dozens of essays, and a letter to his congressman. He's been a JWR contributor since 1999.