Jewish World Review Feb. 3, 2004 / 11 Shevat, 5764

Dennis Prager
My minute with President Bush

http://www.jewishworldreview.com | This past weekend, President Bush and I were the two main speakers — I on Friday, he on Saturday — in Philadelphia at the annual meeting of Republican senators and congressmen sponsored by the Congressional Institute. I relate my own participation for two reasons.

One reason is, quite simply, my desire to relate a personal milestone. After a lifetime of working out ideas on the uniqueness of America, having the opportunity to offer these ideas to what was essentially a joint session of the Republican Congress (including the speaker of the House, House and Senate majority leaders, 33 senators, and about a hundred congressmen) was satisfying in the deepest possible ways.

But that is not the primary reason for relating my role at this conference. Rather, it is to provide the context for explaining how I felt having a little over a minute with President Bush and hearing him speak in person for the next hour.

Again, personal context is essential. When G-d gave out the normal human desire to meet celebrities and stars, I was in another line. Even as a young person I had no particular desire to meet famous ballplayers and get autographs from them or from any other famous persons. I have lived in Los Angeles for 28 years, am regularly on television, made three videos with major Hollywood actors, and have yet to attend one Hollywood party. I would rather bowl with my 11-year-old son than have lunch with an Academy Award-winner.

There has been an exception to this rule — George W. Bush. I have loved and admired this man ever since I felt that I got to know him during his presidential campaign. (Before his winning the Republican nomination, I knew so little about him and thought so little of his chances of defeating Al Gore that I voted in the California primary for John McCain.) I believe that this man is changing history for the better, that he is the dam holding back the waters of chaos, that he saved this country at a time when Democrats would have failed it, and that he is both kind and strong, real and decent, powerful and humble.

So when I had the opportunity to stand in line with my wife and youngest child to simply shake this man's hand, I rushed at the opportunity. I waited in line as excited as most people would be to greet their favorite Hollywood star. Wearing a silly grin, I told the congressmen and senators around me that I felt like a 7-year-old about to meet Willie Mays or Derek Jeter. I even broke into a sweat.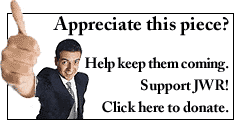 My wife and I independently rehearsed what we might say if we were to have more than a simple handshake with the president.

And we did have more. My wife told him that when she lights the Sabbath candles every Friday night in our home, she says a prayer for him. And I told him that I say a prayer for him each week at synagogue.

Unless he is a faker — and I believe that I can sense a faker a mile away — it was clear that the president was moved. Which is exactly what we hoped for. We know how much he values prayer, we know how much hatred he receives, and we suspect that he does not often associate Jews with those prayerfully supporting him.

He stopped and told us that only those who understand prayer could understand how much this means to him and asked if we would like a family photo with him. Imagine your child getting to take a photo with every member on his favorite baseball or football team and you can imagine my excitement.

I realize that I open myself to ridicule by saying that everything I had suspected about the man was reinforced in a little over a minute and in the subsequent behind-closed-doors speech to the Republican congressional leadership. But it was. And that is not all.

There is also his calm and dignity. After eight years of the look-at-me-and-adore-me presidency of his predecessor, it is almost too good to be true that a president does not make himself or regard himself as the center of the world in every encounter. It is clear that he knows the awesome responsibility resting on his presidential shoulders and that he believes that it is the presidency, not he, that must be the focus of admiration and attention.

But what most impressed me — given that I assumed those qualities prior to meeting him — was the president's intelligence and clarity of vision.

In his hour-long talk, including a long question and answer session, I watched a man speak on the widest variety of domestic and international issues without any notes, without any teleprompter, without any hesitation, and with passionate conviction.

Those who believe that a Bush re-election is indispensable to a better world can only pray that the Democrats continue to regard George W. Bush as intellectually challenged. He never was, and he has grown in these past four years so greatly that his Democratic opponent will not know what hits him in the fall debates.

A great man resides in the White House. That is why he is hated. And that is why he will win.
Every weekday JewishWorldReview.com publishes what many in Washington and in the media consider "must reading." Sign up for the daily JWR update. It's free. Just click here.

JWR contributor Dennis Prager hosts a national daily radio show based in Los Angeles. He the author of, most recently, "Happiness is a Serious Problem". Click here to comment on this column.

01/27/04: On public cursing and other public sins
01/24/04: $#^% Republicans
01/13/04: A column about my last column
01/06/04: JIMMY CARTER: 'COMPASSION FOR MORDOR'
09/09/03: The Dems' counter-revolution
08/12/03: What makes a liberal?
08/05/03: A grand victory at the Grand Canyon
07/29/03: Vanessa Bryant deserves admiration, not contempt
07/22/03: Tony, you're killing us: Inside a Leftist brain
07/15/03: Would you rather your teenager smoke or cheat?
07/01/03: Liberal damage to black America is enormous
06/24/03: Unlike any other arrogance
06/18/03: More innocents die when we don't have capital punishment
06/10/03: Only a Palestinian civil war will bring peace
06/03/03: The legal system is now our enemy
05/28/03: Monkeys and atheists
05/20/03: Women pretending to be men
05/13/03: My week at Stanford
05/06/03: Burn families, barbecue chickens: why some can't tell the difference
04/25/03: Much talent, little wisdom
04/15/03: America the good
04/08/03: Dear Germany: Have you learned anything?
04/01/03: Saddam offered professorship at U.S. college
03/25/03: Grieve for Rachel Corrie's parents, but spare us the hagiography
03/18/03: Blame the Jews?
03/11/03: The Lone Ranger rides again
03/04/03: Dan and Saddam
02/26/03: Which will the world's future be: Muslim, European or American?
02/18/03: When have millions of Europeans ever been wrong?
02/11/03: Don't waste your money on an expensive college
02/04/03: What the world would like the president to say
01/28/03: How memories paralyze: Why Jews and blacks vote Democrat, cont'd
01/21/03: Why Jews and blacks vote Democrat
01/14/03: Why the Arab world hates America --- time to myth-bust
01/07/03: Conservatives have talk radio; liberals have everything else
12/31/02: If you believe that people are basically good . . .
12/17/02: Lott, Clinton, and the problem of the career politician
12/10/02: The healthiest and longest living generation of humans since the 900-year-olds of Genesis are being scared silly
12/04/02: Morally neutral reporting is dishonest reporting
11/26/02: Understand Nigeria and you understand the Islamic threat
11/19/02: James Bond meets his most fanatical foe yet -- anti-smokers
11/12/02: Conservatives need to be more compassionate on divorce
11/05/02: Of course, the great majority of Muslims are peaceful -- so what?
10/29/02: Nice guys finish first: Thoughts on the World Series
10/24/02: A Jew defends evangelical Christians
10/16/02: Bigot laureate well represents New Jersey
10/11/02: Why the Creator must always be higher than the Angels
10/02/02: Loudmouth "stars" are remaining surprisingly quiet about Israel
09/25/02: Bob Greene is a good man
09/11/02: 9-11 made America better
09/04/02: What I learned at the Minneapolis Metrodome about liberals and homosexuality
08/28/02: Teach our college co-eds about Islam --- but teach them the truth
08/22/02: LET THEM EAT PEANUTS!
08/14/02: How the nuclear family became "controversial"
08/07/02: Every generation is tested by great evil
07/31/02: Those who curse the Jews and those who bless them . . .
07/24/02: Children should talk to strangers
07/17/02: Why my son's best friend is black
07/11/02: Why Hesham Hadayet may be scarier than al Qaeda
07/03/02: "Pro-Israel lobby" is not why America supports Israel
06/26/02: Why does the Left support the "Palestinians"?
06/19/02: The commencement address I would give
06/12/02: Why do adult children live with their parents? Because they actually like them
06/05/02: The stripper and the Christian school: Thoughts on what a Christian school should do when a parent is a stripper and on who the biggest sinner here is
05/31/02: Don't worry, New York, you are safe from a terrorist threat
05/15/02: A proud member of the world's two most hated peoples
05/10/02: What Israelis are saying
05/06/02: Thank Heaven for moral violence
04/29/02: Give back the Nobel Peace Prize: A letter to Elie Wiesel
04/22/02: Why so many students cheat
04/12/02: Is it 1938 again for the Jews?
04/05/02: It's the values, stupid
01/31/02: Smoke and lose your son
10/30/01: Why Arab/Muslim anti-Semites are worse than the Nazis
© 2002, Creators Syndicate