Passover: Simplified Seder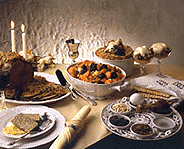 By Ethel G. Hofman
http://www.jewishworldreview.com -- Each year, the number of convenience items certified "kosher for Passover" expands at lightning speed. Supermarkets are stocked up with items past generations never dreamed of. According to Menachem Lubinsky, president of Integrated Marketing Communications, Inc. New York, there are approximately 13,000 kosher for Passover items, with 600 brand-new items. He notes "the trend this Passover is for more variety in traditional items and continued innovation in new items --- at least 20 new supermarkets will include specially designated Passover aisles this year."
In answer to consumer demands, especially that of young families, there are Passover-cloned sugary cereals, five varieties of noodles, homestyle stuffings mixes, honey glazed bag n'bake for chicken, veggie burger mix and toasted marshmallows - just a sampling of items all certified kosher for Passover. And if you're tired of potatoes, a recent article by Sara-Malka Laderman in Kosher Today notes that quinoa, a sesame sized kernel which can be served like rice, was determined to be Kosher L'Pesach by Rabbi Blau in Israel. It is not related to the five types of grain, nor to millet or rice but is a member of the "goose foot" family which includes sugar beets and beet root. Rinse thoroughly under running water before cooking to get rid of bitterness.
Cooking for the Passover seders and for the week of Passover, can be time consuming, especially if you want to hold fast to traditional dishes.But the variety of certified convenience products along with up-to-date kitchen appliances offers us a choice while paring time to a minimum. No need to grind almonds for cakes or cookies, this year they're available packaged. I use a little to bind the ingredients for a Sephardic style charoseth. Mixes may be personalized.
For example, toss in a couple handfuls of chopped fresh herbs to a package of homestyle stuffing mix and you get an almost instant, zesty filling for veal shoulder or for chicken breasts. Check out the cleaned and cut up fresh vegetables in the produce aisle. Shredded carrots, along with other vegetables are sauteed to give credibility as well as home-made flavors to prepared chicken broth. Knaidlach from a mix or from scratch, may be cooked up to 2 days ahead. Place in a dish with a little chicken broth, cover and refrigerate until needed. To reheat cover and zap in the microwave at Medium before adding to the soup. A variation of the annually requested recipe for Fussless Tzimmes contains packaged dried fruits, peeled fresh baby carrots baked in ginger-spiked orange juice. Delicious. Sponge cakes are gussied up for an elegant ending by sprinkling the cavity with wine, and topping with berries and chocolate marbled whipped topping. For a dairy meal, layer crumbled store-bought macaroons, vanilla icecream, and orange liqueur such as Sabra in parfait glasses, then top with a wedge of blood-red orange.
Recipes for starred items only. All items should be certified kosher for Passover.
PASSOVER SEDER MENU
MATZOS WINE SEDER PLATE WITH APPLE-CHERRY CHAROSES*
NEW SEASON CHICKEN SOUP* WITH EASY KNAIDLACH* (MATZOH BALLS)
CRISP BABY GREENS
HERB-STUFFED VEAL BREAST*
OR SALSA'D BRISKET IN A BAG*
ONE BOWL PINEAPPLE-CARROT KUGEL*
FUSSLESS TZIMMES*
TIPSY BERRY TUNNEL CAKE*
FRESH FRUIT SALAD

APPLE-CHERRY CHAROSES (PAREVE)
MAKES ABOUT 2 1/2 CUPS

2 red-skinned sweet apples (such as McIntosh)
1 cup canned, pitted cherries, well-drained
1/2 cup finely ground almonds
2 teaspoons cinnamon
2-3 tablespoons honey
1-2 tablespoons sweet red wine to moisten
Core apples and cut in chunks (no need to peel.) Place in food processor and chop coarsely. Add the cherries, ground almonds and cinnamon. Process to coarsely chop cherries.Transfer to a bowl. Stir in honey to taste and red wine to moisten. Serve at room temperature. May be prepared up to 2 days ahead.
NEW SEASON CHICKEN SOUP (MEAT)

SERVES 6-8


1 tablespoon peanut oil
1 large onion, chopped or 1 1/4 cup frozen chopped onion
2 cups shredded carrots
1/4 cup grated parsnip
8 cups low sodium chicken broth
2 tablespoons chopped dill
In a large pot, heat the oil over medium heat. Add the onion, carrots and parsnip. Cook until vegetables are soft, 10-12 minutes, stirring often. Do not allow vegetables to brown. Pour in the chicken broth and dill. Heat through. Serve with knaidlach.
Note: may be prepared up to 3 days ahead, covered tightly and refrigerated.
EASY KNAIDLACH (MATZO BALLS) PAREVE

MAKES 30-34
4 rounded tablespoons margarine, softened
3 eggs
1 1/2 teaspoons salt
1/4 teaspoon white pepper
pinch nutmeg
1 - 1 1/4 cups unsalted matzo meal
30 -34 dark raisins
In a small bowl, whisk together the margarine, eggs, salt and pepper and nutmeg. Stir in enough matzo meal to make a slightly sticky dough. Cover and refrigerate for 30 minutes. With wet hands, shape dough into small balls about 3/4-inch in diameter. Press a raisin into the center of each ball, working dough around to cover. Slide knaidlach gently into a pan of simmering salted water. Return to simmer. Cook uncovered for 10-15 minutes until dry in the center.
BRAISED HERB-STUFFED VEAL BREAST (MEAT)


SERVES 8-10
1 package (6 ounce) homestyle stuffing mix
1/4 cup peanut oil
2 scallions, thinly sliced
1 1/2 cups chopped fresh parsley
1/2 cup chopped dill
juice and grated rind of 1/2 large lemon
2 cups boiling water
pepper and salt to taste
paprika
4 1/2 pound boned veal breast
1 1/2 cups low sodium chicken broth
Preheat oven to 450F. Brown the stuffing crumbs in peanut oil according to package directions. Add the scallions, parsley, dill, lemon juice and grated rind along with the boiling water. Lay veal, cut side up, on a flat surface. Spread mixture, about 1/2-inch thick, to within 1 1/2-inches of edges. (any extra may be baked in custard cups at 350F for 20-30 minutes.) Roll up as for a jelly roll. Secure with poultry picks or tie with string. Place in a roasting pan, skin side up. Sprinkle with salt, pepper and paprika. Pour 1 cup chicken broth and 1/2 cup water around. Roast, uncovered, in preheated oven for 30 minutes. Pour 1/2 cup water and remaining broth around roast. Cover tightly with foil. Reduce heat to 350F. Roast 2 hours longer basting often. Meat should be tender when pierced with a sharp knife. Let stand 10 minutes before slicing 1/2 - 3/4 inch thick. Serve hot. Pass gravy in a gravy boat.
To make gravy: Skim off any fat from the gravy. Thicken with 1-2 tablespoons potato starch mixed with some of the cooled gravy. Stir any brown bits from bottom of roasting pan. Add the blended potato starch. Bring to boil, stirring constantly until thickened.
SALSA'D BRISKET IN A BAG (MEAT)

SERVES 10-12
1 cup dry red wine
1 cup medium or mild salsa
10 cloves garlic, peeled
1 pound white mushrooms, quartered
4-5 pound brisket, trimmed
Preheat oven to 325F. Prepare a large size oven bag according to package directions (dust inside with 1 tablespoon potato starch instead of flour) Put wine, salsa, garlic, and mushrooms into the bag and mix. Add the brisket and spoon wine mixture over. Tie bag and place in a roasting pan large enough to hold the brisket bag without flopping over the sides. Cook in preheated oven for 2 1/2 - 3 hours or until a skewer or large fork inserted in thickest part slides out easily. Cool slightly before slicing. Refrigerate overnight in the gravy. Heat through. Serve with mushrooms spooned around and a little gravy poured over.
ONE BOWL PINEAPPLE-CARROT KUGEL (PAREVE)
SERVES 15-18


1 (12 -ounce) package fine Passover noodles
1 1/4 cups non-dairy creamer
4 eggs
1/3 cup sugar
1 cup shredded carrots
1 can (20 ounces) crushed pineapple
6 tablespoons margarine, melted
1/8 teaspoon white pepper
Preheat oven to 350F. Spray a 11x7-inch baking dish (or two 9-inch square baking dishes) with non-stick cooking spray. Cook noodles 2-3 minutes in boiling salted water as directed on package. Transfer to colander and run cold water through. Drain well. Put in a bowl with non-dairy creamer, eggs, sugar, carrots, pineapple, margarine, pepper and scant 1/4 cup water. Mix well. Pour into prepared baking dish. Bake in preheated 350F. oven for 1 hour or until firm in center. Cool slightly before cutting into squares.
FUSSLESS TZIMMES (PAREVE)

MAKES 8 -10 SERVINGS
1 (12 ounce) package pitted prunes
1 cup dried apricots
10-12 pitted dates
1(17-ounce) can vacuum packed sweet potatoes
1 (10-ounce) package baby carrots
1/4 cup raisins
1/2 teaspoon salt
1/8 teaspoon pepper
1 (6 ounce) can frozen orange juice
2 tablespoons grated fresh ginger or 2 teaspoons ground ginger
Preheat oven to 325F. Place prunes, apricots, dates, sweet potatoes, carrots and raisins, in a 2 1/2 quart baking dish. Sprinkle with salt and pepper. In a small bowl, mix orange juice, ginger and 1 cup water. Pour over the mixture in baking dish. Stir to combine. Cover loosely with foil. Bake in preheated oven for 1 hour, removing foil and stirring after 30 minutes. Serve hot. May be prepared and cooked ahead, then heated through in the microwave or covered in preheated 350F oven.
TIPSY BERRY TUNNEL CAKE (PAREVE)

SERVES 8-10
1 storebought sponge cake (round or loaf)
1/4-1/3 cup sweet white wine
1 cup fresh raspberries or thinly sliced strawberries
3 cups non-dairy whipped topping
1/2 cup plus 2 tablespoons pareve chocolate chips
berries for garnish
Cut a spongecake horizontally, one-third of the way down, into two layers. Remove cake from bottom layer leaving a 1-inch thick shell. (save removed sponge cake for toasted crumbs to sprinkle over parfaits ) Sprinkle cavity with sweet white wine and scatter 1 cup berries over. Set aside. Place 1/2 cup chocolate chips in a small bowl. Microwave at High for 2 minutes or until almost melted. Stir to melt completely. Add non-dairy whipped topping and stir for a marbled effect. Spoon into sponge cake cavity. Replace the top cake layer. Melt remaining 2 tablespoons chocolate chips in microwave. Drizzle over top of sponge cake and garnish with a few berries. Chill and slice.