Empty-Nesters Shabbes Dinner: Tradition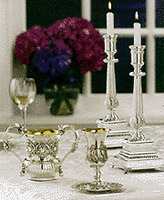 By Ethel G. Hofman
http://www.jewishworldreview.com -- WHEN children are off on their own -- at college or climbing their own career ladders -- the Shabbes dinner table suddenly seems empty, incomplete. But not for long. For many empty nesters, Shabbes dinners have taken on a new dimension and getting together with others in the same situation has become a joyful routine.
At our house new friendships have been formed at the dinner table while we get to see old friends on a more regular basis. Whether a pot luck dinner, or planned "almost from scratch" at the host home, we continue a warm, meaningful tradition.
No need to pile the shopping cart with high calorie beverages, snacks and desserts, foods teenagers just can't live without. Instead, convenience items such as prepared chicken stock, ready to cook chickens, cleaned, trimmed and shredded fresh vegetables encourage us to eat healthy. Add fresh baked challah from a good bakery and a Shabbes dinner for four or more is quick and easy. In the menu which follows, some items, such as the soup, may be made ahead; others are quick and easy so that the meal may be on the table within an hour. It helps if you set the table the night before. Use any leftovers, such as cooked soup chicken to make a chunky chicken salad for weekend sandwiches or to top a bowl of baby greens.. Matzo balls (knaidlach) may be cooked ahead and reheated in the microwave before dropping into hot soup.
Any leftover baked potatoes may be added to the mixture for Potato Kugel. Use whatever is in the 'frige to stuff Baked Apples. It may be leftover cranberry sauce, nuts and raisins or a spoonful of ginger preserves. Syrian-style Okra with Dried Fruits, from Debra Wasserman's Lowfat Jewish Vegetarian Cookbook is thickened with okra pods which are green, ridged and oblong. Use fresh or frozen.
For Shabbes dinner with friends, return to tradition. It's easy. With a little planning, this meal may be cooked and served in less time than it took our great grandmothers to pluck the feathers and clean the chicken. Shabbes Shalom!
Recipes for starred items only.
MENU
Chicken Soup with Matzo Balls*
Crisp Green Salad with Vinaigrette Dressing
Vermouth braised Cornish Hens with:
Broccoli and Peppers*
Mashed Potato Kugel*
Syrian-style Okra with Dried Fruits*


Stuffed Baked Apples*
Assorted Pareve Cookies


CHICKEN SOUP WITH MATZO BALLS (MEAT)
SERVES 4-6

1 tablespoon vegetable oil
1 medium onion, chopped
1 1/2 cups shredded carrots
1/3 cup diced parsnip
8 cups chicken broth
2-3 chicken thighs
2 bay leaves
4-5 black peppercorns
1 tablespoon fresh lemon juice
salt and pepper to taste
2 tablespoons chopped fresh parsley
In a medium pot, heat the oil over medium heat. Add the onion, carrots and parsnip. Saute for 5-10 minutes or until the vegetables are wilted but not browned. Add the chicken broth, chicken legs, bay leaves, peppercorns and lemon juice. Bring to simmer. Cover and cook for 45 minutes. Remove the chicken legs saving for another use. Discard bay leaves and peppercorns. Skim off any fat. Serve soup hot with matzo balls.
FOOLPROOF MATZO BALLS (PAREVE)

MAKES 8-10


1/4 cup soft vegetable margarine
2 eggs, lightly beaten OR 1 egg and 2 egg whites
2 teaspoons chopped fresh dill or 3/4 teaspoon dried (optional)
1/2 teaspoon salt
1/8 teaspoon pepper
pinch ground nutmeg
about 1 cup unsalted matzo meal
simmering water
In a small bowl, blend the margarine and eggs with a fork. Mixture will be lumpy. Add dill, salt, pepper, nutmeg and enough matzo meal to make a stiff, slightly sticky mixture.
With wet hands, roll mixture into balls about 1 1/4-inches in diameter. Drop into a pan of simmering water. Cook, uncovered, for 10-15 minutes. Test by cutting one ball in half. Inside should be dry.
VERMOUTH BRAISED CORNISH HENS
WITH BROCCOLI AND PEPPERS (MEAT)

SERVES 4
1/4 cup all-purpose flour
1 teaspoon salt
1/2 teaspoon pepper
2 (about 3 pounds total) Cornish hens, split in half
3 tablespoons vegetable oil
1 medium yellow turnip, peeled and cut in 1 1/2-inch chunks
1 cup dry vermouth
3/4 cup chicken broth
1 tablespoon grated ginger root
1/2 teaspoon dried sage
1 (1 pound) package frozen stir-fry vegetables (such as broccoli, peppers and water chestnuts)
salt and pepper to taste
In a plastic cooking bag, combine the flour, salt and pepper. Add the Cornish hens and shake to cover all surfaces with the flour mixture. Heat the oil in a large, heavy skillet over medium high heat. Add the hens . Reduce heat to medium. Cook, turning hens to brown all sides. Sprinkle any leftover flour mixture over. Stir in the turnip, vermouth, chicken broth, ginger root and sage. Cover and simmer for 25 minutes or until hens are almost tender. Add the frozen vegetables and cook 10 minutes longer or until vegetables are tender and hens are cooked (when inserted into thickest part, a fork should slip out easily.). Season to taste with salt and pepper.
MASHED POTATO KUGEL (PAREVE)


SERVES 4-6
2 tablespoons vegetable oil
1 red bell pepper, seeded and coarsely chopped
1/2 cup finely snipped parsley
4 cups mashed potatoes
1/4 cup prepared hummus
2 tablespoons non-dairy creamer
2 eggs, lightly beaten
salt and pepper to taste
Preheat oven to 350F. Spray a 1 1/2 quart casserole with non-stick cooking spray.
Heat oil in a medium saucepan over medium heat. Add the red bell pepper and saute 5 minutes or until softened. Remove from heat. Add the parsley, mashed potatoes, hummus, non-dairy creamer and eggs. Beat thoroughly to mix. Season to taste with salt and pepper. Transfer to prepared casserole. Bake in preheated oven for 30 minutes until firm in center and nicely browned.
SYRIAN-STYLE OKRA WITH DRIED FRUITS (PAREVE)

SERVES 4
1/2 pound okra, chopped
1/2 small onion, finely chopped
1 teaspoon oil
1 tablespoon water
1 1/2 cups mixed dried fruits
1/2 cup prune juice
1/2 cup tomato juice
1/4 lemon, minced (rind and fruit)
Stir fry the okra and onion with oil and water in a large skillet over medium heat for 5 minutes. Add the dried fruits, juices and lemon. Simmer 15 minutes, stirring often. Serve warm.
(FROM LOWFAT-JEWISH VEGETARIAN COOKBOOK BY DEBRA WASSERMAN)
MICROBAKED STUFFED APPLES (PAREVE)
SERVES 4


1/4 cup chopped dates
2 tablespoons currants
1/2 teaspoon cinnamon
4 Golden Delicious apples
2 tablespoons honey
1/4 cup orange juice
2 tablespoons water
In a small bowl, mix the dates, currants and cinnamon. Set aside. Peel a strip of skin around each apple about halfway down. Remove core with a sharp knife or apple corer. Stand the apples in a dish which will comfortably fit.
Stuff the cavities with the date mixture and drizzle with honey. Pour orange juice and water around. Cover with plastic wrap. Pierce several times with a fork for steam to escape. Microwave on High for 7 minutes. Check for doneness. If apples are still hard, microwave 2-3 minutes longer.
Let stand 5-10 minutes before carefully removing plastic wrap. Serve warm or at room temperature.