Jewish World Review Jan. 4, 2001/ 9 Teves, 5761


Winter Warmers: Beverages and sandwiches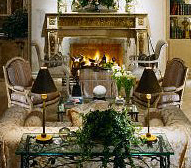 By Ethel G. Hofman
http://www.jewishworldreview.com -- THIS IS THE WEATHER that chills you to the bone so that once indoors, the body yearns for warmth and comfort. What bliss it is to put your feet up, wrap hands snugly around a hot drink and munch on a hearty sandwich.
Hot drinks along with warm sandwiches are the ultimate comfort foods. They nourish the body and help calm the troubled soul. In Colonial times, when there were no instant cures in the form of pills, and ingredients were few and basic, a hefty drink, fortified with alcohol, was regarded as a preventative against fevers. Hot toddies, simple blends of hot water, sugar, and whisky, are still highly regarded old-fashioned remedies to help ward off a cold. Today, with the help of supermarket convenience ingredients, soothing drinks, some bordering on the exotic are quick and easy. Brazilian Hot Chocolate is enriched with eggnog; Hot Apple Toddy sweetened with maple syrup is certain to help alleviate the discomfort of colds and 'flu.To retain the heat, warm mugs by rinsing in hot water, before pouring .
As for sandwiches, American varieties have always been filling and go way beyond the English rendition of meat pastes spread thinly on white bread. From the South we get the "poor boy." first served to striking streetcar workers in the 1920's. Filled with an assortment of cooked meats, vegetables and pickles all topped off with gravy it was a stick to the ribs meal eaten out of hand. Salmon en Croute, (Baked Salmon Bread )influenced by a recipe from Jacques Pepin and Julia Child, features fresh salmon and herbs baked in a scooped out French bread. With the deliciously moist filling and crisp crumb topping this is elegant enough to serve as a party starter.
The variety of these winter warmers is endless. Substitute ingredients and personalize to taste. Check pantry, refrigerator and freezer. Salsas and chutneys make a turkey sandwich sparkle, infused oils and flavored mustards add tongue-tingling flavors drizzled or spread over whole wheat bread. Spike store bought or homemade tuna and chicken salads with snipped fresh herbs, then stuff into focaccia (which freezes well). Unusual twists like this add excitement and appeal to what would otherwise be very dull sandwiches.
TOMATO-BEEF BLAZER (MEAT)
SERVES 4

1 cup canned Italian-style diced tomatoes
1 rib celery, sliced
2 teaspoons unflavored kosher gelatin
1 1/2 cups low sodium beef broth
2 1/2 cups tomato juice
1 tablespoon lemon juice
1/2 teaspoon minced garlic
1/2 teaspoon hot sauce or to taste.
salt and pepper to taste
celery sticks to garnish(optional)
Puree the diced tomatoes and celery in blender or food processor. Set aside. In a medium saucepan over low heat, combine the gelatin with 1/2 cup beef broth. Stir until gelatin is dissolved. Add the remaining broth, tomato juice, pureed tomato mixture, lemon juice, garlic and hot sauce. Bring to simmer over medium heat. Pour into warm mugs and garnish with a celery stick.
SPICED CRANBERRY TEA (PAREVE)

SERVES 4


3 orange spice tea bags
3 1/2 cups boiling water
4-5 whole cloves
1 cinnamon stick
1 (8-ounce) can jellied cranberry sauce
2 cups cranberry juice
honey to taste
Warm a teapot by rinsing in hot water. Place the tea bags in with the cloves and cinnmon stick. Pour 2 1/2 cups boiling water over. Let steep for 15-20 minutes. Discard the tea bags and set tea aside. In a medium saucepan, mash the cranberry sauce into 1 cup water. Stir over medium heat until cranberry sauce is melted. Add the spiced tea mixture and cranberry juice. Bring to simmer. Sweeten with honey to taste. Pour into heated mugs and serve.
HOT APPLE TODDY (PAREVE)

SERVES 2
2 cups unsweetened apple juice
1/2 cup water
1 1/2 tablespoons fresh lemon juice
pinch each of cinnamon, cloves and nutmeg
2 tablespoons maple syrup or to taste
1/4 cup rum or to taste
2 apple rings for garnish (optional)
In a saucepan over medium heat, combine the apple juice, water, lemon juice, cinnamon, cloves, nutmeg, and maple syrup. Bring to simmer. Remove from heat and stir in the rum. Pour into heated mugs, float an apple ring on top of each (optional) and serve.
SALMON EN CROUTE (BAKED SALMON BREAD) PAREVE


SERVES 6
1 (3/4-1 pound) loaf French bread
1 stick (4 ounces) unsalted vegetable margarine, softened
1/2 cup snipped fresh parsley, packed
1/4 cup snipped fresh dill, packed
2 tablespoons Italian salad dressing
8 ounces salmon fillet, skinned, boned and cut in 3/4-inch pieces
1 cup sliced mushrooms
1 1/2 teaspoons lemon pepper seasoning
1 teaspoon garlic powder
olive oil to spray
Preheat the oven to 400F. With a serrated knife, slice the bread horizontally about 1/4 way down. You won't need this top slice so freeze for later use to make crumbs or croutons. Scoop out the soft bread from the inside of the loaf leaving about 1/2-inch shell. Process the soft bread ( makes about 2 cups crumbs.) Set aside.
In a small bowl, mash the margarine, parsley, dill and salad dressing with a fork. Set aside. Toss the salmon and mushrooms with the lemon pepper seasoning and garlic powder. To assemble: Spread half the margarine-herb mixture inside the bread shell, to coat the bottom and sides. Add the salmon and mushrooms and spread evenly over. Top with the remaining margarine-herb mixture spreading over the filling. Completely cover with a thick layer of breadcrumbs, pressing down with hands. Spray with olive oil. Place on a baking sheet and bake in preheated oven for 45 minutes. Topping will be a deep brown. If getting too dark, cover loosely with aluminum foil. Let rest for 10 minutes before cutting into thick slices.
HONEY-TOASTED TURKEY SANDWICH (MEAT)

SERVES 4-6
1 slab (about 8 inches square) focaccia
4 tablespoons honey mustard
8 (8 ounces) slices cooked turkey
4 Boston lettuce leaves
1 (12-ounce) jar roasted red peppers, well drained
1/2 cup nicoise olives, pitted
1 cup frozen, cooked artichokes, coarsely chopped
1/4 cup vinaigrette dressing
Preheat broiler. Spray a baking sheet with non-stick vegetable spray. Split focaccia in half, horizontally. Spread cut surfaces with mustard and place on prepared baking sheet. Place under broiler and cook until focaccia is beginning to brown at edges, 3-4 minutes. Remove from broiler and set oven to 400F. Spread lettuce leaves over the bottom half of focaccia. Cover with the turkey, Arrange the roasted peppers, olives and artichokes in layers on top. Drizzle the vinaigrette dressing over. Cover with remaining focaccia and press down tightly. Heat through in preheated oven, about 5 minutes. Serve with salsa on the side (optional)
ROAST BEEF POOR BOYS
MAKES 2


4-6 ounces sliced roast beef
1/3 cup beef gravy
2 Italian rolls, split
salad mustard
3/4 cup shredded iceberg lettuce
1 tablespoon chopped sweet onion
2 -3 tablespoons pickle relish
In a small saucepan or in the microwave, heat the roast beef in the gravy. Set aside. Scoop out the soft bread from each roll, leaving about 1/2-inch shell. Save for another use. Spread the cut surfaces of each roll with salad mustard. On the bottom half, layer shredded lettuce and onion, hot beef and gravy. Top with a spoonful of relish. Cover with top halves of rolls pressing down lightly. Serve at once.

© 2001, Ethel G. Hofman