Cal Thomas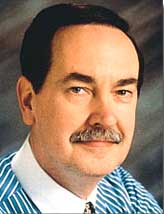 More a man, less a president
(JWR) --- (http://www.jewishworldreview.com) THE U.S. SENATE THIS WEEK, despite the acknowledgment by Sen. Robert Byrd (D-W.V.) that what President Clinton did does indeed rise to the level of high crimes and misdemeanors, will likely ignore the law and the Constitution and vote to acquit this shameless and guilty man. In doing so, many senators will place the economy, the opinion polls and political partisanship above the laws by which every other citizen is judged.
Two weeks ago, Byrd offered a motion asking his colleagues to dismiss the case against the president. But on ABC's "This Week'' last Sunday, Byrd said, "there is no doubt in my mind'' that the charges match the constitutional requirement for a finding of guilt. In an example of hair splitting that rivals President Clinton's, Byrd parsed the law.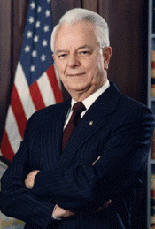 Byrd

He suggested that because the Constitution requires the immediate removal from office of a convicted president, he might not vote to convict because he thinks Clinton should stay.

Sen. Chris Dodd (D-Conn.) said on the same program: "Each senator has his own standard.'' That's precisely the problem. When everyone does what is right in his or her own eyes, the law is diminished and our institutions demeaned. Just how far our highest office has been tarnished by Bill Clinton was apparent in Monica Lewinsky's videotaped deposition. Speaking about the president to Vernon Jordan, Lewinsky said, "I saw him more as a man than as president, and I treated him accordingly.''

Clinton's disgusting behavior gave her no reason to see him any other way. Having shed his personal dignity, he also shred the dignity of the White House. He took the office nobly filled by Washington, Jefferson and Lincoln and turned it into a room at the Playboy mansion. Having broken the moral law, he then went on to break laws he swore to preserve, protect and defend. Instead of faithfully executing his responsibilities, he merely executed them.

Byrd seemed to suggest that it is possible for a president to commit a crime, be found guilty, yet escape the consequences of his criminal behavior. This takes jury nullification to a new level, beyond the fiasco of the O.J. Simpson trial.

The president, in the words of House Manager Rep. James Rogan (R-Calif.), "wove a web of perjury and obstruction of justice.'' Dodd said history will be Clinton's ultimate judge. Good luck on that if those hundreds of historians who signed an ad opposing Clinton's impeachment are the ones writing it. Rogan correctly observed that "the failure to impose meaningful consequences for bad choices brings about more bad choices.''

House Manager Rep. Lindsey Graham (R-S.C.) delivered an impassioned summation last weekend. He said, "The rule of law -- what does it mean? It means that process and procedure wins out over politics and personality.'' Not with Clinton. Graham implored senators to "get to the truth. For God's sake, figure out what kind of person we have here in the White House.'' We know, but don't care in any way significant enough to hold him accountable beyond mere words.

Since much of this has been about definitions like "is'' and "alone,'' perhaps senators should consider the definition of two other words much heard in this debate. One is "salacious'': "arousing or appealing to sexual desire or imagination; lecherous.'' Monica Lewinsky said she didn't like this word. After all, "it was my relationship,'' she said.

The other word is "scandal'': "discredit ... conduct that causes or encourages a lapse of faith ... in another; loss of or damage to reputation caused by actual or apparent violation of morality or propriety; a circumstance or action that offends propriety or established moral conceptions or disgraces those associated with it.''

If the Senate acquits this president, already judged guilty by one of its respected members, Robert Byrd, it will have brought more scandal on itself than Clinton has brought on the White House. The Senate will have also failed to preserve, protect and defend the Constitution "so help me God.''

This is Bill Clinton's legacy. God help us, indeed.