Jewish World Review Sept. 15, 2003 / 18 Elul, 5763

AOL lets users block pop-ups, Google tool free; using audio CDs to to make a photo slide show; removed spyware program and toolbar in Outlook Express 6 disappeared
By James Coates
http://www.NewsAndOpinion.com | (KRT) Q. I'm writing in the hope that you can tell me how to defeat those exasperating pop-up screens that constantly interrupt me on America Online. They say SYSTEM ALERT TO UNSAFE USER, and refer me to BroadcastBlocker.com. I'm sure that they will offer me service for a price, and I consider that to be pure chutzpah because they are the only ones that bother me.

Patricia Schwarz, El Cerrito, Calif.

A. America Online offers subscribers its own set of pop-up controls and it looks like you didn't get the word, Ms. S. While signed on, hit the Control key plus K for Keyword and use the search term pop-up controls. This will guide you to a command area where you can order all pop-up ads deep-sixed or specify some sites where you want to keep getting these suddenly appearing windows that rarely carry desired stuff.

I would add that folks without America Online subscriptions can get a pretty nifty pop-up-ad blocker for free by downloading the new Google toolbar, a feature offered by the Google search engine to add a number of new features to the distinctive keyword Internet search software. Check it out (www.toolbar.google.com) and you might be quite pleased. I certainly was.

The toolbar software creates a new line at the top of the browser display where you can always type in keywords to order a Google search. The pop-up blocker announces every ad that is blocked by displaying a hand with a flashing orange diamond and beeping each time it kicks into action.

Users can always hold down the Control key while going to a site to permit the pop-ups and, like AOL, the Google service offers a white list where users can specify sites where pop-ups are acceptable.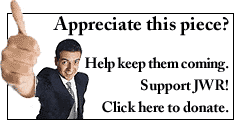 Q. I would like to make a photo slide show that features good background music as well as pictures. My imaging programs only allow WAV or MP3 files to be used, but I would like to use selections from audio CDs. Is there a way of doing this? I would appreciate any suggestions you may have. Thanks!

C.W. Thomas@mindspring.com

A. You're missing a key step in the equation, C.W. The music format called CDA that is used for store-bought music CDs does not lend itself to home-brewed photo slide shows. So music gets "ripped" or converted into computer-friendly compressed formats like MP3 or WAV first.

All kinds of software exists to do the ripping. The most common programs are the Windows Media Player from Microsoft, included in Windows, and the MusicMatch or Real Audio provided by Microsoft's rivals. Or you can get a simple ripping program, such as the $20 MP3 Wizard 3.0 from Data Becker (www.databecker.com).

Going the Data Becker route appeals to me because it's simple and you're spared all kinds of sales pitches and confusion that come trying to deal with MusicMatch or Real. Both outfits sell Internet radio stations and all kinds of music downloads, as well as the core software that includes CD ripping.

Adding to the confusion, the Microsoft Media Player uses yet another format called WMA rather than MP3, and using it also opens the door to getting bombarded with Microsoft sales pitches for Web radio and other services.

With MP3 Wizard 3.0, you just insert your music CDs into the computer's CD drive. From there, you get the prompts needed to convert each song into a file ready for CD creation software like those you already have.

Q. Some months ago, you explained the problem with "Zupiter" and "Hotbar" spyware-type programs. I was unfortunate to have Hotbar and was forced to call a service company for help. Their rep was able to remove Hotbar, but in the process, the toolbar in my Outlook Express 6 disappeared. He spent a full hour trying to retrieve it without success. A second "expert" was also unsuccessful. I am 86 and very frustrated. Can you help?

Jerome J. Ungs, Dunedin, Fla.

A. What a shame. You go to all that trouble to find a technician sophisticated enough to know how to find all of the nasty little spy applications these Web-based schemes install on their victims' hard drives, only to have your fixer get confused about an aspect of your e-mail program.

It's kind of hard to see because your toolbar is missing, but look at the very top of the screen for the word View. Click this and you'll get a drop down menu with an option called Layout. If you open Layout, you will find check boxes to restore the Toolbar, the Folder Lists, the Contacts and other Outlook Express elements. Put checks in each box and you'll be back where you were when the assault from these intrusive programs wormed their way onto your computer.
Appreciate this type of reporting? Why not sign-up for the daily JWR update. It's free. Just click here.
James Coates is a columnist for the Chicago Tribune. Let us know what you think of rthis column by clicking here.

09/11/03: Point and click to delete pesky duplicate e-mail; printing directories from the Microsoft Explorer
09/08/03: Beastly size of 'swap thing' file shrinks, not dies; Is there a directory or list that rates 'Net services?; getting Hotmail to work in Microsoft Outlook 2000
09/04/03: Worms derail laptop talk, spur advice on minimizing damage
09/02/03: PrismIQ pumps Net music to stereo system; "Iexplore has caused an error in USER.EXE. Iexplore will now close down." — why?
08/27/03: Simple click cleans desktop of icon clutter; getting rid of program 'junk' and saving space
08/25/03: PCAnywhere, broadband can work together; site continues to write into my Favorites subfolder located in the c:¼documents and settings¼user directory; recurring problem with editing and saving Word documents both when using my computer running Windows 98 and another computer running XP Home Edition
08/14/03: PC monitoring of a home easy but not cheap; best of the bunch for PDA/cellphones
08/12/03: Balky AOL 8.0 easily replaced by past version; deleting selected Web site addresses in the drop-down list; clicking on e-mail hyperlink message when using Outlook Express and Internet Explorer, has to minimize the Outlook Express window in order to view the site
08/06/03: When assistant is away, Acrobat puts files in play; getting PowerPoint to play complete song through the presentation without the song starting over on each slide; downloading attachments on Hotmail gets Outlook Express error message
08/04/03: Best way to E-mail photo; firewall recommendation; removing all listing of files that have been created in Microsoft's Word program; stopping annoying Windows 98 dialogue box appears asking to Enter Network Password
07/31/03: Check with IT, then cancel dial mode to use DSL; converting text to audio?; easy to get non-conventional alphabets to display in e-mail and Web sites
07/29/03: Display quality may suffer with Web accelerator; typing symbols not on keyboard; programs were not uninstalled correctly, now what?
07/23/03: How to add the Mail Merge command to the Word toolbar; how to save as a Word doc; company that offers a file/folders print program?
07/17/03: Pay off the spam mongers?; converting casually recorded speech on analog audiotapes to computer text; more on homepage hijackings (browsers)
07/15/03: E-mailed spreadsheets are being received with formulas changed and different figures; two computers with router --- way to print from one that does not have any printers connected to it
07/10/03: Washing laptop; security for your PC — don't be had; needing an AirCard to surf
07/07/03: Don't spend like a pro to convert audio to CDs; "browser hijackings"; automatically checking a CD
07/02/03: Saving time on distribution lists; he changed the color of the fonts in just that one spreadsheet file; not enough space on 'c' drive, lots on 'd'
06/25/03: How to get rid of porn spam; Windows XP dictionary?; Windows ME system can no longer find the Internet with Windows applications
06/25/03: NT flashes "at least one service/driver failed during system startup"; automatically converting .doc and .xls files to .dat; transfers to XP not as vexing as they may seem
06/19/03: Can't open Zip files; RealPlayer won't play .avi files; step-by-step process to "burn" digital images
06/18/03: Restore missing Word task bars in a normal way; computer was zapped, how to fix it; spell check won't upgrade
© 2003, Chicago Tribune; Distributed by Knight Ridder/Tribune Information Services