Jewish World Review Jan. 5, 1999 / 16 Teves, 5758
Jonathan Mark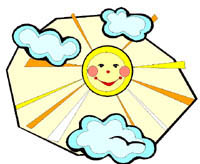 Twice Chai: 36 Reasons
to Feel Great About Being Jewish
YOU READ A JEWISH NEWSPAPER OR WEBZINE because you care -- even love -- the great adventure of being Jewish.
This is the most riveting Jewish century in several millennia, perhaps ever, yet we sometimes cringe when opening a Jewish publication. There are scandals, indictments, feuds... stories that are important to understanding the state of our union but muscling aside what made us fall in love in the first place.
It's a problem familiar to sports fans.
For example, anyone choosing to read "Sports Illustrated" obviously loves sports and is choosing to read a supplementary publication for even more intensive and higher quality sports news than can be found in the daily paper.
But a few weeks ago, Sports Illustrated found itself asking its readers, are you "tired of lockouts, walkouts and players who don't box out? Tired of cringing every time you open the sports page?"
Then they presented an antidote, reasons to celebrate, small things like Boog Powell's barbecue pit outside Camden Yards; football teams going for it on fourth down; a seventh game, anywhere, in anything; A.J. Liebling on boxing; the integrity and tradition of the Montreal Canadiens jersey. The bad news of sports is one thing; football in a twilight snow is ethereal, something else entirely.
Some people write books about the Jewish gifts to the world, gifts such as the Sabbath, monotheism, Moses and Einstein, and that's great --- for outsiders. But when they all go home and its down to what Shakespeare calls, "we few, we happy few, we band of brothers," and sisters, chances are we'll talk about images and incidents more private than that.
Private, indeed. Intimacy is what we're looking for but intimacy comes only from personal history and interior neighborhoods. Everyone has their own
. Which is why the list below is incomplete. It betrays my own associations, but with no intention of excluding your own. What follows, in no particular order, is just one man's set of Jewish satisfaction, of what's evergreen in winter.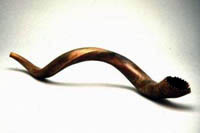 Shofar

1: Hearing the shofar on weekday mornings in Elul, before Rosh HaShanah.

2: Any Yiddish lullaby.

3: Small children, hiding under a father's or grandfather's tallis during the Priestly Blessing. Then one grows older and hears the haunting chant of the Kohanim, in the interlude, while reading "I am yours and my dreams are yours. I have dreamed a dream and I don't know what it means..."

4: Children staying up well past their bedtimes on Shavuos, waiting to see if the sky will open as promised. Sometimes in a nimbus of starlight you can see it happen. It takes the kind of eyes that can see Elijah sipping wine at the Seder.

5: Let others talk about the educational and theological benefits of student trips to the Jewish State. On lists like this we can talk about the romantic benefits of falling in love in Tel Aviv, Jerusalem or the north country, on that first semester in Israel.

6: Intimate conversations on long walks to nowhere on a Sabbath or holiday afternoon.

7: Itzik Manger's Bible stories retold in poetry but with the geography sometimes changed to 1930s Europe. He wrote not only of Abraham breaking up with Hagar (as lovers would), but of obscure characters like Avishag the Shunamite (who kept David warm in his old age) with emotional precision and insight sending you back to the Good Book to read everything again. The Edward Hopper of Yiddish poets, he's acquainted with the inherent loneliness and inner dialogue of the Bible's characters. A Rashi for modern souls.

8: Finding, and dunking in old mikvehs, still functioning, in the back streets of our lost Atlantis, in Warsaw or Morocco. Then the Friday sun sets over the Vistula, the Carpathians or the Atlas Mountains. Once the weather in 1870 or 1930 was just like this. Friday night once felt this way on their skin.

9: The candyman. Every good shul, in every denomination, has one: that kind someone who gives lollipops and sweets to little children. The kids, some even toddlers -- who may have never even walked around a block by themselves -- weave every Shabbes through the congregational jungle of tall people to find the pew of the candyman whose name they may not even know. The kids only know that he or she is there every week and that shul is a gentle place.

10: A languid shala-shudos in a dimly lit social hall, with generic black cherry soda, crepe paper tablecloths, egg salad, herring, and plastic forks with broken teeth. Men with stubbled cheeks sing a slow Mizmor L'Dovid.

11: The trick of doing Hagba, the lifting and unfurling of the Torah, when the unbalanced scroll is rolled all the way to one side or the other at the beginning sedras in Genesis, or the final ones in Deuteronomy.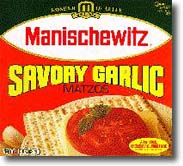 Matzoh

12: Matzoh sandwiches at a ball game on a cold April Chol HaMoed.

13: Davening (praying) outdoors.

14: Everyone -- even children -- getting an aliyah on Simchas Torah.

15: The Blessing of the Sun. Like a mystical Haley's Comet, this blessing is said just once every 28 years (next, 2009) when the sky is in its precise alignment as on the morning of the Fourth Day of Creation. At the last blessing in 1981, some waited for the sunrise from mountaintops or craggy rocks at the Atlantic's edge. Others watched with a minyan atop the observation deck of the Empire State Building as the first rays cracked the pre-dawn blackness in the east. Then came a splashing of blinding golden serenity high above a New York City rush hour. Just once every 28 years.

16: The exchange of "Shalom Aleichem, Aleichem Shalom," at the Blessing of the Moon - once every four weeks - outside shul on a moonlit Saturday night.

17: The development of religious healing centers and healing services, for those who are ill and afraid, and for those who one day will be.

18: The Zamir Chorale. They started as a kids' chorus in Camp Massad back in the 1960s. A shifting roster of sandlot singers, they soon were headlining at Carnegie Halls and international festivals, with quite sophisticated vocal orchestrations. Now with several spinoffs, there's a good-time charm to it all. They're like old street-corner doo-wop buddies, except when they meet on sidewalks they groove to Salamone Rossi - a 17th century Jewish Italian Renaissance composer who wrote madrigals for the siddur.


Entrance to Ari's Mikveh

19: The Mikveh of the Ari, a men's-only mikveh in Safed. Down the many hills and curving streets of that Israeli town, below the city, is a mikveh in a cave where you hang your clothes on a nail. It might be the coldest mikveh in the world, freezing mountain water rushing into a natural stone pool. But your soul gets positively hot.

20: The Hebrew Free Loan Society. If you've been feeling like Steinbeck's Tom Joad on a bad day, these good folks hand out $5,000 and charge no interest, for no better reason than the Torah says so.

21: The Hebrew Free Burial Society. No mass graves in Potter's Field for us. Any Jew who dies with his pockets turned out can get a dignified burial in Mount Richmond cemetery in Staten Island, with a handsome tombstone. Here's where the poor girls of the Triangle Fire sleep for eternity. The tomb of the unknown Lamed Vavnik might be here, as well.

22: A 3-year-old licking honey off the alef-beis (Hebrew alphabet) when beginning the study of Torah.

23: Old Catskill synagogues, such as in Woodridge, Loch Sheldrake and Sackett Lake. There are faded hand-painted murals on the walls. Rowboats are tied to the creaking docks behind the shul's back lawn. Impromptu genizahs hold great archives and Catskill histories. Many Catskill shuls, some 75 years old, reflect the same architectural and spiritual aesthetic of shtetl congregations. If you can't fly to Minsk, take the Shortline to Monticello.

24: The living guests and ghosts of every Catskill lobby and tea room, casino and porch. Pull up an Adirondack chair on a misty lawn and we'll spend a phantom night.

25: Any shiva call; any sheva brachas; any weeklong immersion of love and G-dspeed.

26: Young Israels of the Alamo. Despite a 30-year battle with Bronx demographics, shuls live on in Moshulu, Kingsbridge, and Parkchester. Rabbi Sol Berl, for one, stayed with the Young Israel of Bronx Gardens until that neighborhood morphed into the South Bronx. The sshul moved to the Young Israel of Co-Op City, but now most Jews have left Co-Op City, Parkchester and Moshulu. No rabbis become rich or famous working this beat, but poor Jews who can't afford to move deserve a good shul just like anybody else.

27: We are a community of startling kindness. Synagogues run soup kitchens and overnight shelters. We take care of each other. Every week Tomchei Shabbos anonymously delivers hundreds of Shabbes food baskets to feed entire poor families. The food is delivered after 10 p.m. so children don't have to see parents taking charity. We heard of one Chasidic man who needs the weekly gift; his children don't know. But, poor as they are, the children learnt the mitzvah of giving to others. One of these children, without knowing he benefited from Tomchei Shabbos, became a Tomchei Shabbos volunteer. He doesn't know that the dispatchers send him on a distant route to preserve his father's dignity, and to protect the son from an awkward moment.

28: The yeshiva basketball league, with "old franchise" rivalries like Flatbush-Ramaz, gyms in the Rockaways and Washington Heights, and championships at Madison Square Garden or the Meadowlands prior to a NBA nightcap. The flourishing of new schools has brought "expansion," with games against Solomon Schechters and schools on the far side of the Hudson. League legends are told by middle-aged men leaning against cars outside New York City shuls: Kid, you see those pretty middle-aged women wearing hats? They used to be cheerleaders, when yeshivas had such things. We know of one woman who wanted to meet a famous celebrity lawyer but couldn't figure out how to get his attention. She heard he graduated from one of the league's all-boys schools, the ones without cheerleaders. Then she wore her Flatbush cheerleader jacket to one of the lawyer's lectures. As they say in the gyms, nothing but net.

29: Jerusalem's Tourjeman Post and Ammunition Hill; the first, an army post (now a memorial to the 1948 siege of Jerusalem) on the street where the city was once divided; the second, a Gettysburg of the Six Day War upon a scrappy Holy City hilltop. Here are the photographs of every soldier who fell, and the complete lyrics to Naomi Shemer's anthem, Jerusalem of Gold, back when Derech Yericho, the dusty Jericho road, was something to die for. Both the Tourjeman and the Hill transport a pilgrim to a time of clarity and nobility, to holy ground consecrated, as Lincoln said, "far above our poor power to add or detract."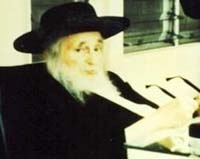 The late Satmar Rebbe, ZTíL

30: The annual Satmar dinner celebrating the previous Satmar rebbe's release from Bergen-Belsen. Most organizational dinners are exclusive. Satmar is inclusive. The dinner is "pay what you want" and raises millions anyway. Maybe you don't have a car, or mass transit is too difficult to the Javits Center dinner site? If so, Satmar offers a continuous shuttle of ferry boats - just $2 roundtrip - from the Brooklyn Navy Yard through the lights of New York's rivers and harbor to the docks near the Javits. Those who pay less get a dinner of sandwiches, those who pay more get salmon --- something's got to give. But everyone's happy and there's a l'chaim and horseradish at every table. Horseradish! When the rebbe arrives, in a white sequined robe, clarinets and snare drums play a rollicking, looping Chasidic tune that stays in your head for weeks.

31: New York's annual Israeli dance festival, with troupes from local day schools, youth groups and serious dancers of all ages, all denominations, and all over the country. The colors, the music and the dancing are so good you'll become a Zionist all over again. Every year young dancers pantomime pioneering pioneers carrying sheaves of wheat over their shoulders while skipping a Yemenite-left. Did Zionist pioneers actually skip? But here is the old sinewy spirit.

32: The private gifts of every chevra kaddisha. (Jewish burial society) Few nights are finer than their private dinners, held worldwide, on Adar 7, the yahrzeit of Moses, when G-d washed his body and laid him to rest.

33: Siyum Ha'Shas. Daf Yomi, the page-a-day marathon study of the Talmud, culminates in this once every seven-and-a-half year siyum at Madison Square Garden. Few congregations can match the silence during davening, then the synchronicity and intensity of 20,000 Jews in the Garden answering Kaddish with the primal scream of "Yehay Shmay Rabbah..." Even if you do a page a month, or a Psalm a day, or nothing at all, it is a privilege to be among those for whom prayer, learning and literacy are not just virtues but a fact.

34: Righteous converts.

35: An evening Tisha B'Av service by a mountain lake, listening to "Lamentations" chanted by a master of the melody, the pages illuminated by candle or flashlight. No one breaks the spell.

36: Parents blessing children on Friday night before Shalom Aleichem. Then, in a room with G-d, and the four night angels of the Bedtime Shema guarding the small beds, watch Jewish children drift into sleep as you tell them a story.

It doesn't get better than that.
---
JWR contributor Jonathan Mark is Associated Editor of the New York Jewish Week.




12/11/98: Jewish Super Heroes?
12/02/98: Kosher In Wonderland

©1998 Jonathan Mark