WHEN YOU'VE LISTENED TO ENOUGH ALBUMS, you begin to recognize record labels: Tuff Gong for reggae, Deutsche Gramaphon for classical, Sanachie for ethnic sounds.
One of my favorites is Rhino, for oldies anthologies by artist, musical style, or era. They have even created anthologies of recordings published by other labels, like Sugar Hill (hip-hop), Sun (early rock), and Excello (blues and R&B).
This time, Rhino has collected Jewish holiday songs. Their latest release is "To Life! Songs Of Chanukah and Other Jewish Celebrations".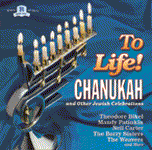 "At first the idea was to license, in typical Rhino fashion," says executive producer David McLees, "a compilation of essential repertoire from a variety of sources. But my search through the bins produced bubkes. We soon found that most of the 'standards' had not been recorded or recorded well. That didn't stop us."
The album contains songs by classic Jewish performers Theodore Bikel ("Chanukah, Oh Chanukah," and a "Fiddler" medley) and the Barry Sisters ("In Meina Oigen Bistie Shain" and "Hava Nagila") as well as a cut from Mandy Patinkin's new "Mamaloshen" album ("Reb Elimeylekh"). There's also a rousing "Tzena Tzena Tzena" by the Weavers.
Still, a vast majority of tracks are performed by the album's producer, Jay Levy. "I was given the opportunity to bring my two great passions" producing for artists across the spectrum and Jewish music "together." His backing band or "Klezmer wrecking crew," as they kiddingly came to call themselves, includes Brave Old World bassist Stuart Brotman, Springsteen drummer Gary Mallaber, and Zinovy Goro's Russian emigre band.
On one track, "Maoz Tzur/Rock of Ages," Levy is joined by Nell Carter. Famous as the nanny on the '80s TV show Gimme a Break. Carter led the chorus in the movie version of Hair, and recently played Miss Hannigan in a revival of Annie. What results may be the first gospel song recorded by two Jews (Yes, she says she is!).
The generous 27 tracks include six selections for Hanukah, five for Shabbes, and a couple each for Passover, Purim, Rosh Hashana, and Simchas Torah. These last two holidays are served by well-arranged medleys of the kind of Jewish songs that consist of one endlessly repeated phrase.
Most of the tracks by major stars are grouped in the largest category, General Celebration. The songs are predictably outstanding, especially the Barry Sisters' rousing "Hava Nagila." The two pieces by Yiddishist Alex Shub are the aural equivalent of Roman Vishniak's photographs, more piquant than merely nostalgic.
Levy's own vocal and guitar contributions are solid and very listenable. His voice is warm and pleasant, like James Taylor's. He does admirably on what might have been the most challenging, the Sephardic "Ocho Kandelikas," which features convincing flamenco guitar work. His best tracks are children's songs like "The Dreydl Song," "Dayenu," and "Chag Purim", I can hear them coming from a Jewish classroom, the kids singing along.
Even the packaging is excellent. The liner notes come with the complete lyrics to most of the songs, in Yiddish, Hebrew, and English. They even include holiday recipes. The whole package is illustrated with lovely works of Judaica, and the CD itself looks like a kippah --- which, when removed, reveals something that will make you chuckle.
So skip the video-game cartridge this year and get your kids "To Life!" for Hanukah. You'll be giving a present to the whole family, and one that will last all year.