Jewish World Review June 24, 2002 / 14 Tamuz, 5762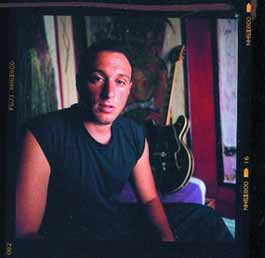 The Truth, With
a Good Beat




Dan Bern's New American Language

By Paul Wieder
http://www.jewishworldreview.com | "I dream of a new pop music/ That tells the truth, with a good beat/ And some nice harmonies."      — Dan Bern, "New American Language"
Most public figures with stage names don't want you to know their real names. But one singer-songwriter doesn't seem to mind. Writing quirky, brave, moving songs or painting quixotic, brilliant, vibrant portraits, he'll go by Bernstein (as in Leonard). On stage, and on the album cover, he's Dan Bern. One reason he doesn't mind you knowing his name is that he doesn't mind you knowing that he's Jewish.
After all, he calls his band The International Jewish Banking Conspiracy. He works Hebrew letters into the graphics of his latest CD, "New American Language, " as part the alphabet of this hypothetical new tongue. He had a bar mitzvah. And he spent ten days in Israel's capital back in 1992, where he says he experienced the fervor called Jerusalem Syndrome:
"Yes, I think you heard me:
I am the Messiah...
Dr. Nussbaum was right.
He's my therapist-
He said get it out in the open"

     — "Jerusalem"

Today, Bern is basically non-practicing, and says he doesn't really pray in the traditional sense. He does link preaching, teaching, and performing, however, noting that "Jackie Mason came from a family of rabbis":

"And I'm closer to G-d
Than I've ever been before
Walking the streets of Spain
Painting Karl Marx on every door
Groucho Marx on every door"

     — "Toledo"

And in what may be his most religious song, the haunting hymn "G-d Said No," he relates what "every Jewish kid had a desire" to do:
"I asked G-d, 'Do one thing for me-
Send me back in time, send me to Berlin.
Let me find the one they call Hitler-
I will stalk him; I will bring him down'."

     — "G-d Said No"
The Holocaust- often interwoven with anything from Allen Ginsberg to that other bearded merrymaker, Santa Claus- is a recurrent image in Bern's lyrics:
"I saw the best of my generation playing pinball...
Looking like some kind of china doll
With all of Adolph Hitler's moves down cold"

     — "Wasteland"
And
"Every day I seem to fire three more people
And every time I do, eleven more show up
If, right now, I fired every one I knew
I'd have six million employees by Christmas
Six million

     — "Ballerina" "
But Bern isn't only interested in the negatives of Judaism. In a romantic mood, he employs this Jew-ish wording:
"And you're the one I've chosen
And I guess you've chosen me"

     — "One Thing Real"

Being steeped in American culture as well, Bern references Christianity, Buddhism, McDonald's, and Pepsi in his lyrics. But he is especially omnivorous in his choice of people used to represent ideas. In the song "Alaska Highway" alone, he invokes Leonardo DiCaprio, Billy Joel, Eminem, Michelle Shocked, Britney Spears, Keith Richards, and Rodney King (Who else would rhyme "Rae Dawn Chong" with "Can't we all just get along"?). They are like "Greek gods... Now our Greek gods are real people in magazines," Bern explains. "I can use them without having to explain what I mean."

Another common feature in Bern's songs is geography. In "New American Language," there is the jet-fueled rock of "Alaska Highway," the anti-sermon sermon "TolÚdo" (Spain, not Ohio), and the reassuring country of "Albuquerque Lullaby." New Mexico appears again, as that is where Bern lives now. Iowa comes up once; Missouri, where Bern was raised, comes up twice. He has a special fondness for the Midwest of his childhood:
"It was cold
I shouldn't have gone out without a coat
My mom was right again"

     — "Talkin' Alien Abduction Blues"
Bern was back in the Midwest- Chicago, specifically- in early May. Alternately intense and introspective on his CDs, and pensive in conversation, Bern is a thorough-going maelstrom in concert. He charged his International Jewish Banking Conspiracy through a sweat-drenched Saturday night set, not even pausing between songs. His jackhammer stage presence has been accurately compared to Henry Rollins'. And while the descriptor "sounds like Dylan" is the sonic equivalent of "tastes like chicken," in this case it sorta fits; Bern's nasality is both an acquired taste and a taste worth acquiring.

Beyond their structure, the progression of the songs is revelatory. The sequence is particularly striking in the middle of the new album, with the trilogy "Turning Over," "Black Tornado," and "Albuquerque Lullaby." The listener is led from sadness to despair to solace in just three songs: "I can't find me one new leaf/ Worth turning over"; "There's a black tornado/ Spinning around in my body"; "At the bottom of the ocean/ You might find a pearl."

"New American Language" was produced by Chuck Plotkin, who has also been a guiding hand for Bob Dylan, Harry Chapin, and Bruce Springsteen. "He's the smartest guy I know in the business," Bern applauded, "He's a real boon to have around." Plotkin was responsible for everything from the grade of magnetic tape used to the order the songs appear in on the CD, Bern explained.

Bern clearly admires the artists Plotkin has worked with in his own music, and parodies them gently is his act, but his chief inspiration remains the Beatles. The mellotron heard behind the never-ending "Thanksgiving Day Parade" and the voice-in-your-head "G-d Said No," for instance, is the "same kind of instrument they used for 'Strawberry Fields'," Bern said.

As for his contemporaries, Bern owns that he is friends with fellow Jewish singer-songwriters Peter Himmelman and Chuck Brodsky, but not more so than with other musicians: "We're all on the same team." And he dismisses the idea that there is a new movement toward intelligent songwriting. "It never left... Jimmie Rogers, Woody Guthrie, Chuck Berry, the Beatles, Springsteen, Costello, (Leonard) Cohen, Prine, (Steve) Goodman..." Bern lists. "Song is a primal thing. Songs that make you think something, that make you feel something, will be around as long as there are human beings."

On the latest trend in music, sampling, Bern says he "likes what he has heard" from both Moby and Beck. People forget how rootsy Beck truly is, he says. "I saw him [perform] before anyone knew him, with a guitar and a homemade harmonica rack... he's evolved into a great record-maker." Some people spend more time in the studio than others, and what they do is different from songwriting, Bern allows, but they are still "putting together recorded music," and should be measured by the quality of their work:
"And if you judge me tonight,
Judge me by the songs I write-
That's who I am to you."

     — "Black Tornado"
Enjoy this writer's work? Why not sign-up for the daily JWR update. It's free. Just click here.



---
JWR contributor Paul Wieder is a public relations associate at the Jewish United Fund and a columnist for JUF News. Contact the author or the magazine by either clicking here, or calling (312) 444-2853.


© 2002, JUF News