THERE'S NOTHING LIKE TRYING TO JUGGLE writing a book with several other regular gigs. Inevitably, you fall behind. Factor into that the mad rush of Jewish music that invariably closes the calendar year, and I was snowed in for a month -- musically speaking anyway.
That said, here is the first of two consumers' guides to recent Jewish music, with the rest to follow next week.
Bassology: "The Feeling That I Have" (Reckless Music). Bassist David Chevan and pianist Warren Byrd were responsible for one of last year's best records, "Avadim Hayinu," but this is sort of their day job. Bassology is a clever, quirky post-bop sextet, here playing mostly originals by Chevan. Would be a just a straightahead blowing session if not for the superior wit and swerving unpredictability of the tunes. Rating: 4 stars.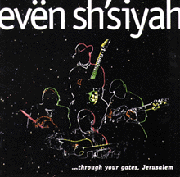 Evėn Sh'siyah: ". . . through your gates, Jerusalem" . Folk-punk settings of Psalms and liturgy? Sound unpromising but don't the labels scare you off. This is one of the most original and inventive recordings of explicitly Jewish music I've heard in a long time. Imaginative, energetic rock, fueled by some stinging guitar work by Ely Cooper and throbbing, propulsive bass by David Margulies (who also wrote most of the tunes). I don't expect you'll hear this in many shuls but definitely a must-buy record. Rating: 5 stars.

Giora Feidman and Katja Beer: "Schubert & Jiddishe Lieder" . An odd mix, and it's hard to see exactly what Schubert and Yiddish song have in common. But Beer handles both adeptly and Feidman is Feidman, clear, precise and intelligent, if not passionate. Rating: 4 stars. Freilachmakers Klezmer String Band, The: "The Flower of Berezin" (Eddal). Pure fun. An adroit and effervescent fusion of klezmer and bluegrass. I'm not sure that the Celtic interpolations work, but Lou Ann Weiss's bass and Andy Rubin's banjo drive the band so nicely that you won't notice there's no drummer. Rating: 4 ½ stars.

Leslie Brown Katz,: "The Jewish Violin Sings" (IMMA Music). An intelligent selection of Jewish-themed chamber music that, except for the Ravel "Kaddish," avoids the obvious choices. Katz is a very expressive player and pianist Joanne Pearce-Martin a tasteful accompanist. The pieces by George Perlman are a bit kitschy, but Meir Finkelstein's settings of "Shalom Aleichem" and "Eyshet Chayil" are very attractive in a cantabile vein. Rating: 4 stars.
Klezmorim Sher: "Terkish" (Sounds of the World). Lively traditional klezmer. Since this is on a world music label, the notes are all about the wonders of klezmer and, except for the personnel, I can tell nothing about the band, other than the fact that they rock the house on everything they touch. I'm not overly fond of their lead singer, Ofar Jasnitz, who pushes the emotional buttons a little too hard on material like "Shnirele Perele" (here given as "String of Pearls," leading one to expect Glenn Miller), but clarinetist Fred Jacobowitz and accordionist Essra Marchinski have the goods. Rating: 4 ½ stars.
Klezzical Tradition, The: "Family Portrait" (TKT Productions). An unalloyed delight, from the old family photos in the booklet to the lively interpretations of old chestnuts like "Russian Sher" and "Die Goldene Khasene." Difficult to single out any one contribution on a record as good as this, but Adrianne Greenbaum's rollicking piccolo is a pungent and unexpected reminder of how many of the old klezmorim learned their trade in East European military bands. A set that managed to be traditional and fresh at the same time. Rating: 5 stars.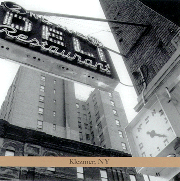 David Krakauer: "Klezmer, NY". Krakauer, of course, is anything but traditional. His newest set pays tribute to Naftule Brandwein and Sidney Bechet, which is not such a weird combination if you think about the strangely Middle-Eastern tang of Bechet's soprano sax playing. When Krakauer told me he was working on this package last year, I was curious how he would replicate Bechet's rather eerie tone; simply and wisely, he hasn't tried. His clarinet tone probably owes more to Barney Bigard, a near-contemporary of Bechet. This is a brilliant, spiky, difficult set, full of unexpected twists and turns. Not to all tastes, perhaps, but a fine recording. Rating: 5 stars.