Jewish World Review Jan. 22, 2001 / 9 Shevat, 5762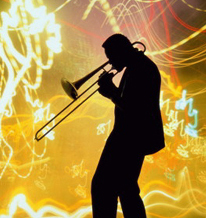 Jews and Jazz




Four new CDs

By Paul Wieder
http://www.jewishworldreview.com -- WHETHER it's because cantors were the first to improve vocals off their liturgical tunes, or because jazz, like the Talmud, likes to read between the notes, Jews have been drawn to jazz since Goodman and Gershwin. Today's jazzy Jews, however, are just as likely to use jazz to explore their heritage as to escape it. And, from Jon Simon's tasty tastefulness to Peter Saltzman's outré outrageousness, Jews have now claimed jazz as a powerful mode of expressing their Jewishness.
Here is a sample of the latest Jewish jazz releases:
DAVID CHEVAN/WARREN BYRD: "LET US BREAK BREAD TOGETHER"

Almost everything about this album is old. Almost. The instruments are traditional, the stylings are classic, and the songs are either aged or ancient. (Even the musicians seem to have been around awhile.) But bassist Chevan and pianist Byrd have created something groundbreakingly new with these elements. Chevan is Jewish; Byrd is black. And the songs they examine together are both as well. Here is "Hinei Ma Tov" and "Oseh Shalom" alongside "If I Can Help Somebody" and "Soon I Will Be Done." According to Chevan, their duo is the first in history to attempt such a feat; an early concert set, rawer and with other songs, is available as the disc Avadim Hayinu: Once We Were Slaves.
In his style, Chevan recalls Gene Kelly's acrobatic exuberance, while Byrd's fingers dance more like Fred Astaire, witty and suave. Different as their approaches are, each is able to evoke the instrument in question on "Little David, Play on Your Harp" with aplomb, and together they revel in the harmony found in harmonizing.

As their titles indicate, the songs chosen from each culture's religious songbooks reflect peace, tolerance, and common human experience. The upbeat pair "Eliyahu HaNavi" and "How Much More (of Life's Burdens Must We Bear)" are the standout tracks, and that they appear on the same disc is reason enough for celebration. The fact that they snap and crackle with such life, joy, and skill almost makes the listener forget the profound social impact of what has been created here. Almost.
JEFF HAAS TRIO: HAGESHER CHAI

A lesson in storytelling through music, "The Bridge Lives" (its English title) tells of the immigrant experience in several "movements." The Old World is conjured in a "Tzadik," who finds the "Tsuris" of pogroms unbearable. In America, he finds both tolerance ("Culturation") and more rejection. He responds with both despair ("What Will Become of Us") and acceptance ("Giving In"). But then the bridge, still alive, returns his thoughts to the Holocaust for two tracks, then back again to America, where he muses on "What Love Can Do."
Haas is a gifted pianist who leads a multicultural ensemble through a story both universal and specifically Jewish. In "I Was Told, Again and Again," his piano evokes Jewish children walking to school past a porch full of anti-Semites, figured as shrill horns and reeds. For many tracks, Miri Ben-Ari's adroit violin work takes the spotlight, evoking both klezmer and modern sounds. But Haas finally shows his chops on "Search for Meaning," which describes a person trying different directions and, finding none worthwhile, resolving to continue the search.
For summoning up images and events through sound, "HaGesher Chai" is as good as old-time radio. This album can teach both history and literature.
SHAKSHUKA: AD-HALOM

Shakshuka is a trio named for a sort of Mediterranean salsa. They explain their sound as "Middle Eastern music spiced with jazz," and they translate their second effort's title as "until this point." And it is a very good document of a solid band on its way to greater success.
Much more focused than their debut, Ad-Halom presents fewer tracks, with more attention paid to each. One welcome guest is their fellow Chicagoan, multi-instrumentalist Stuart Rosenberg, here on sprightly violin. Unlike Haas, they integrate their guests into their sound. This is key, as it allows Shakshuka's secret ingredient, Steve Yastrow's piquant guitar, to achieve full flavor.
By its title, the band itself realizes that it has much father it can go. The next step might be to augment Rachel Gluck Rosenberg's vocals with some backup harmonies the way their instruments have been accompanied. Sly on "Esa Einai" and insinuating on "Vayiven Uziyahu," her voice sometimes gets lost in the mix. These two tracks were the strongest musically as well- the most adventurous, confident, and Mizrachi in feel. More items like these on the menu, and Shakshuka may someday be a main course.
SATLAH

Danny Zamir plays stellar saxophone. He is signed to Tzadik, John Zorn's prestigious label. The legendary Zorn himself joins Zamir on this, his debut album. If you aren't impressed yet, how's this: Zamir was 19 when he cut this disc.
This is the hard stuff- sucker-punching, head-banging, 90-proof jazz. Zamir leads Zorn, Kevin Zubek's drums, and Shanir Blumenkrantz's bass through some zigzagging sonic obstacle courses. Each member of the trio is credited with playing "toys"; there are squeaks, squeals, honks, spoken-word samples, an alarm clock, and what may be a frog. All the while, Zamir tugs sounds out of his sax seemingly against its will.
But the whole point seems to be to challenge and provoke; the pieces themselves have blank names like "The Theme and Poem 15" and "Poem 12B." Ironically, the group says its name, Satlah, is "Israeli slang" for "euphoria... relaxation and beauty." Satlah presents an abstract-expressionist beauty, alternately as vibrant as a Kandinsky and as unnerving as a Pollack.
It seems there are as many types of Jewish jazz as there are types of... well, Jews or jazz!
---
JWR contributor Paul Wieder is a public relations associate at the Jewish United Fund and a columnist for JUF News. Contact the author or the magazine by either clicking here, or calling (312) 444-2853.


© 2002, JUF News