Jewish World Review Nov. 15, 2000/ 17 Mar-Cheshvan, 5761


Off the Beaten Track:
Jewish roots and
delicious discoveries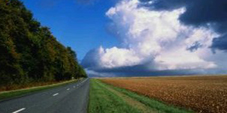 By Ethel G. Hofman
http://www.jewishworldreview.com -- NO MATTER where I travel, the most exciting discoveries are made in villages and hamlets off the beaten track. With that in mind, on a recent trip to Devon and Cornwall, my husband and I were determined to keep to the backroads. That is, single track roads winding through lush, green countryside, and lined on either side with high hedgerows. Just as well, since we found ourselves caught in the middle of the gas (petrol) crisis where gas stations all over Britain were closed up tight for three days. We were lucky. A small Austin automobile goes far when you start off with a full tank.
Today it's hard to find Jewish communities in Devon and Cornwall, although there are tiny pockets in a few areas. Not so in the 18th and 19th centuries when vibrant Jewish communities flourished in Falmouth, Penzance, Plymouth and Exeter. In fact, the two oldest Ashkenazi synagogues still in use in the English-speaking world, and dating from 1764 and 1763 are in Plymouth and Exeter. The Georgian cemeteries may still be seen in Falmouth and Penzance though the synagogue buildings have been converted for other purposes. Small communities and places of worship still remain in Plymouth and Exeter.
Torquay has a functioning synagogue which we discovered too late (and with not enough gas) to attend services. But in this part of England, we also found a renewed interest and traces of past Jewish life.
The Hidden Legacy Foundation, established in 1988, worked only in Germany to save endangered synagogues but is now focusing on rural Jewry in England. In Falmouth, a fascinating permanent exhibit at the Art Museum, entitled the Jews of Devon and Cornwall, was sponsored by Lemon Hart Rum, a company founded in the early 19th century by Lemon Hart, a Jew from Penzance. Evelyn Friedlander who organised the exhibition notes that it describes the enormous contribution the Jewish people made to life in Devon and Cornwall and the unique pieces of 18th century ritual silver (some with the Exeter assay mark), help convey the meaning of Jewish life. And at the pilchard works in Newlyn, Cornwall, we talked with Robin Turner of Turner Fisheries, who laughingly admitted to speaking four languages - English, French, Cornish and Yiddish.
Our guide was the AA book of B&B's - 5 stars for the best which guaranteed luxurious comfort and cooked to order hearty English breakfasts. The innkeepers were warm and friendly offering a wealth of information. Thus we found our way to local farms producing everything from scrumpy (farmhouse cider) and honey to Cornish Yarg, the unique nettle-wrapped cheeses.
Cherry, the winsome innkeeper at Merwyn House Hotel in Bush Hull village, near Taunton, directed us to Sheppys Cider , one of the few cider farms left in England. The Sheppy family has been making award-winning cider here from the early 1800's. Colin Turner, the cellar and orchard man, gave us the grand tour explaining that the art of the cider maker lies in skillful blending of differing flavors so that a clear, golden, alcoholic liquid is obtained. Contrary to popular belief, the best cider is not made from eating apples. Good cider apples such as Kingston Black and Stembridge Jersey are fibrous so that when they are pulped the juice is squeezed out cleanly. They also contain high levels of tannin, responsible for the golden orange colour of the cider. Sheppy's annual production is 65,000 gallons distributed as far away as Hong Kong and Japan. Fortified with generous samples of the clear, golden liquid, we drove past bushes heavy with blackberries to Quince Honey Farm, South Molton, where owner Paddy Wallace described how 60,000 bees bring to the 1500 hives the rich, strong flavored heather honey from Exmoor. "They never go more than 1 1/2 miles from their hives and always find their way back - they have landmarks, just like humans," he explained.
Determined to track down Lynher Dairies, in Liskeard, a tiny town south of Bodmin Moor, we ended up following a herd of Freisian-Holstein cattle through green pastures. The dairy has been in the Horrell family for three generations and is the only place in Britain where Cornish Yarg, a semi-soft cheese wrapped in nettle leaves, is produced. According to office manager, Tania Hall, the recipe was found in the early 1980's in an old farmhouse. With the dusty, grassy wrap and creamy consistency, the flavor is nothing less than sensational.
The highlight of our visit was an overnight stay in Chagford, a picture book village in North Dartmoor. With thatched roofs and antique shops tucked upstairs in centuries old cottages, you wouldn't be surprised to find Agatha Christie's Miss Marple, striding through the square with a shopping basket on her arm. Parford Well, a 5 star gem, graciously run by innkeeper Tim Daniel, is the place to stay. Enny's in St. Hilary, near Penzance, where we stayed in a comfy converted hayloft complete with dormer windows and fluffy duvets, is a close second. Gill Charlton, the innkeeper and weekend travel editor for London's Daily Telegraph serves tea, Victoria sponge and flapjacks, in her country kitchen every afternoon at 4p.m. We loved it ...and stayed three nights.
You'll find typical dishes of the"south-west" English countryside in local markets and even supermarkets, but as any innkeeper will tell you - the best are made at home.
CIDER-GIN COCKTAIL (PAREVE)
MAKES 8 SERVINGS

Thinly peeled rind of 1 lemon
1/3 cup gin
4 cups dry cider, chilled
Place the lemon rind in a large pitcher. Pour the gin over and let stand 30 minutes.
Add the cider, stir and serve at once.
Note: Pour over shaved ice and serve a la Americaine!
TEDDY SOUP (DAIRY)

MAKES 4 SERVINGS
(Teddy is a Devon term for potatoes)



2 tablespoons butter or margarine
2 medium potatoes, peeled and chopped coarsely
1 medium leek, quartered, washed and sliced thinly
2 cups vegetable stock
1/2 teaspoon dried basil
1/2 teaspoon dried marjoram
2 tablespoons diced pimento
1/2-3/4 cup milk
salt and white pepper to taste
Melt the butter or margarine in a medium saucepan over medium heat. Add the potatoes and leek. Cook vegetables for 10 minutes until limp, but not browned. Add the stock, chives, basil and marjoram. Bring to a boil. Reduce heat and simmer, covered, for 30 minutes or until the potatoes are soft. Cool slightly. Puree in a blender or food processor. Add the pimento and 1/2 cup milk. Heat through, season to taste with salt and pepper. Add a little more milk if too thick.
CORNISH PASTIES (MEAT)
MAKES 4


A traditional hearty meal for Cornish tin-miners. Originally there was a meat filling at one end and a sweet filling at the other - main course and dessert in one crisp case.
1 1/2 sheets (about 12 ounces) prepared pareve puff pastry
1 egg, beaten

Filling:

1 tablespoon vegetable oil
6 ounces lean ground beef
2 small onions, coarsely chopped
2 small potatoes, coarsely chopped
1/2 (about 1/4 cup) small turnip, coarsley chopped
1 teaspoon lemon-pepper seasoning
salt to taste
Preheat oven to 400F. In a medium saucepan, heat the oil over medium heat. Add the beef, onions, potatoes and turnip. Cook, stirring often, until the beef has lost it's pinkness and the vegetables are limp, 10-15 minutes. Season to taste with lemon pepper seasoning and salt to taste. Set aside to cool.
Knead the pastry sheets together. Roll out thinly on a lightly floured board. With a large saucer or small plate, cut out four 6 or 7 inch rounds. Place one quarter of the filling on each pastry round. Moisten edges with water, then bring them together to seal. Crimp the edges with your fingers or a fork. Place on a baking sheet and brush with the egg. Bake in preheated oven for 20-25 minutes or until nicely browned and pastry is risen. Serve hot or at room temperature.
VICTORIA SPONGE CAKE WITH CHOCOLATE CREAM FILLING (DAIRY)
Serves 8-10


2 sticks (8 ounces) unsalted butter, softened
1 cup granulated sugar
4 eggs
1 cup all purpose flour
1 3/4 teaspoons baking powder

Filling:

4 tablespoons raspberry or strawberry jam, warmed
1/2 cup heavy cream, whipped
3 tablespoons grated milk chocolate
confectioners sugar to sprinkle (optional)

Preheat oven to 350F. Spray two 9-inch cake tins or pie plates with non-stick vegetable spray. Place the butter and sugar in a large bowl. Beat until light and fluffy, 2-3 minutes. Add the eggs, flour, and baking powder. Beat well to blend. Divide between the two cake pans. Smooth the tops. Bake in preheated oven 25 minutes or until risen, golden and the tops spring back when pressed lightly with fingertips. Cool for a few minutes. Turn out onto a wire rack. When completely cooled, sandwich together with jam and top with whipped cream mixed with the chocolate. Sprinkle with confectioners sugar if desired.

Note: To make this pareve, substitute vegetable margarine for the butter, non-dairy topping for whipped cream, and pareve chocolate.
FLAPJACKS (DAIRY)

Makes 30
1 stick (1/2 cup) butter*
1/2 cup light brown sugar
2/3 cup corn syrup
1 1/2 teaspoons ground ginger
2 and 2/3 cups old-fashioned oatmeal (not instant)
*use margarine to make pareve
Preheat oven to 325F. Spray a 9-inch square baking dish with non-stick vegetable spray.
In a medium saucepan, melt the butter over medium heat. Reduce to low and add the sugar and corn syrup. Remove from heat and stir in the ginger and oatmeal. mix well. Spoon into the prepared dish. Press down into a layer about 1/2 inch thick. Bake in preheated oven for 30 minutes or until a rich brown. While still warm, cut into squares. Cool 10 minutes longer, remove from dish and place on a wire rack to cool completely.
Note: If left in dish until cool, flapjacks will harden and be difficult to remove. If this happens, place in a 350F oven for 5-7 minutes to soften.

© 2000 Ethel G. Hofman