Rosh Hashanah Feast --- ready and waiting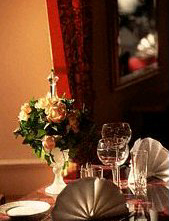 By Ethel G. Hofman
http://www.jewishworldreview.com -- Hooray -- this year erev Rosh Hashanah falls on September 29 -- giving us all a little breathing space to swing back into work, home and school. To avoid last minute hassle and pressures, now's the time to cook and freeze the traditional Rosh Hashanah feast.
"Cook and freeze" is now essential to new century lifestyles. It's no longer an option.. Thankfully, the method has been available to us since 1958. At that time, Corning scientists developed Pyroceram ® a glass-ceramic material for use on the tips of missile cones to withstand extreme temperatures. Corningware was the first commercial application of the miracle substance and single-handedly simplified how America cooks. Today, there are dozens of dishes and utensils which go from freezer to oven to table without cracking or shattering. But if you prefer, cook and freeze in the heavy duty, disposable aluminum pans, then transfer to your serving dishes when reheated.
The Rosh Hashanah menu below has been designed so that you can begin cooking right now. Besides the usual freezer items, such as kugels, I've included a pureed soup base. Heated through, with non-dairy creamer added before serving, this is a lower calorie, pareve version of a cream soup; a change from the predictable chicken soup.
If the purists insist, chicken soup may be made ahead and frozen. Refresh by adding a squeeze of lemon juice and some fresh vegetables before re-heating through to tenderize vegetables. Couscous, bright bell peppers, artichokes and fresh herbs update the customary kugel and it wouldn't be Rosh Hashanah without a honey cake, this one drizzled with a sweet cognac glaze.
Take advantage of Italian plums, those little blue-black tart fruits which are in season right now. Simmered in port wine, they make a delightful compote and refreshing dessert. This dish freezes nicely but must be taken from the freezer 48 hours ahead.
Once cooked, wrapped and safely packed in the freezer, you can relax, confident that most of the Holiday meal is ready to heat. Place a note on the refrigerator and kitchen calender as a reminder when to transfer dishes to the refrigerator. Last minute no-cook items, such as honey, a key ingredient to ensure a sweet year, may be poured into a pretty bowl and covered with plastic wrap. Cover apple wedges with orange juice and refrigerate. If the juice is poured off in the morning, enough ascorbic acid remains on the wedges to prevent any discoloration. And order those round challahs well ahead as they sell out quickly(roundness is a symbol of everlasting life and happiness).
Recipes are for starred items only. Double for a crowd.
Menu
WINE, APPLES AND HONEY CHALLAH
PUREED PUMPKIN AND APPLE SOUP*
BABY GREENS TOSSED WITH QUARTERED STRAWBERRIES BEEF BRISKET WITH DRIED APRICOTS AND PRUNES*
NO-FUSS CARROT TZIMMES*
COUSCOUS VEGETABLE KUGEL*

LIME POPPYSEED MANDELBROT*
HONEY LOAF WITH COGNAC GLAZE*
DRUNKEN PLUMS*

PUREED PUMPKIN AND APPLE SOUP (PAREVE)
Serves 6

1 tablespoon vegetable oil
1 large onion, diced
4 cups vegetable stock
1/3 cup long grain rice
1/4 cup ginger preserves
1 teaspoon curry powder
2 cups canned pumpkin
1 cup unsweetened applesauce
salt and pepper to taste
1 cup non-dairy creamer and 1 cup vegetable stock (to be added before re-heating.)
In a large pot, heat olive oil over medium heat. Add the onion and cook until soft and golden, about 10 minutes, stirring often. Add the vegetable stock and rice. Reduce heat to simmer. Cook 20 minutes or until rice is tender.
Stir in the ginger preserves and curry powder. Cool slightly. Puree in the blender or processor. Return to pan. Add the pumpkin and applesauce and stir to blend. Season to taste with salt and pepper. Cool completely before pouring into a tight-lidded container. label and freeze.
Before reheating, add 1 cup unflavored, non-dairy creamer, and enough vegetable broth for desired consistency. Correct seasoning with curry powder, salt and pepper.
BEEF BRISKET WITH DRIED APRICOTS AND PRUNES (MEAT)
Serves 10-12



2 tablespoons vegetable oil
2 cups frozen baby onions
1 (about 6 pounds) lean beef brisket
2 1/2 teaspoons lemon pepper seasoning
1 cup dry red wine or beef broth
1 (14 1/2 ounce) can diced tomatoes with garlic
2 tablespoons brown sugar
18 baby carrots
1 large parsnip, peeled and thickly sliced
18 pitted prunes
18 dried apricot halves
Preheat oven to 325F. In a skillet, heat the oil over medium high heat. Add the onions and fry until golden. Set aside. Sprinkle 2 tablespoons flour in a large oven cooking bag and place in a large deep roasting pan. Place the brisket into the bag and sprinkle both sides with lemon pepper seasoning. Add the onions and any fat from the skillet, the wine or beef broth, 1 1/2 cups water, canned tomatoes, brown sugar, carrots, parsnip, prunes and apricots. Secure the bag with the plastic tie provided in the cooking bag package. Cut three 1-inch slits in bag for steam to escape. Place in preheated oven and bake 3 -3 1/2 hours or until tender.
Cool slightly before removing from bag. Slice meat and place in a freezer dish. Spoon the gravy and vegetables over. Cover surface with wax paper, then cover dish tightly with heavy duty foil, label and freeze.
Before serving, sprinkle generously with fresh chopped parsley.
NO-FUSS CARROT TZIMMES (PAREVE)
Serves 6-8


1 (16 ounce) bag baby carrots
6 pieces dried pears, each cut in half
1/4 cup dark cherries
1 cup orange juice
1/2 teaspoon salt
1 (10 ounce) package thawed frozen butternut squash
2 tablespoons honey
1 teaspoon pumpkin pie spice
In a 2 1/2 quart stove top casserole, mix carrots, pears, cherries, orange juice, salt and 1 cup water. Cover and bring to boil over medium heat. Reduce heat to simmer.Cook for 20 minutes or until carrots are tender. Add squash and pumpkin spice and stir to mix. Sauce should be thick. If too thin, uncover and simmer for a few minutes to reduce. Cool. Cover tightly, label and freeze.
COUSCOUS VEGETABLE KUGEL (MEAT)
Serves 12-15


This may be cooked in two 9-inch square baking dishes. Egg substitute may be used instead of eggs or 2 eggs and 4 egg whites may be substituted.
1 large red bell pepper, cored and cut in 2-inch pieces
1 large orange bell pepper, cored and cut in 2-inch pieces
2 scallions, cut up
1/2 cup loosely packed cilantro or parsley
1 (10-ounce) package garlic flavored couscous
1 pound medium noodles, cooked and drained
1 (10 ounce) package thawed, frozen artichoke hearts, halved
3 eggs, lightly beaten
1/3 cup chicken broth
1/4 cup vegetable oil
1 teaspoon salt
2 teaspoons Italian seasoning or to taste
Preheat oven to 350F.. Spray a 13x9-inch baking dish with non-stick vegetable spray.
Cook couscous according to package directions. Place in a large bowl and set aside.
Chop the peppers, scallions and cilantro or parsley in the food processor, pulsing 4-5 times to chop the peppers coarsely. Add to the couscous along with the noodles and artichoke hearts. Add the eggs, chicken broth, oil, salt and 1 teaspoon Italian seasoning. Stir well to mix.
Pour into prepared baking dish and sprinkle with remaining seasoning. Cover loosely with aluminum foil. Bake in preheated oven 45 minutes. Remove foil and bake until center is set, about 20 minutes longer. Cool completely. Cover with a sheet of wax paper, then tightly with foil. Label and freeze.
LIME POPPYSEED MANDELBROT (PAREVE)

Makes 44-48 cookies (2 cookies per serving)
3 eggs
1 cup sugar
1/3 cup vegetable oil
2 tablespoons lime flavored oil*
1/4 cup vanilla flavored non-dairy creamer
1 1/2 tablespoons poppyseed
3 1/2 cups all-purpose flour
1 tablespoon baking powder

* or grated rind of 1 large lime
Preheat oven to 375F. Spray 2 baking sheets with non-stick vegetable spray.In large bowl, whisk together eggs, sugar, vegetable oil and lime flavored oil.
Whisk in the non-dairy creamer. Add the poppyseed, 1 cup flour and the baking powder and stir to mix. Add the remaining flour, 1/2 cup at a time, mixing thoroughly between each addition. Mixture should be stiff. Cover and chill at least 2 hours.
With floured hands, shape quarter of the mixture into a roll about 10 inches long by 1 -inch wide and 3/4-inch thick. Place on prepared baking sheet.
Repeat with remaining mixture, placing 2 rolls on each baking sheet. Slice 3/4-inch thick ( for easier slicing, insert knife blade into a cupful flour
after each 2 or 3 cuts.) Bake in preheated oven 25 minutes. Turn oven off. Remove cookies from oven and separate slices. Return to oven and leave in oven 1/2 hour longer. Cool on wire rack. Store in plastic bag in freezer.
DRUNKEN PLUMS (PAREVE)
Serves 6-8


1 1/2 pounds Italian plums, halved and stones removed
1 cup port wine
1/4 cup honey or to taste
1 cinnamon stick
1 tablespoon grated ginger root
Place the plums in a medium saucepan. Add the wine, honey, cinnamon stick and grated ginger. Bring to simmer over medium high heat. Reduce heat and continue cooking , partially covered, for 15 minutes longer or until plums are beginning to soften but hold their shape. Remove cinnamon stick and discard. Cool completely. Place in airtight container, label and freeze. Note: after thawing, more sugar or honey may be needed to sweeten. Flavors may be diminished during the freezing process.
HONEY LOAF WITH COGNAC GLAZE (PAREVE)

Makes 1 loaf (12 slices)
3/4 cup plus 2 tablespoons warm honey
1/3 cup hot strong coffee
3 tablespoons cognac
2 eggs, beaten
2 tablespoons vegetable oil
1/2 cup brown sugar
1 3/4 cups all-purpose flour, sifted
1 1/2 teaspoons baking powder
1/2 teaspoon baking soda
2 teaspoons ground cardamom
2 tablespoons grated orange rind

Glaze

1 cup confectioners sugar, sifted
1-2 tablespoons cognac
Preheat oven to 300F. Spray a loaf pan (9x4 1/2x2 1/2 - inches) with non-stick vegetable spray. In a large bowl, whisk together the honey, coffee, cognac, eggs, oil and sugar. Add 1/2 cup flour, baking powder, baking soda, cardamom and orange rind. Mix thoroughly. Add remaining flour, about 1/4 cup at a time beating well between each addition.
Pour into the loaf pan. Bake in preheated oven for 45 minutes or until a toothpick comes out clean when inserted in center. Let cool in loaf pan for 5 minutes. Loosen sides with a round bladed knife before turning onto a wire rack. Cool. With a toothpick, prick top of the loaf 8 to 10 times. Pour the glaze over, letting it drip down the sides.
Cool. thoroughly. Wrap in wax paper, then tightly in foil. Label and freeze.