Blueberry Bonanza:
From compotes to pies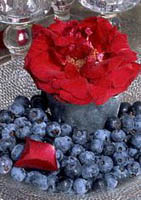 By Ethel G. Hofman
http://www.jewishworldreview.com -- ACCORDING to food historian Waverley Root, properly speaking, the blueberry is entirely an American berry although they are now widely cultivated all over Europe. Plump and juicy with a dusty bloom on its purple skin, blueberries are best eaten fresh by the spoonful - a burst of natural sweetness with every mouthful.
If you can, head for the nearest blueberry farm and pick your own -- there's nothing to compare to the fresh -- picked. However, when purchased from the local market, here are a few important facts to help pick out the highest quality. Turn the basket upside down. If berries are crushed or the package is juice-stained, forget it. Buy only those that are loosely packed and dry. Refrigerate without washing. This way, they will retain freshness for up to one week. It's a good idea to freeze a few packages for winter use. Just remove the cellophane covering and overwrap completely with a double layer of plastic wrap, then pop into the freezer. Nutritionally, blueberries are a delicious bonus. Low calorie (1/2 cup serving is approximately 40 calories) and a natural fiber fruit, they are an excellent source of Vitamin A and a good source of vitamin C as well as providing iron, phosphorus and potassium to the diet.
Blueberries are the most versatile of berries. Uncooked, they may be sprinkled over cereal, added to fruit salads, or layered with icecreams or sherbets to make refreshing desserts. When crushed, berries are transformed into a rich, deep purple. (juice stains may be removed from table linens or clothing with a few drops of fresh-squeezed lemon juice). Cooked they work deliciously in everything from compotes to pies but expect to find soups, salsas and gravies featuring blueberries on trendy restaurant menus.
Don't miss out on the blueberry season. Combined with other summer fruits or standing alone, blueberries add their own incomparable flavor to all of the quick and easy recipes below.
GLAZED BLUEBERRY COMPOTE (PAREVE)
Serves 4

2 tablespoons strawberry or other fruit preserves
1/4 cup white wine (chardonnay) or apple juice
2 teaspoons fresh lemon juice
pinch nutmeg
1 pint (about 2 cups) blueberries, washed and picked over In a medium saucepan, warm strawberry preserves, wine, lemon juice and nutmeg over medium heat. Stir to combine. Raise heat to high. Gently stir in the blueberries and cook for 2 minutes. Serve warm or chilled topped with a mint sprig. For a dairy meal, garnish with a swirl of whipped cream
BLUEBERRY BUTTERMILK PANCAKES (DAIRY)
Makes 10-12 pancakes


1 egg
1 cup buttermilk*
2 tablespoons corn oil
1 cup all-purpose flour
1 tablespoon cinnamon sugar
1 1/2 teaspoons baking powder
1 teaspoon grated lemon rind
3/4 cup blueberries

In a bowl, whisk together egg, buttermilk and oil. Add flour, cinnamon sugar, baking powder and lemon rind, stirring until smooth. Gently fold in the blueberries. Grease a large, preferably non-stick, skillet with a little oil and heat over medium heat. For each pancake pour 2 tablespoons batter onto heated skillet. Cook until tiny bubbles appear on the surface and begin to break. turn and cook until underside is golden, 1 to 2 minutes longer. Serve with maple syrup.
* or add 2 teaspoons lemon juice or vinegar to 1 cup milk. Let stand without stirring for 10 minutes at room temperature before using.
BLUEBERRY POWER BREAKFAST (DAIRY)
Serves 1


1 ripe banana, sliced
3/4 cup low fat milk
1/2 cup low fat vanilla yogurt
2 tablespoons instant oats
1 teaspoon honey or sugar to taste
1/3 cup blueberries
In the blender jar, blend banana with milk, yogurt, oats and honey. Pour into a glass and stir in the blueberries. Eat with a spoon.
AUNT HANNI'S BLUEBERRY TART (PAREVE)
serves 10-12

For pie shell:
1/4 pound vegetable margarine, softened
1/4 cup sugar
1 egg, lightly beaten
1 1/4 - 1 1/2 cups all-purpose flour

Filling:
3/4 cup sugar
3 tablespoons cornstarch
1 cup water
1 quart (4 cups) fresh or frozen blueberries
1 tablespoon grated fresh ginger or 1 teaspoon dried
Prepare pie shell: Preheat oven to 35OF. In food processor, process margarine, sugar, egg and 1 1/4 cups flour. mixture should form a ball. Add a little more flour if needed. Press into a well-greased 10-inch spring form. Prick bottom and sides with a fork. Bake in preheated oven for 20 minutes until edges are beginning to brown. Remove from oven and cool completely, prepare filling: In a medium saucepan, combine sugar, cornstarch and water. Mix until completely smooth. Stir in 1 cup blueberries and the ginger. Cook over medium heat, stirring constantly, until mixture comes to a full boil. Cook 1 minute, then remove from heat. Add remaining blueberries. Cool before pouring into cooled pastry shell. Refrigerate 4 hours or more before removing from spring form.
Note: For a dairy meal, garnish with teaspoonfuls of whipped cream.
PEACH-BERRY CRUMB PIE (DAIRY)
Serves 8


Crumb crust/topping
1 cup finely ground almonds
2 cups all-purpose flour
1/2 cup granulated sugar
1 1/2 sticks (6 ounces) butter, cut into 12 pieces
Filling:
1/2 cup granulated sugar
1 1/2 tablespoons cornstarch
1 tablespoon grated lemon rind
1/2 teaspoon cinnamon
1 pint (2 cups) fresh blueberries
5 medium peaches, cut in thin wedges
Preheat oven to 425F. Prepare crust and topping: In the food processor, place almonds, flour, sugar and butter. Pulse until the consistency of coarse crumbs. Transfer half the mixture to a deep 8 or 9-inch pie dish. Press into bottom and sides to form a crust. In a bowl, combine all filling ingredients. Spoon into crust, spreading evenly. Sprinkle remaining topping mixture over to cover. Bake in preheated oven until topping is golden and filling is bubbly, about 30 minutes. Cool for 10 minutes on a wire rack before serving.