A simple summer supper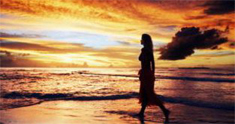 By Ethel G. Hofman
http://www.jewishworldreview.com -- If you ever had the slightest doubt that senior citizens are set in their ways, stuck in a rut or resistant to change, meet Hanni Hamburge, and you'll immediately change your mind.
Eighty years young, our Aunt Hanni delights in welcoming the constant stream of expected and unexpected visitors, to her thoroughly modern bungalow perched high on the bluffs of Lake Michigan. For this lively lady, entertaining is a breeze. As she adds the finishing touches to our supper, she chuckles, "I have every appliance to make cooking fast and easy but , I don't have a clutter of little trendy gadgets." Her kitchen counters are sleek and shiny and cupboards and drawers so organized they could be photographed on a moment's notice for a glossy magazine. Equipment deemed essential to her culinary lifestyle includes a 750 Watt microwave, food processor, electric mixer and blender. "Why should I grate vegetables by hand when I have the food processor ?" she exclaims.
It wasn't always so easy. As a child, Mrs. Hamburger grew up in the 1920's and 30's on a farm near Frankenberg, Germany where her father was a cattle dealer. Cooking was a full time occupation for women. Everything was made from basic, available ingredients, all needing lengthy preparation before you could even begin to cook.

The family grew their own vegetables which had to be cleaned and cut, new laid eggs from their chickens needed to be gathered from the nests, and cows were milked twice a day to yield milk and cream. The tedious process of churning the milk to make butter was an after-school chore for Aunt Hanni who remembers "we always had plenty of dairy products like buttermilk and cottage cheese and my mother supplied the bakeries for the cottage cheese for their cheesecakes." Cattle were slaughtered by the local shochet (ritual slaughterer), then the front end of the animal cut up, smoked, pickled and made into sausages. Summers were spent canning fruits and vegetables for the coming winter. Corn and wheat were bartered for the 6 pound loaves of bread from the local bakery but challahs were prepared at home on Thursday mornings.
On a recent visit, we sat around the big kitchen table while Aunt Hanni chatted and slipped the main supper dish into the microwave "ready in a jiffy." Eight minutes later, four perfectly cooked salmon steaks were on the table --- the secret she claims is club soda.
To demystify, I called friend and colleague Shirley Corriher, research biochemist, food sleuth and author of Cookwise (William Morrow) "I'm thinking out loud" she laughed, then explained "club soda is carbon dioxide dissolved in water which makes carbonic acid. So the soda is a gentle acid which acts as a tenderizer --- a much better idea than a stronger acid such as vinegar which can overcook delicate fish."
The salmon was served with a bowl of piquant Green Sauce, which Aunt Hanni makes with whatever greens she has on hand emphasizing "it's never the same twice but it always tastes good."
Ingredients could include a mixture of parsley, green onions, dill and basil as in the recipe below, or you could include green peppers, spinach and any other fresh green herb available. If you don't have green onions, a small chunk of sweet onion will do. Dill pickles and lemon juice add a zesty punch and hard cooked eggs give substance.
Make sure all the ingredients are patted or spun dry to avoid the sauce becoming too liquidy. If this does happen, add another hard-cooked egg. Washed cauliflower and broccoli florets may be purchased in bags.
The remaining bunch of dill from Green Sauce may be coarsely snipped and tossed with a bag of baby salad greens. And with no apologies for convenience products, this savvy lady adds her own twist to a package of dry salad dressing mix using mellow rice vinegar instead of white or cider vinegar.
For weeknight or weekend, relax and enjoy with Aunt Hanni's fail-safe recipes for a fussless summer supper.
Recipes for starred items only.
MENU
Melon wedges with basil leaf garnish
Soda-zapped Salmon Steaks*,
Fresh Green Sauce*
Salad Greens with Dill
, Rice Vinaigrette Dressing*
German Fried Potatoes*
Buttered Cauliflower and Broccoli Florets*
Molded Orange Whip*
with Honeyed Strawberries*

RECIPES
SODA-ZAPPED SALMON STEAKS (PAREVE)
SERVES 4

4 (6 ounce each) salmon steaks, about 1-inch thick
1/4 cup club soda
kosher salt and white pepper
Wash salmon in cold water. Pat dry with paper towels. Arrange in a shallow microwave safe dish. Pour club soda over and sprinkle lightly with salt and pepper. Cover tightly with plastic wrap. May be refrigerated at this point until ready to cook.
Microwave at High for 8 minutes. Let stand at room temperature for 3 minutes. Remove plastic wrap carefully. Serve warm or at room temperature with Fresh Green Sauce.
FRESH GREEN SAUCE (DAIRY)

MAKES ABOUT 2 1/2 CUPS
1 medium bunch parsley
1/2 medium bunch fresh dill
1/2 cup basil leaves, packed
2 green onions, cut in pieces
1/2 rib celery, cut in 1-inch pieces
1 dill pickle, cut in 1-inch pieces
juice of 1 lemon
2 hard-cooked eggs, quartered
1/4 cup low fat, plain yogurt
2 tablespoons low fat mayonnaise
2-3 tablespoons capers, rinsed
salt and white pepper
Wash parsley, dill and basil in cold water. Pat dry with a clean kitchen towel or paper towels or spin in a salad spinner. Place in the food processor fitted with the steel blade. Add the green onions, celery, pickle, lemon juice, eggs, yogurt and mayonnaise. Process until all the ingredients are coarsely chopped and blended. Transfer to a bowl. Stir in the capers. Season to taste with salt and pepper. Serve chilled or at room temperature.
RICE VINAIGRETTE DRESSING
MAKES ABOUT 1 CUP
Add the contents of a (0.6 ounce) package dry salad dressing mix to 1/4 cup rice vinegar and 3 tablespoons water. Whisk until thoroughly blended. Add scant 1/2cup canola oil and whisk again to blend.
BUTTERED CAULIFLOWER AND BROCCOLI FLORETS (DAIRY)

SERVES 4-6
1 bag (12- ounce) broccoli florets
1 bag (12-ounces) cauliflower florets
3 tablespoons unsalted butter, melted
squeeze of lemon juice
1/4 teaspoon salt
1/8 teaspoon pepper
Rinse florets in cold water. Pour about 2 cups boiling water over and bring to boil over high heat. Cover and cook for 6 minutes or until a sharp knife slips out easily when inserted into the stem. Drain well. Transfer to a serving bowl. Mix the melted butter with lemon juice, salt and pepper. Pour over florets and toss gently. Serve hot.
GERMAN FRIED POTATOES (PAREVE)


SERVES 4-6
3 pounds small new potatoes, scrubbed and quartered
1/3 cup canola oil
paprika and onion salt
Place potatoes in a large pot. Cover with boiling water. Bring to boil over high heat. Reduce heat to medium. Cook for 10 minutes or until barely tender. Drain well. Sprinkle lightly with paprika and onion salt. Heat oil in a large, preferably non-stick skillet over medium heat. Add the potatoes. Cook for 10-15 minutes, turning often, until potatoes are crisp at edges and nicely browned. Serve hot.
MOLDED ORANGE WHIP WITH HONEYED STRAWBERRIES (PAREVE)

SERVES 4 -6
1 (3 ounce) package orange flavored gelatin
3/4 cup boiling water
1 (6 ounce) can frozen orange juice concentrate, thawed
1 (8 ounce) carton frozen whipped topping, thawed
1 pint strawberries, hulled and halved
2 tablespoons honey
Completely dissolve the orange gelatin in boiling water. Stir in the thawed orange juice concentrate. Refrigerate until the consistency of thick egg white. With the electric mixer, whisk in the whipped topping until thoroughly blended. Transfer to a 3-cup ring mold or 1 quart bowl. Refrigerate until ready to serve.
Place strawberries and honey in a small saucepan over high heat. Cook, stirring, 3-4 minutes. Chill.
To unmold and serve: Loosen sides of mold, dip the bottom of the mold into warm water . Turn out onto a flat platter. Fill center with chilled honeyed strawberries.