Jewish World Review July 3, 2000/Rosh Chodesh Tamuz, 5760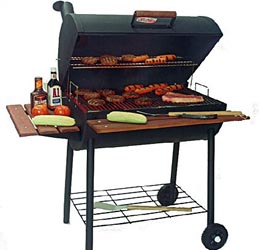 By Ethel G. Hofman
http://www.jewishworldreview.com -- BARBECUE IS A CREATIVE ART and Jim Tabb, a retired TWA airline pilot is a passionate promoter and educator on this ancient cooking method. Often hauling his cooker, "Oklahoma Joe," Mr. Tabb travels cross country and overseas to search out barbecue techniques so that he has become a recognised and sought after, authority. In fact, he and his wife, organised this year's Blue Ridge Barbecue Festival in Tyron, North Carolina. The event attracted nearly 80 cookers (contestants) from 18 states competing for more than $20,000 in prize money and drew more than 25,000 visitors.
My physician husband Walter, who also happens to be a certified barbecue judge -- and on his way to a Master's -- had been invited to be on the panel of judges in Tyron, which is why I found myself steeped in this culinary Americana; wide open spaces without billboards, or smog and where old-fashioned courtesy prevails. The perfect opportunity for a food writer to get the scoop on real barbecue.
Barbecue, insists Mr. Tabb, ".....it's not slapping a couple of steaks on the grill. the meat can be brisket, duck, chicken or anything else you fancy" but " and he's emphatic about this " it must be cooked real slow...it should attain a melt-in-the-mouth consistency."
One quick barbecue tip: Do not start grilling until coals are at least 80% ashed over. If a fire is too cool, knock off some of the ashes and add charcoal round the edge.
Carolyn's Honey Dijon Barbecued Chicken
Serves 4

1 (3 pound) broiler-fryer chicken, quartered
1 cup chopped tomatoes in heavy puree
1/4 cup olive oil
1/4 cup Zinfandel wine
2 tablespoons honey
2 tablespoons dijon-style mustard
1 clove garlic, minced
1/2 teaspoon pepper
1/4 teaspoon salt

Place chicken in a plastic bag set in a large bowl. For marinade, combine oil, wine, honey, mustard, garlic, pepper and salt. Pour most of the marinade over the chicken, reserving a couple tablespoons. Close the bag and refrigerate for 2 to 4 hours, turning the bag occasionally.
Drain chicken. In a grill with a cover, arrange medium-hot coals around a drip pan. Place the chicken, bone sides down, on grill rack over the drip pan. Cover and grill for 45 to 55 minutes or until chicken is tender and no longer pink, brushing with reserved marinade after 30 minutes.
Lamb Chops Jalapeno
Serves 4


8 (about 2 1/2 pounds) lamb chops cut about 1-inch thick
1 teaspoon salt
1 teaspoon pepper
1 teaspoon ground cinnamon
1 (8 ounce) can crushed pineapple
1/3 cup jalapeno jelly
1/4 cup lemon juice
3/4 - 1 cup milk substitute
2 teaspoons salad mustard
Trim any fat from lamb chops. Combine salt, pepper and cinnamon. Rub the mixture into both sides of lamb. Set aside. For the glaze, in a saucepan, combine undrained pineapple, jalapeno jelly, lemon juice and mustard. Bring to boiling and reduce heat. Simmer, uncovered for 10 minutes. Stir occasionally. Grill lamb on the grill rack of uncovered grill directly over medium coals to desired doneness, turning once. (allow 10-14 minutes for medium rare; 14 - 16 minutes for medium) Set aside 1 cup of the glaze. Brush with remaining glaze during last 5 minutes of grilling. Serve with reserved glaze to pour over.
Basic Moppin' Sauce
Makes 2 cups (Ardie Davis, a sauce aficionado, says this may be used for marinating, basting or both.)


1 cup strong coffee
1 cup ketchup
1/2 cup Worcestershire sauce
1/4 cup margarine
1 tablespoon sugar
1 -2 teaspoons fresh ground black pepper
1/2 teaspoon salt (optional)
In a medium saucepan, combine all ingredients. Bring to a boil, stirring occasionally. Reduce heat to low. Simmer sauce, uncovered, for 30 minutes, stirring frequently. Use as desired. Store unused sauce in refrigerator.
Mason Steinberg's Twice Baked Apple Pie
Serves 8-10


8 cups cored, peeled, sliced apples
1/2 cup light brown sugar, packed
1/2 cup granulated sugar
3 tablespoons cornstarch
1/2 teaspoon salt
1 teaspoon ground cinnamon
1/2 teaspoon ground nutmeg
1/4 cup (1/2 stick) unsalted margarine or butter substitute, melted
2 tablespoons lemon juice
pie crust for a double crust
1 egg beaten with 2 tablespoons water
Preheat oven to 400F. Butter a 3 quart baking dish. Place apples in a large bowl and set aside. In a small bowl, combine the sugars,cornstarch, salt, cinnamon and nutmeg. Add to the apples along with the melted butter-like substitute and lemon juice. Toss to coat. Spoon into prepared dish. Cover tightly with aluminum foil. Cut 3 or 4 large vents in foil. Bake in preheated oven for 35 minutes. Remove foil, stir gently and cool to room temperature. Spoon the apple mixture into a pastry lined, 9-inch deep-dish pie plate. Roll out remaining pastry and drape over the filling. Trim to a 3/4 inch overhang.Turn under and crimp. Brush with egg mixture. Cut two vents in top crust. Cover edges with strips of aluminum foil to prevent burning. Bake for 40 - 50 minutes or until crust is golden. Remove foil after 20 minutes. Cool at least 45 minutes before slicing.

© 2000 Ethel G. Hofman