Graduation garden brunch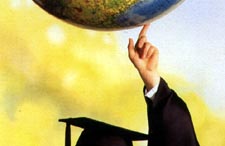 By Ethel G. Hofman
http://www.jewishworldreview.com -- FOR the student, graduation day means glorious freedom and anticipation of an exciting future. For parents, it's pride and joy along with a sigh of relief that the last tuition check has been sent off.
To wish the graduates well and on their way, why not throw a celebration brunch one of the easiest and most comfortable ways to entertain. It may be in the garden, on the deck or indoors with windows and doors open wide to let in the summer sunshine. Decorate with abandon. Coordinate bright disposable cups and plates and flatware. Outdoors, festoon bushes with dozens of balloons and streamers. Or do it in style and rent china, silver and linens and dance under a tent.
Whatever the setting, the table should be sumptuous. And that's merely a matter of clever planning so that cooking is pared to a minimum. One stop shopping at a good supermarket will yield everything you need; baskets brimming with artisan breads and mini-blueberry and corn muffins, fresh fruits and berries piled into a crystal bowl, an assortment of preserves in oversize wine glasses, and gourmet cheeses arranged on grape leaves.

Ready cut vegetables such as carrot and celery sticks, and broccoli florets for the basket of crudites should be bought a day ahead. Serve with two or three storebought dips, flavor boosted with a handful of chopped sun-dried tomatoes or a green herb such as basil. Pull out rarely used dishes and platters and decide what each will be used for. No need to serve alcohol. Iced teas look divine served in big glass pitchers resting in an iced champagne bucket. Dishes to be kept warm, such as the stuffed petite croissants, may be nestled in a chafing dish (rented if need be). For an alfresco-style brunch, small hibachis for guests to cook their own salmon on a skewer are perfect and fun.
Most importantly, hire help. Get out of the kitchen, kick up your heels and celebrate with the best.
Recipes for starred items only.
MENU
Orange and Tomato Juices
Strawberry Iced Tea*
Indian-style Salmon on a Skewer*
Spinach Tagliatelli with Garden Fresh Vegetables*
Petite Croissants stuffed with Herb-spiked Scrambled Eggs*
Mini - Blueberry and Corn Muffins
Assorted Warm breads
Fruit Preserves Basket of Crudites with Three Dips
Peach and Blueberry Trifle*
Raspberry Brownies *
Glorious Basket of Summer Fruits

RECIPES
STRAWBERRY ICED TEA (PAREVE)
SERVES 12

12 strawberries, hulled
3 cups unsweetened apple juice
3/4 cup sugar
3 cups water
12 cups brewed strawberry or apple herbal tea
mint sprigs to garnish
Slice strawberries thinly. In a medium saucepan, pour the apple juice, sugar and water. Bring to simmer over medium high heat, stirring to dissolve the sugar. Remove from heat.
Stir in the tea. Chill. Divide the sliced strawberries between 12 chilled wine glasses. Pour tea mixture over. Garnish each with a mint sprig.
INDIAN STYLE SALMON ON A SKEWER (DAIRY)

SERVES 12
3 pounds salmon fillet, cut in 1 1/2-inch pieces
3 cups plain yogurt
1 serrano chile, seeded and cut in chunks
3 tablespoons grated fresh ginger
3 tablespoons tandoori spice blend
1 tablespoon lemon pepper seasoning
4 yellow or red bell peppers, cut in 1 1/2 inch pieces
24 button mushrooms
4 green bell peppers, cut in 1 1/2 inch pieces
3 limes, cut in quarters
Rinse the salmon and pat dry with paper towels. Place in a shallow glass dish. Place the yogurt, chile, ginger, tandoori spice blend, and lemon pepper seasoning in a processor or blender and process until smooth. Pour over the salmon. Turn to coat each piece completely. Cover and refrigerate 2-3 hours. Thread red pepper, mushrooms, green pepper and salmon onto skewers, repeating twice on each skewer. May be prepared up to this stage and refrigerated overnight. Grill over medium hot coals for 7-8 minutes or until salmon flakes easily with a fork. May also be placed under a preheated broiler, cooking 5 minutes on each side. Garnish with lime wedges.
SPINACH TORTELLINI WITH ROASTED GARDEN VEGETABLES (DAIRY)

SERVES 12
3 pounds good quality fresh or frozen spinach tortellini
1 3/4 cups prepared olive oil vinaigrette
1 package (12 ounce) broccoli florets
4 medium yellow zucchini, sliced 1/2-inch thick
4 medium portobello mushrooms, washed, dried and sliced 1/2-inch thick
1/4 cup olive oil
kosher salt and fresh ground pepper to taste
1 pint red cherry tomatoes, halved
2 cups shredded carrots
1/2 cup finely shredded fresh basil
grated rind of 1 orange
Cook tortellini according to package directions. Drain thoroughly. Place in a large bowl and toss with 1/2 cup of the olive oil vinaigrette. Set aside. Place the broccoli and zucchini in a large bowl and microwave on High for 3 minutes. Transfer to a large broiling pan along with the mushrooms. Spray or brush with olive oil. Sprinkle with salt and pepper. Broil under a preheated broiler until beginning to brown. Add to the tortellini with the cherry tomatoes, carrots, basil and grated orange rind. Stir gently to mix. Correct seasoning. Serve at room temperature.
PETITE CROISSANTS STUFFED WITH HERBED EGGS (DAIRY)


MAKES 12
18 eggs
1 1/2 cups milk
3 rounded tablespoons all-purpose flour
1 stick (4 ounces) unsalted butter
1 cup chopped mixed fresh herbs (eg. parsley, chives and tarragon)
salt and white pepper to taste
12 petite croissants, split and toasted
In a large bowl, whisk eggs, milk, flour, and salt. Set aside. In a large, preferably non-stick skillet, melt butter over medium heat. Pour in egg mixture. When beginning to set, stir from the outside edge to center allowing the uncooked mixture to flow to outer edge of skillet. When almost set, fold in the chopped herbs. Season to taste with salt and pepper.Continue stirring until mixture is creamy. Divide evenly among the 12 croissants, pressing tops lightly. May be served warm or at room temperature.
PEACH AND BLUEBERRY TRIFLE (DAIRY)

SERVES 12
The authentic English trifle uses brandy and sherry. but if desired, apricot juice may substituted.
1 (6 ounce) package vanilla pudding
2 3/4 cups milk
1 cup half and half
4 cups sliced, unpeeled, fresh peaches
3 tablespoons orange juice
2/3 cup peach preserves
2 tablespoons peach brandy or peach juice
18 ladyfingers, separated
1/3 cup sweet sherry
2 cups blueberries
Topping
1 1/2 cups whipping cream
2 tablespoons brown sugar
1/4 cup toasted slivered almonds
Prepare the vanilla pudding according to package directions using the milk and half and half instead of 4 cups milk. Cover and chill. Toss the peaches with orange juice to prevent discoloring. Set aside. In the microwave, warm the peach preserves and brandy, about 1 1/2 minutes. Line a large glass bowl with the ladyfingers. Sprinkle with sherry. Layer the peaches, blueberries and peach preserves in the prepared bowl. Spoon the vanilla pudding over the top to cover. Cover with plastic wrap and chill for at least 4 hours or overnight. Before serving, whip the cream and brown sugar until stiff. Spoon over the trifle and rough up with a fork. Sprinkle with toasted almonds.
RASPBERRY BROWNIES (DAIRY)


MAKES 16 BARS
1 1/4 cups all-purpose flour
1 1/2 cups sugar
1/2 cup unsweetened cocoa powder
1/3 cup butter, melted
1/3 cup evaporated milk
2 eggs
2 tablespoons light corn syrup
1 1/2 tablespoons raspberry syrup
1 cup fresh raspberries
powdered sugar
chocolate raspberry glaze (below)
Preheat oven to 350F. Spray a 9-inch square baking pan with nonstick vegetable spray. Set aside. Combine the flour, sugar, cocoa in a large bowl. Make a well in center. Add the melted butter, evaporated milk, eggs, corn syrup, and raspberry liqueur. Beat with a spoon until thoroughly mixed.
Spread batter into prepared pan. Sprinkle raspberries over batter then cut in with a knife. Bake 40 minutes in preheated oven. Cool in pan. Sprinkle lightly with powdered sugar and cut into bars. Drizzle with chocolate-raspberry glaze. Let stand until glaze is set.
Chocolate raspberry glaze: Stir together 1/2 cup sifted powdered sugar, 1 tablespoon unsweetened cocoa powder, 1 tablespoon raspberry syrup and 1/4 teaspoon vanilla extract. If needed, stir in a few drops water to make a thin, pouring mixture. Use as above.