When Culinary Stars
Meet and Eat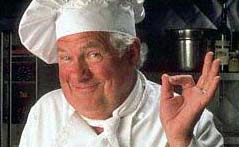 By Ethel G. Hofman
http://www.jewishworldreview.com -- TO BE IN THE COMPANY of the culinary greats is inspiring and energising but most of all heart-warming and yes, even humbling.
This was particularly apparent at the annual conference of the International Association of Culinary Professionals held recently in Providence, Rhode Island. For 2 1/2 days, luminaries like Julia Child, the grand dame of culinary excellence who brought fine French cooking into American home kitchens and Graham Kerr, the Galloping Gourmet of British and American television, moved easily throughout the group, approachable to students and peers while enjoying every minute.
At a Barbecue, hosted by Johnson and Wales University, to raise moneys for the Julia Child Endowment Fund, Mrs. Child held court perched on a chair in front of a giant ice carving. Her blue eyes twinkling, she took the time to talk to students, addressing each by name, with more than just the customary "how are you."
Genuinely interested in young people who are heading towards careers in food, she doled out nuggets of advice and encouragement - and students were thrilled. Overheard from more than one as they rushed to call parents and friends, "awesome...this is the most exciting night of my life !"
The red carpet was rolled out for Graham Kerr, as he arrived for a scheduled one hour seminar - one that lasted more than two hours before he could break away. Relating his life experiences, Kerr's natural wit and charm held his audience spellbound. His advice to the star-struck students "When you find yourself in a job that you think is more than you can do...just strap yourself in...it's amazing how we can all rise to the occasion." And throughout the culinary event of the year, where more than 1400 food experts from 20 countries gathered, you could catch Jacques Pepin, the brilliant French chef and cookbook author, Amanda Hesser food writer for the New York Times, and Shirley Corriher, brilliant food scientist and culinary sleuth.
The IACP convention is specifically planned for professional development and the exchange of information and knowledge. It is the essential forum for the introduction of new products for there are few other events where the movers and shakers of the culinary world gather. This year's conference theme, Food and Art, highlighted the role of visual and creative elements in culinary arts. Scholars-in-Residence were Johanne Killeen and George Germon, chefs/owners of the widely acclaimed Providence restaurant, Al Forno.
How do you cater for such a prestigious group? The criteria was simply prepared dishes containing top quality ingredients, a fitting tribute to culinary professionals who are passionate about food. Here's a delicious sampling of recipes served.
PENNE WITH TOMATO, CREAM AND FIVE CHEESES (DAIRY)
SERVES 6 TO 8 AS AN APPETIZER.

2 cups heavy cream
1 cup chopped tomatoes in heavy puree
1/2 cup grated Pecorina Romano
1/2 cup shredded semisoft cheese such as fontina
4 tablespoons crumbled blue cheese such as Gorgonzola
2 tablespoons ricotta
1/4 pound fresh mozzarella cheese
3/4 teaspoon kosher salt
6 basil leaves
1 pound penne pasta
4 tablespoons unsalted butter
Preheat the oven to 500 degrees. Bring 5 quarts salted water to a boil in a stockpot. In mixing bowl, combine all ingredients except penne and butter. Stir well. Boil penne for 4 minutes, drain and toss with ingredients in mixing bowl. Divide pasta mixture among 8-10 individual (approx. 1 1/2 cup capacity) gratin dishes. Dot with the butter and bake until bubbly and brown on top, 7 to 10 minutes.
VEGETARIAN CORN CHOWDER (DAIRY)
SERVES 4-6


2 tablespoons unsalted butter
1 large onion, thinly sliced
4 cups vegetable stock
2 large boiling potatoes, peeled and diced
2 1/2 cups fresh or frozen corn kernels
1 teaspoon salt
fresh ground pepper
3/4 - 1 cup milk
1/4 cup sour cream
paprika and chopped parsley or chives for garnish
Heat the margarine in a large pot over medium heat. Add the onion and saute for 5 minutes or until it has lost its raw look. Add the stock, potato, corn kernels, salt and pepper. Cover and bring to a boil. Cook 20 minutes or until potatoes are tender. Puree about two-thirds of the soup mixture in a blender or food processor. Return to the pot and stir in 3/4 cup milk and sour cream. If too thick, add a little more milk. Heat through but do not boil. Serve hot sprinkled with paprika and chopped parsley or chives.
CHILI -LIME CHICKEN WINGS (MEAT)
SERVES 4-6 AS APPETIZER


12 whole chicken wings
2 tablespoons vegetable oil
2 teaspoons chopped garlic
3 tablespoons low sodium soy sauce
3 tablespoons fresh lime juice
2 teaspoons chili powder
1 tablespoon sesame oil
toasted sesame seeds or thinly sliced scallions for garnish (optional)
Chop off the chicken wing tips and discard or save for stock. Cut the chicken wings in two at the joint. Heat vegetable oil in a large skillet or wok over medium high heat. Add the garlic and saute 2-3 seconds. Add the chicken wings, tossing until golden brown.Add soy sauce, lime juice and chili powder. Stir well, cover and simmer for 10 minutes. Remove cover, reduce heat to medium. Reduce any liquid in pan until almost evaporated. Stir in sesame oil and cook briefly, stirring until wings are glazed. Remove to serving dish and sprinkle with sesame seeds or sliced scallions.
ENDIVE AND PEAR SALAD WITH TOASTED WALNUTS (PAREVE)
SERVES 4


1/2 cup walnuts
4 white endive, leaves separated
4 cups mixed greens
2 large ripe pears, cored and thinly sliced in wedges
fresh ground black pepper
Vinaigrette:
4 tablespoons wine vinegar
6 tablespoons olive oil
1 teaspoon finely chopped garlic
1 1/2 tablespoons finely chopped shallots
2 tablespoons finely chopped parsley
Preheat oven to 275 degrees. Spread walnuts on a baking sheet and toast for 8-10 minutes before chopping coarsely. (this could be done in a toaster oven). Arrange endive leaves among 4 individual plates in flower-like pattern. Whisk together the vinaigrette ingredients. Add the mixed greens and walnuts. Spoon greens onto plates with endive tips showing. Top with sliced pears.
OATMEAL, CRANBERRY, WHITE CHOCOLATE CHUNK COOKIES (DAIRY)
MAKES APPROXIMATELY 2 1/2 DOZEN


2/3 cup butter
2/3 cup brown sugar
2 large eggs
1 1/2 cups old-fashioned oats
1 1/2 cups all-purpose flour
1 teaspoon baking soda
1 (6 ounce) package dried sweetened cranberries
1/2 teaspoon salt
2/3 cups white chocolate chips
Preheat oven to 375F. With an electric mixer, beat butter and sugar together in a medium mixing bowl until light and fluffy. Add eggs, mixing well Combine oats, flour, baking soda and salt in a separate bowl. Add to butter mixture in several additions, mixing well after each addition. Stir in the cranberries and white chocolate chips, mixing until just combined. Drop by teaspoonfuls onto ungreased cookie sheets. Bake for 10-12 minutes or until golden brown. Cool on a wire rack.