Jewish World Review May 10, 2000/5 Iyar, 5760


Springtime Shabbes Supper --- Sephardic style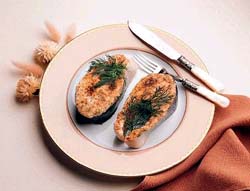 By Ethel G. Hofman
http://www.jewishworldreview.com -- THE PEOPLE OF THE MEDITERRANEAN REGION believe there's nothing more satisfying than a shared good meal. And though here in the United States, weeknight meals may be hastily put together and eaten with an eye on the clock, Shabbat is special and dinner becomes even more meaningful when family and friends sit down to eat and talk together.
Fruits, vegetables, grains and moderate amounts of protein - that's the Mediterranean approach to food. It is endorsed by nutritionists and scientists. It's also the Sephardic way which is more a way of eating than looked on as a diet. The Sephardim lived in Spain and the Mediterranean countries, so that their cuisine has been influenced by geography and climate. They cooked with olive oil, pressed from the harvest of the olive groves, and since ingredients such as capers, olives, fresh herbs and citrus fruits were easily available, Sephardic dishes are packed full of flavor.
Fresh fruits and vegetables, many locally grown, are abundant at this time of year. So, for a change, cook the Sephardic way. Forget the pre-cooked roast chicken and bag of salad greens. Instead, plan dinner around oven-baked salmon infused with tomatoes and fresh basil. Fill your shopping basket with new season arugula, tiny potatoes and baby spinach to create tempting salads and side dishes. Then splurge with fresh, ripe berries and kiwi fruit folded into yogurt enriched with a dollop of sweetened whipped cream.
ARUGULA, ORANGE AND RED ONION SALAD (PAREVE)
SERVES 4

1 (8 ounce) can mandarin orange sections
2 bunches arugula, washed and trimmed
1 tablespoon olive oil
1 tablespoon capers, rinsed
8 wafer thin slices red onion, rings separated
fresh ground pepper
Drain the oranges, reserving 1 tablespoon juice. Drizzle the arugula with the olive oil and the reserved orange juice.Toss to coat and divide among 4 salad plates. Top with the orange sections, capers and red onions, dividing evenly. Sprinkle a little fresh ground pepper over.
OVEN BAKED SALMON WITH ROASTED TOMATO SAUCE (PAREVE)
SERVES 4


4 medium tomatoes, cut in thin wedges
1 large onion, thinly sliced
2 tablespoons olive oil
1 teaspoon grated lemon rind
2 tablespoons shredded basil leaves, divided
1 1/2 teaspoons chopped garlic
1/4 cup oil-cured black olives
4 (4-5 ounces each) salmon steaks
lemon pepper seasoning
Heat oven to 425F. In a shallow baking dish combine the tomatoes, onion, olive oil lemon rind, 1 tablespoon basil and garlic. Bake until vegetables begin to brown, about 20 minutes. Add the olives and salmon steaks, spooning some of the roasted vegetable mixture over. Sprinkle with lemon pepper seasoning. Cover loosely with foil. Reduce heat to 400F. Bake until salmon is cooked through, 15 to 20 minutes. Salmon is cooked when flakes are opaque when separated with a sharp knife. Garnish with remaining shredded basil.
New Potatoes with Hot and Sweet Peppers (pareve)
SERVES 4


1 1/2 pounds small new red potatoes, quartered
2 tablespoons vinaigrette salad dressing
1/4 cup chopped green bell pepper
1/4 teaspoon crushed dried hot red pepper
kosher salt
Cook the potatoes in boiling salted water until tender, about 15 minutes. Drain well. Add the vinaigrette dressing, green bell pepper and crushed hot pepper. Stir gently to combine. Sprinkle with a little kosher salt. Serve hot.
WILTED GREENS WITH WALNUTS (PAREVE)
SERVES 4


1 tablespoon olive oil
1 tablespoon chopped garlic
2 bags (10 ounces each) baby spinach leaves
1 tablespoon balsamic vinegar
salt and fresh ground pepper to taste
2 tablespoons toasted walnuts halves*
In a large saucepan, heat the olive oil over medium heat. Add the garlic and saute 30 seconds. Add the spinach, cover and cook 1-2 minutes, or until begining to wilt. Stir occasionally. Remove from heat, sprinkle with vinegar and season to taste with salt and pepper. Transfer to serving dish and garnish with walnuts.
*To toast walnuts. Spread on a small baking sheet and place under preheated broiler for 1-2 minutes, stirring often, until beginning to brown. Watch carefully as nuts tend to scorch easily.
BERRY AMBROSIA (DAIRY)
SERVES 4


2 cups sliced strawberries
2 kiwi fruit, peeled and cut in wedges
3/4 cup raspberries
3/4 cup low fat vanilla yogurt
1/4 cup whipped cream (or non-dairy topping)
2 tablespoons shredded coconut
In a bowl, mix the yogurt and whipped cream and coconut. Fold in the strawberries, 1/2 cup raspberries and kiwi fruit. Spoon into serving dishes. Garnish with remaining raspberries.

© 2000 Ethel G. Hofman