Jewish World Review March 27, 2000/20 Adar II, 5760


Easy, Comfort,
Main Dish Soups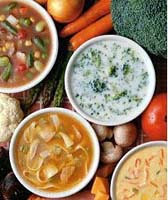 By Ethel G. Hofman
http://www.jewishworldreview.com -- SOUPS ARE one of the most honored of international dishes. In ancient times, these steaming bowls were as much a necessity of life as bread and wine. And though the ingredients may have varied from the kitchen of the poor peasant to that of wealthy landowner, each serving was warm, comforting and filling.
Unlike baking where recipes must be adhered to the letter, soups are the most forgiving and the easiest of dishes to prepare. And with the skyrocketing number of supermarket convenience items such as fresh prepared vegetables all cleaned, chopped and shredded, and combination spices bursting with good taste, preparation is effortless.
Although a little waiting doesn't hurt, do forget the dreamy - and unhealthful - instructions about simmering on the back of the stove and reheating once a day. Soup can simmer on the back of the stove for an hour or so. But any longer and it should be refrigerated. For latecomers, it's easy enough to zap in the microwave. Any leftovers should be refrigerated or frozen in one meal size, tight-lidded container, labelled with name of soup and date. On defrosting, soup may taste a bit flat. No problem...draw out the flavor by adding one of the following: a squeeze of fresh lemon juice, a few chopped tomatoes, a couple tablespoons tomato paste, some minced garlic, a splash of dry wine (not cooking wine), or some chopped fresh herbs such as parsley or basil. For a dairy soup, try a little grated parmesan or a spoonful of sour cream. For a glorious, one-dish meal, just stir in some shredded cooked meats or poultry to a pareve vegetable soup.
As for measurements, a bit more or less makes little difference but any glaring discrepencies are easily fixed. If a vegetable soup is too thin, thicken it with pasta, mashed potatoes, or frozen pureed squash. Oversalting or too much spice is absorbed by adding a few chunks of peeled potato. Even "cream" soups are now within the kosher repertoire. Non-dairy creamers and pureed vegetables provide excellent alternatives to the dairy products included in traditional cream soups.
Soups come in a variety of textures and tastes. Some are delicate and complement the meal to come. Others are hefty, hearty and soothe the spirit on a cold winter's day. The recipes below are lusty soups hearty enough for a main course. Just add salad and warm breads. Or, make ahead for an instant, stick-to-the rib lunch or supper. Soups improve with an overnight rest in the refrigerator.
Recipes may be doubled.
Turkey vegetable soup (meat)
Serves 6 - 8

1 tablespoon vegetable oil
1/4 cup frozen chopped onions
3/4 pound ground turkey
1 leek, trimmed, washed and thinly sliced
1 (16-ounce) package frozen mixed vegetables
6 cups chicken broth
1/4 cup chopped parsley
1/4 cup chopped dill
2 cups shredded baby spinach
salt and pepper to taste
In a large saucepan, heat oil over medium heat. Add the onions and turkey and saute until turkey has lost its pinkness and onions are softened. Add the leek, mixed vegetables, chicken broth, parsley and dill. Bring to a boil. Reduce heat to simmer, cover and cook 15 minutes. Stir in the spinach. Season to taste with salt and pepper.
Approx. nutrients per serving:
Calories - 116
protein - 11g
carbohydrates - 6g
fat - 5g
cholesterol - 34 mg
sodium - 394 mg
Spiced coconut chicken soup (Meat)
Serves 4


1 1/2 cups mushrooms
1/2 medium red onion
1 tablespoon olive oil
3/4 pound boneless chicken breasts, cut in 1/2-inch chunks
1 rounded tablespoon cornstarch
1 1/2 - 2 cups chicken broth
1 cup coconut milk
3 tablespoons lime juice
1 tablespoon grated fresh ginger root
1 1/2 teaspoons curry powder or to taste
1/4 cup finely snipped cilantro
Cut mushrooms in half and onion into three or four pieces. Place in food processor bowl and chop coarsely. In a large saucepan over medium heat, heat the oil. Add the mushroom mixture and saute 5 minutes or until onion is soft. Stir in the cornstarch and chicken and saute 2 minutes longer. Add 1 1/2 cups broth, coconut milk, lime juice, ginger and curry powder. Mix well and bring to a boil. Reduce heat to simmer. If too thick, add some of the remaining broth. Cover and cook 15 minutes longer or until chicken is cooked through. Correct seasonings. Before serving, stir in the cilantro. Serve with warm breads.
Approx, nutrients per serving:
Calories - 313
protein - 21g
carbohydrates - 6g fat - 23g
cholesterol - 54mg
sodium - 231mg
White gazpacho with salmon (Pareve)
Serves 4 to 6


3 (about 6 ounces) thick slices bread, crusts removed
3 tablespoons white vinegar
1/4 cup olive oil
1/4 cup chopped onions
1 tablespoon minced garlic
1/2 cup blanched almonds
1/2 cup non dairy creamer
1 1/2 cups vegetable broth
1 1/2 cups seedless green grapes
8 ounces poached salmon, cut in bite size chunks
Place bread in a small bowl and pour vinegar over. Let stand for 10 minutes, then squeeze out moisture. Set aside. Heat the oil in a small skillet over medium heat. Add the onion and garlic. Cook, stirring often, until onion is soft but not browned, 3-4 minutes. In the food processor, place bread, onion mixture, almonds, non-dairy creamer, 1 cup broth and 3/4 cup grapes. Process until smooth. If needed, add more broth for the consistency of light cream. Before serving, stir in salmon and garnish with remaining grapes.
Approx. nutrients per serving:
Calories - 370
protein - 17g
carbohydrates - 28g
fat - 21g
cholesterol - 22mg
sodium - 442mg
Adafina (Spanish hot pot) meat
Serves 8


6 cups low sodium or regular beef broth
1 tablespoon chopped garlic
1/2 pound cubed beef
4 (about 1/2 pound) chicken drumsticks
1 leek, cut in 2-inch pieces
3 cups shredded cabbage
8 baby carrots
16 frozen tiny onions
1 (15 ounce) can red kidney beans, drained
1 (15 ounce) can lentils
2 tablespoons dry white wine
1/2 cup chopped fresh parsley
In a large soup pot, bring the broth to boil over high heat. Add the garlic, beef, chicken, leek, cabbage, carrots and onions. Reduce heat to simmer, cover and cook for 1 hour, skimming off the froth as it rises to the surface. Add the beans and lentils. Cook 1/2 hour longer or until meats are tender. Remove chicken and dice the meat into the soup. Stir in the wine and parsley and heat through. If desired, season to taste with salt and pepper.
Approx. nutrients per serving:
Calories - 215
protein - 21g
carbohydrates - 26g
fat - 3g
cholesterol - 40mg
sodium - 84mg
Tuna-corn chowder (Dairy)
Serves 4


2 tablespoons butter or margarine
2 tablespoons all purpose flour
3 cups skim milk
2 teaspoons seafood seasoning such as Old Bay or to taste
1 (15 ounce) can cream of corn
1 cup frozen beans and carrot mixture
2 scallions, white and green parts, thinly sliced
1 can (6 ounce ) water-packed tuna, drained and flaked
4 potato latkes, crisped in the oven (optional)
In a large saucepan, melt butter or margarine over medium heat. Stir in the flour and cook for 1 minute. Do not brown. Whisk in the milk, continuing to whisk until mixture is boiling. Stir in the seafood seasoning, cream of corn, frozen beans and carrots and scallions. Bring to simmer and cook for 5 minutes longer or until vegetables are softened. Add the tuna. Cook a minute or two longer. Pour into bowls and insert a potato latke at the side.
Approx. nutrients per serving:
Calories - 267
protein - 20g
carbohydrates - 34g
fat - 6g
cholesterol - 32mg
sodium - 423mg
Vegetarian Pepper Pot (Pareve)
Serves 6 to 8


2 tablespoons vegetable oil
1 medium onion, diced
1 (15 ounce) can Italian style diced tomatoes, undrained
1 bag (16 ounces) frozen sliced mixed bell peppers
4 cups vegetable juice
2 tablespoons kasha
2 teaspoons Italian seasoning or to taste
6 ounces (1/2 package) Italian flavored, veggie ground round
Heat oil in a large pot over medium heat. Add the onion and saute until softened, about 5 minutes. Add the tomatoes, peppers, vegetable juice, kasha and Italian seasoning. Bring to boil. Reduce heat and simmer until kasha is tender, about 5 minutes. Crumble the veggie ground round, add to soup and heat through.
Approx. nutrients per serving:
Calories - 120
protein - 7g
carbohydrates - 14g
fat - 4g
cholesterol - 0mg
sodium - 343 mg

© 2000 Ethel G. Hofman