Walter Williams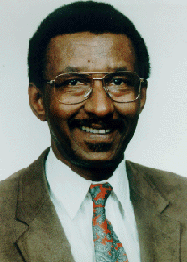 Advancing national decadence
DEMOCRATS WERE RIGHT in their claim that the House Judiciary Committee hearings haven't revealed anything new about Clinton's conduct in office.
What the hearings have revealed is the advanced cancerous stage of American moral decadence. Let's look at it.
Americans watched a day-long questioning of Independent Counsel Kenneth Starr. Any objective viewer would have seen Starr as poised, dignified and responsive to committee members' questions. By contrast, the questioning by Democrat committee members like Maxine Waters, D-Calif.; Sheila Jackson, D-Texas; Barney Frank, D-Mass.; and Zoe Lofgren, D-Calif., were rude and shameful. Moreover, their questions had nothing to do with the subject of the hearings -- the evidence presented and the presi dent's behavior.
Waters

Instead, they brazenly attacked the integrity of Starr. The fact they conducted themselves as agitated infants in need of a diaper change in and of itself is not very significant. What is significant is the confidence they had that our national standards have sunk so low there'd be no outrage and political price to pay for their conduct.

Within hours of Starr's testimony, Sam Dash, his legal advisor, publicly resigned because Starr rejected his advice not to accept Congress' request to testify about his impeachment referral. The legal community, and other Clinton supporters, applauded Dash. If a lawyer in a civil or criminal case called a press conference to announce his resignation, saying his client is guilty, that lawyer would be in clear violation of legal ethics.

Washington's Rules of Professional Ethics says, "A lawyer shall not intentionally prejudice or damage a client during the course of the professional relationship." And, "The lawyer's obligation to preserve the client's confidences and secrets continues after the termination of the lawyer's employment." Dash felt confident that legal ethical standards have sunk so low that he could damage his client with impunity.

Last week, the House Judiciary Committee held hearings featuring convicted perjurers -- people who lied under oath about sexual episodes. Other witnesses were two high-ranking retired military officers who discussed the corrosive influence commander in chief Clinton's behavior was having on military morale and how a commander's integrity and truthfulness are vital to fighting units. The fact that jittery Republicans felt they had to call witnesses to say that the president should be held accountable to laws, and that a commander's integrity and truthfulness is important, is more evidence of our advanced moral decadence. That a president should have honesty and integrity, and not be above the law is something that used to be taken for granted.

Nobody can say the House Judiciary Committee didn't have witness balance. Harvard law professor Alan Dershowitz told the committee that the real perjury problem in America are the police. Dershowitz had confidence that academic standards have declined so much that his colleagues won't criticize his asininity. Former Judge Leon Higginbotham testified in reference to committee witnesses convicted for perjury, "What is the relevance of what they did to a president who got 49 percent of the vote?" Higginbotham added that the president did nothing more serious than lie about driving 5 mph over the speed limit. Higginbotham can still walk proudly among his colleagues.

Have we become a nation where perjury, witness-tampering and obstruction of justice is OK -- like driving 5 mph over the speed limit? Or do we just grant our rulers immunity from the rule of law? I hope both answers are no.

But just in case, I'll point out that a benefit of being 62 years-old is I won't be around when chaos and tyranny overcome the nation and people ask, "Where did it start?" B>