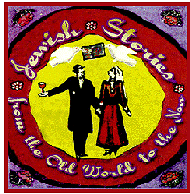 Hollywood goes heimish?
By Jon Kalish
WE MAY BE THE PEOPLE OF THE BOOK but with gems like KCRW's new anthology of Jewish stories, we could become The People Of The Compact Disk.
The Southern California public radio station has just released its second collection of Jewish stories read aloud by some of Hollywood's more prominent Jewish artists. If you are fortunate enough to live in one of the cities with public radio stations that have plans to broadcast "Jewish Stories From the Old World to the New," by all means tune in.
It is unclear whether WNYC in New York City will carry the programs but out on Long Island WPBX in Southampton will be airing them, as will WFHU in Fairfield, Connecticut. The 18-hour series will also be heard in San Francisco, Chicago, Cleveland, Philadelphia, Austin, Madison, St. Paul and Atlanta. The national network for the blind, In Touch, is planning to run an hour a day (repeated twice daily) during the eight days of Chanukah and the remainder in February and March. With the exception of its affiliates in New Orleans and Memphis, the In Touch network uses sub carrier frequencies to broadcast, so a special receiver is needed to pick up its signal.
Original klezmer music by Yale Strom is used to bridge the stories and the series is narrated by Leonard Nimoy, who seems to have found a second acreer in narrating documentaries with a Jewish focus. Nimoy's old Star Trek pal William Shatner is one of the stars who reads for the series. Edward Asner, Elliot Gould, Carl Reiner, Julie Kavner, Hector Elizondo, Jerry Stiller and JoBeth Williams read stories by I.L. Peretz, I.B. Singer, Itzik Manger, Sholom Asch, Bernard Malamud and E. L. Doctorow, among others. Richard Dreyfuss apparently declined to read Sholom Alechim's "Dreyfus in Kassrilevke," which deals with news of the Dreyfus Affair reaching the remote shtel of Kassrilevke. Instead the actor reads Alechim's "Hodel," in which Tevye's daughter gets caught up in the revolutionary passions of the day.
KCRW's manager, Ruth Seymour, is quite possibly the only public radio station manager in America who is fluent in Yiddish. She grew up in a "Workman's Circle home" in the Bronx and studied with Max Weinrich. Seymour's connection to Nimoy goes back quite a ways. Before Nimoy's ears got pointy, he produced radio drama at KPFK, the Pacifica station in Los Angeles where Seymour worked before taking over the reins at KCRW. The feisty station manager has built what was once a junior college radio station with a minimal listenership into a public radio powerhouse.
Excerpts of "Jewish Stories From the Old World to the New" are in RealAudio form on the KCRW web site. The entire 18-hour series is available on compact disk and cassette ($100 plus $5 shipping for the first set and $75 for each additional set) and those who are not inclined to order on-line can print out an order form from the web site and mail in a check. For telephone orders, call 1-800-292-3855.
---
JWR contributor Jon Kalish is a Manhattan-based journalist
who frequently reports for NPR.