http://www.NewsAndOpinion.com | (KRT) Federal agents and prosecutors at the U.S. Postal Inspector's Office outlined Operation Identity Crisis this week, a new national campaign to fight fraudulent use of personal information.
"Identity theft is the fastest-growing crime in the United States and one of our toughest challenges," said Jennifer Broussard, acting chief of the postal inspectors in St. Louis.
Broussard said criminals who opened credit card and other accounts with other people's personal information last year cost businesses about $48 billion, and individuals $5 billion more. She said a national hot line that takes reports of identity theft received 31,000 calls in 2000, got 161,000 last year and expects to handle 210,000 complaints this year.
C.C. Lowery, a retired teacher and coach at Pattonville High School in St. Louis, Mo., was the featured victim of identity theft during the news conference Tuesday afternoon.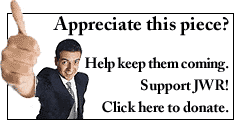 Lowery, 60, of St. Charles, said he didn't know about identity theft until November 2001, when his wife opened a bill in his name from the J.C. Penney store in Fairview Heights, Mo., for $1,180 in woman's lingerie and men's underwear. That's when the trust of his wife, Ann, came in handy.
"She said, `When did you buy lingerie?'" Lowery said. "Good thing she really didn't think I had. The next day I got more bills, and we knew something was going on."
All told, thieves ran up more than $28,000 in Lowery's name for clothing, electronics and other items from more than six stores - plus one rental truck, which police found in a ditch. Authorities said Lowery was one of several victims of a scam they traced to the trash can of a mortgage company, which had not thoroughly shredded the applications of Lowery and other customers.
Lowery said police isolated a suspect's image from a store television monitor and arrested Melvin Perkins at a Costco store when he tried to make more purchases. In May 2002, Perkins pleaded guilty in U.S. District Court of illegal use of Social Security numbers with intent to defraud and was sentenced to 15 months in prison and three years on probation.
Dave Rosen, the assistant U.S. attorney who prosecuted Perkins, said people should be careful with how they use and dispose of paperwork that includes important personal information, such as Social Security numbers and bank account numbers.
"Your trash has value, your mail has value," Rosen said.
Broussard and company offered some suggestions to safeguard personal information: Don't leave mail in home mailboxes overnight or while away.
Deposit outgoing mail in Postal Service drop boxes; don't leave it for pickup at home. "The red flag on your mailbox is a red flag for thieves," Broussard said.
Don't use a Social Security number on a drivers license.
Shred bank statements, canceled checks and any other personal financial information before throwing it into the trash.
Check personal credit reports at least annually.
Broussard said the national campaign will include television advertisements and posters in post offices and federal credit unions.
Appreciate this type of reporting? Why not sign-up for the daily JWR update. It's free. Just click here.
Comment by clicking here.