Jewish World Review September 24, 1998 /4 Tishrei, 5759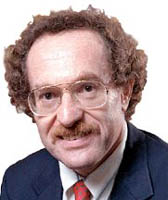 The Dersh: An old pic
The Dersh
takes it off!
By Ami Eden
JOIN THE CLUB if you've noticed something different about Alan "Mr. Chutzpah" Dershowitz during his round-the-clock television commentary on Monica-gate.
The Harvard law professor seems softer, smoother, less prickly than usual. That's because he's shaved his trademark mustache. (Next thing you know, Woody Allen will start wearing contacts.)
In an exclusive message left on a Jewish Exponent voice mail, The Dersh first tried to deny the story.
"Hi, it's Alan Dershowitz," he said. "What makes you think I've shaved my mustache? I have a big, long bushy mustache. There's an impostor who goes on TV saying he's me who doesn't have a mustache. I don't know why anybody would believe him. Everybody knows I have a mustache."
Seconds later, however, he changed his tune.
"Just kidding," the Dersh confessed. "I shaved my mustache off during the summer because my daughter, who is 8 1/2 years old, said she had never seen me without a mustache and wanted to see me without a mustache. My wife didn't notice for two days - she thought I looked younger, but didn't know why, and so I decided to keep it off."
The Dersh said he "couldn't care less" if people didn't recognize him.
"I did get a letter today from some woman saying she was pleased to see that I had had a face lift," he continued. "It was the most inexpensive face lift in the world. It took me two minutes to cut off."
Makes you wonder what would have happened had Dershowitz's daughter said, "Daddy, I've never seen you without an opinion."
---
New JWR contributor Ami Eden is News and Opinion
Editor at the Philadelphia Jewish Exponent.


© 1998, Ami Eden