Jewish World Review June 29, 1999 / 15 Tamuz, 5759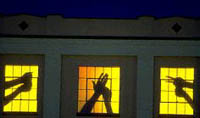 Hearing it their way: Convention brings together Jewish deaf from around the country

By Sid Singer
AS THE LEADER of his youth group, Jason Moore fights the same battles as any kid in his position, trying to get others to become more active. If they resist, he listens to their reasons, but he doesn't hear them; Jason is hearing-impaired. His youth group is Our Way, a group for Jewish deaf.
A Los Angeles native, Moore was in Chicago in this month for the Our Way shabbaton, a four-day convention. He joined 120 hearing-impaired Jews of all ages and backgrounds, who came to share a Jewish experience with other Jewish deaf.

"For many of these kids, it's their first opportunity to meet other Jewish deaf," explained Rabbi Eliezer Lederfiend, Our Way founder and executive director. Aware of how few resources were available to Jewish deaf, Lederfiend started the group back in 1969; but things haven't changed all that much. "Even today, the vast majority of Jewish deaf groups are either senior citizens or adults," he said.
And Lederfiend knows. His two children are deaf, and so are his parents. Accordingly, Our Way provides programming for Jewish deaf of all ages. "We want everyone to be Jewishly involved," he says.
The shabbaton, which received funding from the Jewish United Fund of Metropolitan Chicago, promotes Jewish involvement, with three Shabbat meals and kiddush and Hamotzi being perfomed in Hebrew sign language, for example. Before Shabbat, the group, which in previous years has met almost exclusively on the East Coast, toured the Sears Tower, Navy Pier, and the Shedd Aquarium.
While open to all Jews, Our Way, which has chapters across the country, aligns itself with Orthodoxy movement and is run under the auspices of the National Jewish Council for the Disabled and the National Conference of Synagogue Youth, a division of the Orthodox Union.
"Many [Jewish deaf] are estranged because they don't go to day school, and because of community issues it's difficult [for them] to be involved. This [shabbaton] is a chance for them to experience Shabbat, to meet other deaf Jews," said Libby Chernoff, convention coordinator, whose son, Daniel, 15, is deaf.
But the convention, held at Congregation K.I.N.S. in West Rogers Park, wasn't just about the deaf; it was for the hearing as well. The musaf service in the main sanctuary, for example, was interpreted into sign language.
"Many people have never met a deaf person, let alone a Jewish deaf person," said Chernoff. "By meeting the people they can discover what their needs are." She hopes that more interaction with deaf people may lead congregations to provide sign language interpreters at more prayer services and lectures.

"For these kids this is their only real peer group," said Linda Meyers of Jewish Family and Community Service (JFCS), which provided consultation for the conference. "In most of their Jewish schools they'll be the only deaf kids, and in their deaf groups they'll be the only Jewish kids."

JFCS works in the Chicago community to help deaf children gain access to Jewish community centers, day schools, and religious institutions, Meyers explained. In smaller cities, where the Jewish and deaf populations are low, it can be a real struggle.

"How do you hold a minyan if there are only three [Jewish] deaf people in the town?" she said.

INTEGRATION OR SELF-CONTAINMENT


Aside from providing classes for adults and social events for kids, Our Way has helped integrate more than 150 kids into yeshivas and day schools throughout the country, Lederfiend explained. Batya Jacob, a New Jersey teacher, wrote a handbook for teachers on mainstreaming hearing-impaired children into Judaic classrooms. The issues that arise for students include reading lips in a foreign language (the interpreter often must first translate into English); looking at a Jewish text and an interpreter simultaneously; and alternatives when students can't see the teacher's lips (e.g., if he has a beard).

The manual has been sent out to many Orthodox day schools, and Jacob plans to send it to all Solomon Schechter Schools shortly. Any school or teacher may obtain a copy of the handbook, which includes specific examples of what to do in a classroom.

Jacob explained that within the Jewish deaf community there are two schools of thought: those who want to be fully self-contained, and those who want full integration. "But even the self-contained want to know that the education their children are getting is fully equal," she said.

DEVELOPING LEADERS
Moore, 16, has been involved with Our Way for five years, and now serves as the national president. He encourages his peers to get more involved.

"It gives us a chance to socialize, to meet new people, see old faces, and have neat experiences," he said.

But the shabbaton presents an inherent conflict for Jewish deaf, who often get turned off from the hearing community, said Lederfiend.

"Judaism for deaf kids is different. They get inspired at this convention" then where do they go? At their shul they don't understand the rabbi. They don't know what page [the congregation] is on." Our Way does what it can, trying to get schools and synagogues to be more accommodating.

Still, the convention is a place where kids can be themselves, said Lederfiend.

"Even if they're successful [in school or their synagogue], they're only following everyone else, trying to figure out what's going on; they can't be a leader. Here, they can be a leader."
---
Sid Singer is a staff writer of the JUF News, a monthly published by the Jewish Federation of Metropolitan Chicago. Contact the author or the magazine by either clicking here, or calling (312) 444-2853.





©1999, JUF News