Jewish World Review June 20, 2000 / 17 Sivan, 5760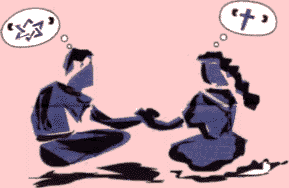 Are Jews causing their co-religionists to intermarry and abandon Judaism?

By Brian Mono
http://www.jewishworldreview.com -- LIKE A LOT OF COMEDY, David Baderís popular 1999 humor book Haikus for Jews, depends on familiar stereotypes to deliver its punchlines.
In one poem, he plays on the notion of Jewish men as coddled mommaís boys: "Testing the warm milk on her wrist, she beams --- nice, but her son is 40."
In another haiku, "SJF seeking eternal soul mate --- must be a professional," he alludes to the view of Jewish women as materialistic.
Though amusing to some, such jokes are troubling to others, who say these stereotypes are a contributing factor in the rising rate of intermarriage.
And while some would wish merely to laugh off the power of stereotypes, a great deal of energy continues to be exerted to track Jewish media images and, to a lesser extent, to measure their impact on what single Jewish men and women think of each other.
In the past few years, as she has traveled and lectured on the subject of Jewish stereotypes, Janice L. Booker, author of The Jewish American Princess and Other Myths: The Many Faces of Self-Hatred, has spoken to many young woman who have complained that their male friends insist they will not marry Jewish women.
"They just accepted this stereotype without applying it in any way individually," she says.

According to the author, people cling to stereotypes because "to categorize is an easy way to go through life without any need to question assumptions."

Making matters even worse, says Booker, is the fact that stereotypes like the Jewish American Princess and the Jewish geek are based on anti-Semitic constructs that were internalized by Jews as they entered the larger society.

"If you can laugh along with what others believe," says Booker, "it gives you entree, and makes you feel part of the general community and more acceptable."

THE GENDER GAP


When the 1971 National Jewish Population Survey found that men were far more likely than women to marry out, it spurred a great deal of discussion about the gap. While a few critics of the study say Jewish women who married out were simply not called because they had non-Jewish last names, Rela Mintz Geffen, a sociology professor at Gratz College, counters that most analysts maintain that the statistics were more or less accurate.

Looking for explanations, she says, one early theory for the gap actually "blamed the victim" by tarring Jewish women with negative stereotypes. An early study of Jewish menís attitudes toward Jewish women labeled it an incest problem, suggesting that Jewish men did not want to "marry their mothers."

Geffen offered another explanation: "Somehow, we convinced our daughters that there is nothing better than a Jewish man, but we didnít convince our sons that there is nothing better than a Jewish woman."

The 1990 National Population Survey found that the gap had decreased almost to the point of gender parity, according to Geffen. By then, the American Jewish Committee had already commissioned a number of surveys touching on the feelings Jewish men and women had about each other, with some analysis of how these opinions influenced dating and marriage patterns.

Geffen worked on one 1984 study that polled 1,200 Jewish college students on 14 campuses about their attitudes on marriage and family. All the students were single; two-thirds were undergraduate students; one-third were in graduate school.

Only 15 percent of the students said they would never date or marry a non-Jew; about 10 percent to 15 percent said they would never date or marry a Jew. This left the majority of respondents in the more indecisive middle range.

"It turned out the issue of stereotypes wasnít a deciding factor facing the great majority. It was just a piece of the puzzle," says Geffen.

Jews still want to get married --- it was simply less of an assumption that the spouse and home would be Jewish, she added.

Another way researchers chose to look at the impact of stereotypes was to compare Jewish couples to their counterparts in other ethnic communities. While the study discovered significant levels of anger between men and women in every community, "the Jews outdid them all," says Geffen.

And as the Gratz professor reported in another AJCommittee study issued in the late 1980s, a study of 1,000 upwardly mobile Jewish career women, the stereotypes were not merely flowing in one direction.

Of the 330 single women interviewed, 99 percent said Jewish men were intellectual, while only 56 percent used the same word to describe non-Jewish men. Geffen quickly notes that researchers virtually never get a 99-percent response to any question.

On the flip side, only 29 percent described Jewish men as "macho," while 78 used the word to describe non-Jewish men.

Overall, the sociologist says, the women described non-Jewish men as more macho, sexy and less self-absorbed (i.e., the kind of guy a woman might want to date), and Jewish men as good fathers and successful professionals (i.e., the kind of guy a woman might want to marry).

The only problem, adds Geffen, is that you tend to marry who you date.

Oddly enough, the sociologist points out, the highest intermarriage rates remain among the least successful --- those with low incomes and, especially, without college educations. This goes against earlier theories that Jews with an education would take a more universal approach to dating.

Because the gender gap on intermarriage has decreased, Geffenís point of inquiry has changed slightly in recent years.

"My real question for the moment is: How does it happen that we are raising our sons and daughters in the same households, and trying to do it in the same manner, and they grow up not liking each other?"

MATCHMAKER, MATCHMAKER ...


Many of the matchmakers and community organizers that work with Jewish singles say the accusations and stereotypes have died down in recent years, but so has the deep commitment to marrying a Jew.

"I think 25 years ago, Jewish men and women who came to me werenít as open to the possibility of intermarriage as they are today," says Joan Hoffman, head of Connections, a Philadelphia matchmaking service.

Jewish singles today "are really looking to find a quality person," she explains. "If the person is a non-Jew, they donít think their mother will scream."

Hoffman says she hasnít heard the word JAP in years.

"The women today have wonderful careers, they are doctors and lawyers Ö guys arenít going to call them JAPs, because they know they work their tails off," she says.

Some Jewish communal workers, such as Hila Reichman, an assistant director at the multicampus Hillel at Temple University, noted that the word JAP has been replaced by other terms like "high maintenance." For the most part, she says the young Jewish students she works with are looking for a quality partner who is intelligent, sensitive, caring and funny.

Richard Lee, who works with unaffiliated Jews through the Collaborative, a local outreach program, says he has not heard the word JAP in a decade.

"I think people desire to be more on the sophisticated side," says Lee. "I donít think JAP is part of their vocabulary."

Talk of the Jewish geek, however, remains prevalent, he said.

"My experience has been that of the people who do attend [Jewish singles events], a lot of the men tended to be on the geeky side," says Jill Gladstein, a 32-year-old Center City resident.

Still, she doesnít believe that this is the general rule.

"I believe the non-geeks are somewhere," says Gladstein, who remains committed to marrying a Jew.

Dan Goldman, a 30-year-old manager, also eschews the singles programs. "You see the same people over and over," he says, which is one reason he prefers to seek out dates at work or through friends.

Goldman offers his own theory on why some Jewish men and women resort to stereotypes to defend not dating other Jews.

Of the two people he knows who use that excuse, he says, "both have low self-esteem and didnít date a lot in general, and used that as an excuse for why they werenít dating."

However, Hoffman, the matchmaker, says that in general todayís single Jews have a lot more self-esteem than in the past.

"They all have more self-esteem, they are well-educated, well-groomed, they carry themselves well and believe they have a lot to offer," she said.

So why are they not marrying Jews? Just like people from other religious groups, she says, they are simply no longer as devout.

This thought is echoed by Liz Minkin, an associate director of the University of Pennsylvania Hillel, who has worked with both college students and young singles. The problem is not a lack of numbers at Jewish singles events, she says, but a lack of connection with the Jewish faith.

"Interfaith dating and marriage comes from a lack of identity," says Minkin. "We need to focus on the root of the problem, not the symptom."

Otherwise, Bader may find himself writing more Jewish haikus along these lines: "Filled with guilt about fly-fishing --- offspring of an interfaith marriage."
---
Brian Mono is a staff writer with the Philadelphia Jewish Exponent. Comment by clicking here.