Jewish World Review May 11, 1999 / 25 Iyar, 5759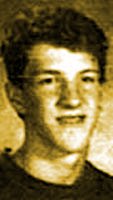 Who is NOT a Jew?


Dylan Klebold was a lot of things, but contrary to media reports, the one thing he was not, was Jewish. Irresponsible reporting has caused anguish to Jews in Colorado and hate-filled messages on the 'net. Will the international media now spread this information with the same zeal they spread their lies?

By Chris Leppek
(JWR) ---- (http://www.jewishworldreview.com) INDICATIONS THAT DYLAN KLEBOLD, one of two teenagers responsible for shootings at Columbine High School, has a Jewish ancestry surfaced in press reports, adding a grim Jewish dimension to an already horrific story.
But Denver's Intermountain Jewish News has learned that according to Halachah, or Jewish law, neither Dylan Klebold, nor his mother Susan Klebold, are Jewish.

Klebold, along with classmate Eric Harris, killed 12 fellow students and one teacher on April 20 before both apparently committed suicide. Both students were juniors at the Littleton high school, apparently members of a shadowy student group known as the Trenchcoat Mafia.
Reports of the Klebold family's Jewish ancestry first appeared on April 23 in the Columbus Dispatch of Columbus, Ohio, where Dylan Klebold's maternal great-grandfather, the late Leo Yassenoff, was a respected Jewish community leader and philanthropist.
Also known as an outstanding football player for the Ohio State Buckeyes in his youth, Yassenoff's influence was so lasting in the Columbus Jewish community that the city's Jewish community center still bears his name.
The elder Yassenoff and his son, Milton Yassenoff, were members of the Columbus Reform congregation, Temple Israel, the Dispatch reported. Milton's daughter, Susan Yassenoff – now Susan Klebold, the mother of Dylan Klebold -- was also active in the temple during her youth. Susan Klebold grew up in the Bexley district of the Columbus metropolitan area.
But The IJN spoke this week with a prominent member of the Columbus Jewish community, a longtime resident and leader of that city who has known members of the Yassenoff family. According to this source, Leo Yassenoff's son Milton was an adopted child.
Another source reports that Milton Yassenoff was a Jewish orphan, legally adopted, who maintained a level of Jewish involvement during his life. Milton Yassenoff married a non-Jewish woman, the former Charlotte Hough of Ohio. Their daughter, Susan, could therefore not be considered halachically Jewish since her mother was not Jewish.
The Yassenoff family in Columbus has apparently followed a general pattern of disaffiliation, says the original source. To this person's knowledge, only one member of the extended family retains any affiliation or activity with the Columbus Jewish community. No others are known to be active.

B'nai Chaim, the Jewish congregation nearest to where the Klebolds reside in Littleton, has apparently never had contact with the family members. This was emphasized both by the congregation's former spiritual leader, Rabbi Judith Beiner, now of Overland Park, Kan., and its current president, Daniel Rothschild, in comments to the IJN.
Signals about the family's religious practice grew even more mixed when it was reported that Dylan Klebold was buried Saturday in a Lutheran funeral. Skip Yassenoff also noted last week that Susan and Thomas Klebold had been members of Littleton's St. Philip Lutheran Church.
The pastor of that church, Rev. Don Marxhausen, has told local reporters that he has been consoling the Klebolds since last week's tragedy.
Telephone calls from the IJN to Marxhausen were not returned.
However, Marxhausen did speak to the New York Times this week, and told its reporters that the Klebold family held a Passover seder in its home this year. Dylan Klebold "asked the traditional four questions," the Times reported.
It remained unclear at press time whether what forms of Judaism or Christianity – or what combination of the two – was practiced in the Klebold home. Except for issuing a statement expressing sorrow at their son's actions last week, the Klebolds have refused all media requests for comments or interviews.

Denver-area Jews, meanwhile, have expressed discomfort at the emphasis being paid to Klebold's alleged Jewishness. Several phone callers to the IJN have complained that the media coverage betrays an anti-Semitic bias.
This was only intensified when the Denver Rocky Mountain News ran an interview with Judy Brown, a neighbor and acquaintance of the Klebolds. In the article by Lynn Bartels, Brown spoke of Susan Klebold's reaction to her son's crimes.
"Brown said her friend is stung that the world perceives her as a rich, Jewish woman who failed as a parent. `She is not at all like that. She doesn't even wear makeup,'" Brown said. "`This is a woman that is totally unaware of the other side of her son. This is now the son she knew."
Regional Jews have asked why such stereotypical remarks were published in Denver's largest daily, and why Klebold's Jewishness has become such a big story, especially since Harris' background has hardly been mentioned in the media.
Rabbi Raymond Zwerin of Denver's Temple Sinai might have been speaking on behalf of many area Jews when he questioned the apparent media fascination with the issue.
"I wouldn't consider him to be Jewish in any way or form," Rabbi Zwerin said of Klebold. "He wasn't raised Jewish. I don't see anyone making a big deal about the fact that Harris was Catholic. Let's not blame religion for this. This has nothing to do with religion or the failure of religion."
As for Klebold's Jewish forebears, the rabbi said simply: "I'm sure the grandfather and great-grandfather are twisting in their graves."
---
Chris Leppek is assistant editor of the Intermountain Jewish News.