Jewish World Review August 12, 2004 / 25 Menachem-Av, 5764

Tony Snow
Swift Boats, Continued
http://www.NewsAndOpinion.com | I had an interesting talk with Jim Hurley, the head of Vietnam Veterans for Kerry. Not surprisingly, he disparaged Swift Boat Veterans for Truth, whom he called "Swift Boat Veterans for Bush," and urged one and all to look at the military records reproduced on the Kerry for President website.

The most interesting part of the talk concerned the latest account of John Kerry's whereabouts on Christmas Day, 1968. Kerry's account of this list has shifted and changed constantly over the last 35 years. Some versions have him spending the day in Cambodia, dropping off spies. Others have him in a barracks, 55 miles from the Cambodian border, scribbling entries into his diary. Hurley offered a hybrid today, saying Kerry was ordered onto the water Christmas day, made his way to the Cambodian border, endured three separate engagements with the enemy, and returned home. I count at least six distinct versions of Kerry's whereabouts on that day, including this one, released Wednesday by Michael Meehan of the Kerry campaign:

"During John Kerry's service in Vietnam, many times he was on or near the Cambodian border and on one occasion crossed into Cambodia at the request of members of a special operations group operating out of Ha Tien.

"On December 24, 1968 Lieutenant John Kerry and his crew were on patrol in the watery borders between Vietnam and Cambodia deep in enemy territory. In the early afternoon, Kerry's boat, PCF-44, was at Sa Dec and then headed north to the Cambodian border. There, Kerry and his crew along with two other boats were ambushed, taking fire from both sides of the river, and after the firefight were fired upon again. Later that evening during their night patrol they came under friendly fire.

"It is an acknowledged fact that Swift Boat crews regularly operated along the Cambodian border from Ha Tien on the Gulf of Thailand to the rivers of the Mekong south and west of Saigon. Boats often received fire from enemy taking sanctuary across the border. Kerry's was not the only United States riverboat to respond and inadvertently or responsibly across the border. In fact, it was this reality that lead President Nixon to later invade Cambodia itself in 1970."

Curiouser and curiouser. Stay tuned.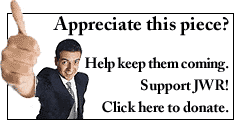 Every weekday JewishWorldReview.com publishes what many in Washington and in the media consider "must reading." Sign up for the daily JWR update. It's free. Just click here.

Comment on JWR contributor, and syndicated talk show host, Tony Snow's column by clicking here.

© 2004, Fox News Channel