Jewish World Review May 18, 2001 / 25 Iyar, 5761

Michelle Malkin

Home-schooling under siege

http://www.jewishworldreview.com -- THERE'S nothing like stiff competition to bring out the worst in government. Nowhere does this prove more true than in the battle between home-schooling parents and public school bureaucrats.

In Maryland, local prosecutors are moving forward with a little-noticed case against a dedicated mother. Mary Simmons faces criminal charges for refusing to let government officials dictate how, what, and where her child is taught. Ms. Simmons is scheduled to go on trial May 25. Her fate should be of concern not only to home-schoolers nationwide, but also to anyone alarmed by the steady erosion of religious liberty and parental rights.

You might think that parents choose their own home-school materials freely. But in New York, Florida, California, and most other states, home-schoolers must often answer to incompetent and hostile government educators. Meddlesome regulations force parents to file public notices of intent to home-school, regular portfolios of their children's work and educational materials, and test results. Some even require annual home visits, despite a 1999 Massachusetts ruling that such mandatory inspections violated "the basic constitutional right of parents to direct the education of their children."

Ms. Simmons and her husband John Stafford wanted to direct the education of their youngest child, 6-year-old Mary Sharon, in their Laurel, Md., home using a nationally respected Catholic curriculum. Ms. Simmons chose the "Our Lady of the Rosary" School, a non-profit group based in Kentucky, which offers a rigorous course package from pre-kindergarten through high school. I called the school and immediately received a detailed, 22-page course outline that puts most public school lesson plans to shame. Along with basics such as phonics, reading, math, English, spelling, science, social studies, and penmanship, students receive thorough instruction in the Catholic faith.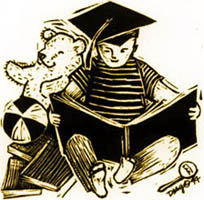 The religious teachings include studies of the saints and the sacraments, the means of grace, the works of G.K Chesterton and T.S. Eliot, and lessons in making sacred altar linens and sewing stoles and chalice veils. There's Latin, of course, with elective readings in Cicero and other church documents. Even non-Catholic parents will find this a vast improvement over the condoms, eco-propaganda, music videos, and moral relativism that the public schools peddle to their children.
But the Howard County, Md., school system decided that Ms. Simmons' educational choices for her daughter weren't good enough. Maryland's bylaws require that home-schoolers either submit portfolios to the local schools for approval or teach their children under the supervision of a state-sanctioned institution or church-related school. The "Our Lady of the Rosary" school is not among the Protestant church-affiliated schools rubber-stamped by the state to sponsor home-schoolers.
After Ms. Simmons resisted government review of her unapproved lesson plan and told school officials her daughter's curriculum was "none of their business," the county slapped her with 72 counts of criminal truancy.
Attorney Scott Somerville of the Virginia-based Home School Legal Defense Association, which is defending Ms. Simmons, told me this week that the case smacks clearly of anti-parent, anti-Catholic bias: "Maryland is saying that these parents are not legitimate supervisors of their child's education. But if they were Protestant or secular, there would be no problem." Ms. Simmons' husband, retired administrative law judge John Stafford, agrees: "This is selective prosecution. We're just trying to do things God's way. They literally banged on our door, said we were not good enough teachers, even though we are providing instruction at home seven days a week, 24 hours a day, 365 days a year."
Home-schooling parents nationwide have faced similar charges, but their ranks continue to grow. An estimated 1.2 million children now call mom and dad their controlling educational authorities. Their defiant success - in academic competition, on national tests, and in college -- poses a mounting threat to the public education monopoly. So what do the fad-prone, money-hungry, social engineering "experts" in the public schools do to compete? They desperately threaten to put dissenting parents behind bars to mask the government's massive failure. Some lesson.

JWR contributor Michelle Malkin can be reached by clicking here.
© 2001, Creators Syndicate