Jewish World Review Nov. 6, 2003 / 11 Mar-Cheshvan, 5764

Michael Ledeen
Regional Struggle: Fighting narrow vision in Iraq

http://www.NewsAndOpinion.com | Virtually all of the serious reporters in Iraq — and there are several — have noticed that both our political and military leaders there have no clear picture of the enemy. Some think we're fighting a Baathist underground, with a handful of foreign terrorists tossed in for leavening. Some of our guys even give numbers, saying the foreigners are somewhere between five and ten percent. Others, above all those on the Syrian and Iranian borders, speak of a massive flow of killers into Iraq.
This confusion derives from several causes. First and foremost is the disarray of the intelligence community, produced over more than a quarter-century of politicization, mounting restrictions from Congress, a surfeit of lawyers, and America's own cultural shortcomings (we don't study history, geography, or foreign languages). These critical weaknesses cannot be cured in a couple of years. It will take at least a generation to fix, even with the best leadership.
As I have repeated to the point of monotony, we are particularly weak on Iran, and have been since the late 1970s. At the time of Khomeini's seizure of power, there was no full-time Farsi-speaking Iran expert on the crisis team at CIA. A few years later, when Oliver North and Robert McFarlane went to Tehran, they had to drag a man out of retirement to serve as interpreter. And even a year or two ago the agency was still claiming that Sunnis and Shiites don't work together, and denying that there was any link between Tehran and Osama bin Laden. By now we are reduced to begging for information on the numerous al Qaeda terrorists in Iran.
Second is the interplay between policy and intelligence. Over the years, the intelligence people have learned not to bring forward information that policymakers do not want to hear. At the moment, the top policy people do not want to take on another terror master, whether in Damascus, Tehran, Tripoli, or Jeddah. So the intel guys oblige by not looking very hard at the remaining state sponsors of the terror network. It's clear that the (domestic, electoral) political imperative is now paramount, and our leaders want to "manage" Iraq until the president is reelected. Then they'll see.
Third, and one of the consequences of these factors, is the failure to see what has happened to the terror network and its sponsors. The destruction of the Taliban and the shattering of al Qaeda sent a shockwave through the Middle East, and the impending liberation of Iraq was only a matter of time. The terror masters and their gangs of killers did the rational thing: They planned for the next battlefield, and we gave them every opportunity, 14 or 15 long months. During that time they devised the strategy we see in Iraq: a terror war, modeled on their successful campaign against us in Lebanon. This required coordination, both between the tyrannical regimes that sponsor terror, and the various terrorist organizations. That was accomplished in two phases, first in the run-up to the Iraq campaign, and then inside Iraq itself once we had liberated the country from Saddam.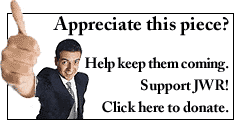 The regime worked out a battle plan, including the "disappearance" of Saddam along the same lines as Osama. And then the terrorists designed joint operations. It makes no sense, nowadays, to try to distinguish one group from another, because they are all working together. Osama and Hezbollah's operational chieftain, Imad Mughniyah, have met several times, and Mughniyah is now working closely with Osama's deputy, al-Zawahiri. The two met very recently in Iran to coordinate activities in Iraq. They have the full panoply of terrorists at their disposal, from Baathist survivors to the foot soldiers of Ansar al-Islam, Islamic Jihad, Hezbollah, al Qaeda, and all the rest.
Instead of talking about separate organizations, we would do better to think of the terrorists as a galaxy, with the various comets, stars, and planets revolving around the tyrannical terror masters, themselves linked by a sort of common gravitational field.
Thus the problem that baffles our experts — Who's the enemy here? — is answered by President Bush's original insight into the nature of the war against terrorism. We are at war with a series of regimes and thousands of terrorists, and they are all after us in Iraq.
Even keen-eyed observers on the ground are scratching their heads to decipher the clear evidence. In Shiite Basra, for example, the successors of the Ayatollah Hakim (assassinated in Baghdad when he betrayed the Iranian mullahs by embracing the traditional Shiite doctrine of separation of mosque and state) and their Iranian-trained militia, the Badr Brigades (inconveniently invited to Iraq by our own State Department) are suddenly flourishing, almost to the point of opulence. They have purchased several choice properties, they are living opulently, and they are signing up followers at a great rate. Where does the money come from? Have they learned a lesson from the death of their leader and now follow orders from Tehran? Or have they found some other way to finance themselves? The most likely explanation is the obvious ones: They are working with the people who created them in the first place.
Whatever the explanation for this and other similar phenomena (Syrian "businessmen" suddenly moving into new neighborhoods in Baghdad, for example), we had better get the context right: We are involved in a regional struggle, not just a national conflict. This is not a civil war, it is part of the broad war against the terror masters, and it cannot be won if we limit our vision and our action to Iraq. The remaining terror masters cannot and will not permit us to create a stable, peaceful, and democratic Iraq, because that would threaten their own survival.
If we persist in narrowing our vision and our actions to Iraq, the attacks will get more lethal, killing larger numbers of Americans. And they will not be limited to Iraq. Significant numbers of terrorists have been rounded up of late, from the Middle East to Europe and inside this country. They are coming after us, just as we should have expected, and there is a limit to how long we can forestall catastrophes by playing defense.
Faster, please.
Like this writer's work? Why not sign-up for the daily JWR update. It's free. Just click here.

JWR contributor Michael Ledeen is a fellow at the American Enterprise Institute and author of, most recently, ""The War Against the Terror Masters," Comment by clicking here.

11/04/03: Unpunished Failure: What are we waiting for?
10/21/03: Curses: Diamonds and Naples
10/15/03: Into the Quagmire: Important days ahead for Iran
09/18/03: The Ayatollahs' bomb: An invulnerability strategy
09/12/03: You can't make peace until the war is won
09/11/03: Ron Paul, dishonorable congressman
09/03/03: The Latest Horrors: Still organized
08/29/03: The Peace Trap: Back to the war, please
08/27/03: Angrier and Angrier: Self-deception, big-time
08/25/03: Iraq's terrorists have friends in high places
07/10/03: The Future of Iran: Armitage might want to rethink that "democracy" line
07/02/03: Looking Toward July 9: Independence Day in Iran?
06/24/03: Iran: Back the freedom fighters
06/17/03: The Iranian Revolution, 2003: Regime change in the air
06/05/03: Academic Standards: A Middle East scholar has his way with the truth.
05/28/03: The Moment of Truth? U.S. policy could determine Iran's destiny
05/15/03: Iran's Path: Stopping the mullahs in their tracks
05/13/03: The Nuclear Axis of Evil: The people solution
05/08/03: Inside the Dark: Applebaum's 'Gulag'
05/06/03: Tough Guy: Powell's curious priority list
05/01/03: Desert Shame Redux: Want a free Iran and a free Syria? We have to fight for it
04/25/03: Timing Is Everything: We have a narrow window in Iraq to win Shiite support
04/15/03: Political war can remove terror masters in Syria and Iran
04/07/03: The Others: We have miles to go in eliminating the Axis
04/02/03: French Lies: Take the foreign minister at his word
03/31/03: Why muzzle Saddam's foes?
03/28/03: The post-war terror threat
03/26/03: All Fronts: Military war, political war, psychological war
03/24/03: More Bad News for Daschle: Taking out terror of all nationalities
03/21/03: The Killer Pneu: Virus terror from China
03/13/03: Iran: Nuclear suicide bombers?
03/11/03: A Theory: What if there's method to the Franco-German madness?
03/05/03: The Iranian-Election Revolt: The people speak. The West won't listen
02/19/03: The willful blindness of those who will not see
02/12/03: The Europeans Know More Than They Now Pretend? They choose to dawdle and obstruct
02/03/03: Monumental failure: Nelson Mandela had promise
01/30/03: Elevation: The president knows what it's all about
01/29/03: No Leader: France's Chirac is all about personal interest
01/28/03: The Axis of Evil Redux: Same place, a year later
01/27/03: The Return of the Ayatollah: Washington could afford a little more attention on Iran
01/13/03: How we could lose
01/09/03: Fish are Better than Women: Gauging U.S. priorities
01/07/03: The Shape of Things to Come: The terror masters are now waiting for us
12/20/02: A Prophecy for the New Year --- Faster, please!
12/16/02: Scud Surrender: The "W" factor
12/13/02: The Heart of Darkness: The mullahs make terror possible
12/12/02: The Real War
12/09/02: Tom Friedman's Reformation: His Iran
11/26/02: How Tyrannies Fall: Opportunity time in Iran
11/22/02: The Blind Leading the Blind: The New York Times and the Iranian crisis
11/13/02: The Temperature Rises: We should liberate Iran first --- now
11/05/02: End of the Road: Iran's Mohammed Khatami, on his way out
10/29/02: The Angleton Dialogues, Contnued: What George Tenet doesn't know
10/24/02: The Iranian Comedy Hour: In the U.S., the silence continues
10/16/02: Sniper, Saboteur, or Sleeper? Channeling James Jesus Angleton
10/01/02: The real foe
09/27/02: The Iranian String Quartet: The mullahs get increasingly nervous
09/25/02: The Dubya Doctrine
09/23/02: Intelligence? What intelligence?
09/12/02: America's revenge: To turn tyrannies into democracies
09/10/02: Iran & Afghanistan & Us: We'll have to deal with the mullahcracy, sooner or later
09/04/02: Iran, according to the Times: All the nonsense that's fit to print
08/21/02: Life and death of Abu Nidal tells us a great deal about our enemies
08/08/02: Can You Keep a Secret?: The media silence on Iran
08/06/02: Fantasy Reporting: The latest disinformation from the Washington Post
08/02/02: Propping Up the Terror Masters: Europe's Solana on tour
07/16/02: Bush vs. the Mullahs: Getting on the side of the Iranian freedom fighters
07/12/02: The State Department Goes Mute: It's official: State has no message
07/09/02: History being made, but the West appears clueless
06/05/02: Is George Tenet endangering peace in Israel?
06/03/02: Ridiculous, even for a journalist
05/20/02: So how come nobody's been fired yet?
05/14/02: Open doors for thugs
04/20/02: Iran on the Brink … and the U.S. does nothing
04/16/02: It's the war, stupid … someone remind Colin Powell
04/08/02: Gulled: In the Middle East, Arafat doesn't matter
04/02/02: Faster, Please: The war falters
03/26/02: The Revolution Continues: What's brewing in Iran
03/18/02: Iran simmers still: Where's the press?
03/05/02: We can't lose any more ground in Iran
02/14/02: The Great Iranian Hoax
02/12/02: Unnoticed Bombshell: Key information in a new book
01/31/02: The truth behind the Powell play
01/29/02: My past with "Johnny Jihad's" lawyer
01/21/02: It's Munich, all over again
01/08/02: What's the Holdup?: It's time for the next battles in the war against terrorism
12/11/01: We must be imperious, ruthless, and relentless
12/06/01: Remembering my family friend, Walt Disney
11/28/01: The Barbara Olson Bomb: Understanding the war
11/13/01: How We're Doing: The Angleton Files, IV
11/06/01: A great revolutionary war is coming
10/25/01: How to talk to a terrorist
10/23/01: Creative Reporting: Learning to appreciate press briefings
10/19/01: Not the Emmys: A Beltway award presentation
10/15/01: Rediscovering American character
10/11/01: Somehow, I've missed Arafat's praise of the first stage of our war on terrorism
10/04/01: What do we not know?
09/28/01: Machiavelli On Our War: Some advice for our leaders
09/25/01: No Room for the U.N.: Keeping Annan & co. out of the picture
09/21/01: Creative destruction
09/14/01: Who Killed Barbara Olson?
08/22/01: How Israel will win this war
08/15/01: Bracing for war
08/09/01: More Dithering Democrats
08/02/01: Delirious Dems
07/31/01: Consulting a legendary counterspy about Chandra and Condit, cont'd
07/19/01: Be careful what you wish for
07/17/01: Consulting a legendary counterspy about Chandra and Condit
07/05/01: Let Slobo Go
05/30/01: Anybody out there afraid of the Republicans?
05/09/01: The bad guys to the rescue
05/07/01: Bye-bye, Blumenthal
04/20/01: Handling China
04/11/01: EXAM TIME!
04/05/01: Chinese over-water torture
03/27/01: Fighting AIDS in Africa is a losing proposition
03/14/01: Big Bird, Oscar, and other threats
03/09/01: Time for a good, old-fashioned purge
03/06/01: Powell's great (mis)adventure
02/26/01: The Clinton Sopranos
02/20/01: Unity Schmoonity: Sharon is defying the will of the people
01/30/01: The Rest of the Rich Story
01/22/01: Ashcroft the Jew
01/11/01: A fitting close to the Clinton years
12/26/00: Continuing Clinton's shameful legacy
12/21/00: Clinton's gift for Bush

© 2001, Michael Ledeen