Jewish World Review April 19, 2004 / 29 Nissan, 5764

Michael Ledeen
The Iranian Hand: Regime change in Tehran is necessary for peace in Iraq

http://www.NewsAndOpinion.com | Much is being made about the irony of an Iranian envoy arriving in Iraq to help negotiate a solution to the U.S. standoff with radical Shiite cleric Muqtada al-Sadr. How could we allow a charter member of President Bush's "Axis of Evil" to negotiate a "peace" with the thuggish Sadr and his band of fanatical militants?

Indeed, the irony is as thick as Sadr's own beard. But the fact that Iran holds sway over him and other Shiite militants in Iraq should surprise no one. Despite repeated denials by the State Department, it is an open secret throughout the Middle East that Sadr has been receiving support — if not precise orders — from the mullahs in Iran for some time now.

That the war being waged by Shiite militants throughout Iraq is not just a domestic "insurgency" has been documented by the Italian Military Intelligence Service (Sismi). In a report prepared before the current wave of violence, Sismi predicted "a simultaneous attack by Saddam loyalists" all over the country, along with a series of Shiite revolts.

The Italians knew that these actions were not just part of an Iraqi civil war, nor a response to recent actions taken by the Coalition Provisional Authority against the forces of Sadr. According to Italian intelligence, the actions were used as a pretext by local leaders of the factions tied to an Iran-based ayatollah, Kazem al-Haeri, who was "guided in his political and strategic choices by ultraconservative Iranian ayatollahs in order to unleash a long planned general revolt." The strategic goal of this revolt, says Sismi, was "the establishment of an Islamic government of Khomeinist inspiration." The Italian intelligence agency noted that "the presence of Iranian agents of influence and military instructors has been reported for some time." Our own government will not say as much publicly, but Donald Rumsfeld and Gen. John Abizaid, the commander of U.S. forces in Iraq, have recently spoken of "unhelpful actions" by Iran (and Syria).

The London-based Al-Hayat reported on April 6 that the Iraqi Governing Council was actively discussing "the major Iranian role in the events that took place in the Iraqi Shiite cities," noting that the Iranians were the predominant financiers of Sadr. Another London newspaper, Al Sharq Al-Awsat, quoted a recent Iranian intelligence defector that Iranian infiltration of Iraq started well before Operation Iraqi Freedom. Hundreds of intelligence agents were sent into Iraq through the north. After the fall of Saddam, greater numbers came across the uncontrolled border, masquerading as students, clerics and journalists — and as religious pilgrims to the now-accessible holy cities of Najaf and Karbala.

The editor of the Kuwaiti newspaper Al Seyassah recently wrote a front-page editorial saying that Hezbollah and Hamas were working with Sadr, "backed by the ruling religious fundamentalists in Tehran and the nationalist Baathists in Damascus." No classified information was required for that claim, since Sadr himself has publicly proclaimed that his militia is the fighting arm of both Hezbollah and Hamas. Nonetheless, the State Department still doesn't believe — or won't admit publicly — that there's a connection between Sadr's uprising and Iran's mullahs. Just last week, State's deputy spokesman, Adam Ereli, told reporters that "We've seen reports of Iranian involvement, collusion, provocation, coordination, etc., etc. But I think there's a dearth of hard facts to back these things up."

One wonders what Foggy Bottom's analysts make of Sadr's recent visit to Iran, when he met with Hashemi Rafsanjani (the No. 2 power in the regime), Murtadha Radha'i (head of intelligence for the Revolutionary Guards) and Brig. Gen. Qassim Suleimani (the al-Quds Army commander in charge of Iraqi affairs). And what might they say about the fact that much of Sadr's funding comes straight from Ayatollah al-Haeri, one of the closest allies of the Iranian supreme leader, Ayatollah Ali Khamenei?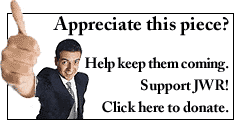 Americans must understand that the war in Iraq is in reality a regional war which unites religious fanatics like the Iranians and radical secularists like the Syrians and Saddam's Iraqi supporters. The terrorists include Shiites like Sadr and murderous Sunnis like al Qaeda leader Abu Musab Zarqawi (who, despite his celebrated contempt for Shiites, has openly proclaimed common cause with Sadr).

Iraq cannot be peaceful and secure so long as Tehran sends its terrorist cadres across the border. Naturally, our troops will engage — and kill — any infiltrators they encounter. But we can be sure that there will be others to take their place. The only way to end Tehran's continual sponsorship of terror is to bring about the demise of the present Iranian regime. And as it happens, we have an excellent opportunity to achieve this objective, without the direct use of military power against Iran. There is a critical mass of pro-democracy citizens there, who would like nothing more than to rid themselves of their oppressors. They need help, but they neither need nor desire to be liberated by force of arms.

Above all, they want to hear our leaders state clearly and repeatedly — as Ronald Reagan did with the "Evil Empire" — that regime change in Iran is the goal of American policy. Thus far, they have heard conflicting statements and mealy-mouthed half truths of the sort presented by Mr. Ereli, along with astonishing proclamations, such as the one by Deputy Secretary of State Richard Armitage, in which he averred that Iran is "a democracy." (One wonders whether he will liken Muqtada al-Sadr to Patrick Henry.)

Mr. Armitage notwithstanding, we can reach the Iranian people by providing support to the several Farsi-language radio and TV stations in this country, all currently scrambling for funds to broadcast a couple of hours a day. We can encourage private foundations and individuals to support the Iranian democracy movement. The current leadership of the AFL-CIO has regrettably abandoned that organization's traditional role of supporting free trade unions inside tyrannical countries, but there are some individual unions that could do it.

This sort of political campaign aimed at toppling the Iranian regime — allied to firm punitive action within Iraq against terrorists of all stripes — will make our task in Iraq manifestly less dangerous. Ultimately, security in Iraq will come in large measure from freedom and reform in Iran (as well as in Syria and Saudi Arabia). This is a truth that we should not hide from, nor be fearful to take on.
Like this writer's work? Why not sign-up for the daily JWR update. It's free. Just click here.

JWR contributor Michael Ledeen is a fellow at the American Enterprise Institute and author of, most recently, ""The War Against the Terror Masters," Comment by clicking here.

04/15/04: Dealing with the Libyans: Is Khaddafi about to cash out?
04/08/04: From Tyranny to Freedom: Democracy in Iraq has precedent
03/18/04: Drifting, Dangerously: We must support freedom
03/02/04: Once Upon a Spymaster, Part II: Returning to a conversation
02/24/04: The Great Iranian Election Fiasco: What actually happened; what we must do
02/20/04: Stalinist Mullahs: The Iranian regime is in open battle with its own people
02/11/04: The Jihadis' Primal Scream: Zarkawi's "Yaarrrhhh!"
02/04/04: Inelegant Lies: Making sense out of mullahs
02/03/04: Potemkin WMDs? Really?
01/27/04: The Jihad on Iraq: Bad analysis and bad policy
01/20/04: Our Moment of Vainglory: A p.c. mess
01/06/04: Aftershocks: The West must read the meter in Bam and Tehran
12/02/03: Managing Iraq: We can't continue this way
11/26/03: Back to the Angleton Files
11/25/03: The Turks, Italians & us — never again
11/06/03: Regional Struggle: Fighting narrow vision in Iraq
11/04/03: Unpunished Failure: What are we waiting for?
10/21/03: Curses: Diamonds and Naples
10/15/03: Into the Quagmire: Important days ahead for Iran
09/18/03: The Ayatollahs' bomb: An invulnerability strategy
09/12/03: You can't make peace until the war is won
09/11/03: Ron Paul, dishonorable congressman
09/03/03: The Latest Horrors: Still organized
08/29/03: The Peace Trap: Back to the war, please
08/27/03: Angrier and Angrier: Self-deception, big-time
08/25/03: Iraq's terrorists have friends in high places
07/10/03: The Future of Iran: Armitage might want to rethink that "democracy" line
07/02/03: Looking Toward July 9: Independence Day in Iran?
06/24/03: Iran: Back the freedom fighters
06/17/03: The Iranian Revolution, 2003: Regime change in the air
06/05/03: Academic Standards: A Middle East scholar has his way with the truth.
05/28/03: The Moment of Truth? U.S. policy could determine Iran's destiny
05/15/03: Iran's Path: Stopping the mullahs in their tracks
05/13/03: The Nuclear Axis of Evil: The people solution
05/08/03: Inside the Dark: Applebaum's 'Gulag'
05/06/03: Tough Guy: Powell's curious priority list
05/01/03: Desert Shame Redux: Want a free Iran and a free Syria? We have to fight for it
04/25/03: Timing Is Everything: We have a narrow window in Iraq to win Shiite support
04/15/03: Political war can remove terror masters in Syria and Iran
04/07/03: The Others: We have miles to go in eliminating the Axis
04/02/03: French Lies: Take the foreign minister at his word
03/31/03: Why muzzle Saddam's foes?
03/28/03: The post-war terror threat
03/26/03: All Fronts: Military war, political war, psychological war
03/24/03: More Bad News for Daschle: Taking out terror of all nationalities
03/21/03: The Killer Pneu: Virus terror from China
03/13/03: Iran: Nuclear suicide bombers?
03/11/03: A Theory: What if there's method to the Franco-German madness?
03/05/03: The Iranian-Election Revolt: The people speak. The West won't listen
02/19/03: The willful blindness of those who will not see
02/12/03: The Europeans Know More Than They Now Pretend? They choose to dawdle and obstruct
02/03/03: Monumental failure: Nelson Mandela had promise
01/30/03: Elevation: The president knows what it's all about
01/29/03: No Leader: France's Chirac is all about personal interest
01/28/03: The Axis of Evil Redux: Same place, a year later
01/27/03: The Return of the Ayatollah: Washington could afford a little more attention on Iran
01/13/03: How we could lose
01/09/03: Fish are Better than Women: Gauging U.S. priorities
01/07/03: The Shape of Things to Come: The terror masters are now waiting for us
12/20/02: A Prophecy for the New Year --- Faster, please!
12/16/02: Scud Surrender: The "W" factor
12/13/02: The Heart of Darkness: The mullahs make terror possible
12/12/02: The Real War
12/09/02: Tom Friedman's Reformation: His Iran
11/26/02: How Tyrannies Fall: Opportunity time in Iran
11/22/02: The Blind Leading the Blind: The New York Times and the Iranian crisis
11/13/02: The Temperature Rises: We should liberate Iran first --- now
11/05/02: End of the Road: Iran's Mohammed Khatami, on his way out
10/29/02: The Angleton Dialogues, Contnued: What George Tenet doesn't know
10/24/02: The Iranian Comedy Hour: In the U.S., the silence continues
10/16/02: Sniper, Saboteur, or Sleeper? Channeling James Jesus Angleton
10/01/02: The real foe
09/27/02: The Iranian String Quartet: The mullahs get increasingly nervous
09/25/02: The Dubya Doctrine
09/23/02: Intelligence? What intelligence?
09/12/02: America's revenge: To turn tyrannies into democracies
09/10/02: Iran & Afghanistan & Us: We'll have to deal with the mullahcracy, sooner or later
09/04/02: Iran, according to the Times: All the nonsense that's fit to print
08/21/02: Life and death of Abu Nidal tells us a great deal about our enemies
08/08/02: Can You Keep a Secret?: The media silence on Iran
08/06/02: Fantasy Reporting: The latest disinformation from the Washington Post
08/02/02: Propping Up the Terror Masters: Europe's Solana on tour
07/16/02: Bush vs. the Mullahs: Getting on the side of the Iranian freedom fighters
07/12/02: The State Department Goes Mute: It's official: State has no message
07/09/02: History being made, but the West appears clueless
06/05/02: Is George Tenet endangering peace in Israel?
06/03/02: Ridiculous, even for a journalist
05/20/02: So how come nobody's been fired yet?
05/14/02: Open doors for thugs
04/20/02: Iran on the Brink … and the U.S. does nothing
04/16/02: It's the war, stupid … someone remind Colin Powell
04/08/02: Gulled: In the Middle East, Arafat doesn't matter
04/02/02: Faster, Please: The war falters
03/26/02: The Revolution Continues: What's brewing in Iran
03/18/02: Iran simmers still: Where's the press?
03/05/02: We can't lose any more ground in Iran
02/14/02: The Great Iranian Hoax
02/12/02: Unnoticed Bombshell: Key information in a new book
01/31/02: The truth behind the Powell play
01/29/02: My past with "Johnny Jihad's" lawyer
01/21/02: It's Munich, all over again
01/08/02: What's the Holdup?: It's time for the next battles in the war against terrorism
12/11/01: We must be imperious, ruthless, and relentless
12/06/01: Remembering my family friend, Walt Disney
11/28/01: The Barbara Olson Bomb: Understanding the war
11/13/01: How We're Doing: The Angleton Files, IV
11/06/01: A great revolutionary war is coming
10/25/01: How to talk to a terrorist
10/23/01: Creative Reporting: Learning to appreciate press briefings
10/19/01: Not the Emmys: A Beltway award presentation
10/15/01: Rediscovering American character
10/11/01: Somehow, I've missed Arafat's praise of the first stage of our war on terrorism
10/04/01: What do we not know?
09/28/01: Machiavelli On Our War: Some advice for our leaders
09/25/01: No Room for the U.N.: Keeping Annan & co. out of the picture
09/21/01: Creative destruction
09/14/01: Who Killed Barbara Olson?
08/22/01: How Israel will win this war
08/15/01: Bracing for war
08/09/01: More Dithering Democrats
08/02/01: Delirious Dems
07/31/01: Consulting a legendary counterspy about Chandra and Condit, cont'd
07/19/01: Be careful what you wish for
07/17/01: Consulting a legendary counterspy about Chandra and Condit
07/05/01: Let Slobo Go
05/30/01: Anybody out there afraid of the Republicans?
05/09/01: The bad guys to the rescue
05/07/01: Bye-bye, Blumenthal
04/20/01: Handling China
04/11/01: EXAM TIME!
04/05/01: Chinese over-water torture
03/27/01: Fighting AIDS in Africa is a losing proposition
03/14/01: Big Bird, Oscar, and other threats
03/09/01: Time for a good, old-fashioned purge
03/06/01: Powell's great (mis)adventure
02/26/01: The Clinton Sopranos
02/20/01: Unity Schmoonity: Sharon is defying the will of the people
01/30/01: The Rest of the Rich Story
01/22/01: Ashcroft the Jew
01/11/01: A fitting close to the Clinton years
12/26/00: Continuing Clinton's shameful legacy
12/21/00: Clinton's gift for Bush

© 2001, Michael Ledeen