Michael Feldberg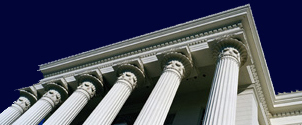 Columns of City Hall, Montgomery, Alabama
Alfred Huger Moses, industrial visionary
http://www.jewishworldreview.com -- FROM the first Sephardic settlers in North America who engaged in shipping and overseas trade, to retailing geniuses like the Straus and Rosenwald families, America's Jewish entrepreneurs have been associated with trade and commerce. Some, however, have dreamed of founding great industrial cities.
One such dreamer was Alfred Huger Moses (1840-1918), the oldest son and one of nine children born in Charleston, SC to Levy and Adeline Moses. In the 18th and early 19th centuries, Charleston had been a major center of American Jewish life and many of its leading retailers and merchants were Jewish. However, Charleston's slave-owning planter aristocracy looked down on those "in trade." A non-Jewish commentator wrote in 1818, "I should think my own father an accomplished knave if he had at any time made money in the dry-goods line in King Street [Charleston's commercial thoroughfare]. They are all Jews and worse than Jews-Yankees, for a Yankee can Jew a Jew directly."
Alfred Moses had higher ambitions than to remain in an atmosphere unfavorable to Jews and commercial enterprise. In 1860, at age twenty, after graduating from the College of Charleston, Alfred moved to Montgomery, Alabama, a city that balanced its traditional cotton economy with commerce and manufacturing. Moses apprenticed in a local law office. When the Civil War erupted in April, 1861 he became the clerk of the Confederate District Court in Montgomery and a member of the Alabama Rebels, a civil defense volunteer militia company.
During the war, Alfred's brothers Mordecai and Henry joined him in Montgomery. When hostilities ended, the three brothers entered the city's heavily depressed real estate market. By the 1870s, the brothers developed one of Montgomery's leading real estate investment firms. In 1875, Mordecai Moses was the first Jew elected mayor of Montgomery and later served as president of the Montgomery Gas and Electric Light Company. In 1887, the brothers financed the Moses Building, Montgomery's first "skyscraper."
By 1880, coal and iron ore discovered in the northern reaches of the state created an economic boom in the railroad junction town of Birmingham, which grew into a great steel manufacturing city. Alfred Moses envisioned building a city that would surpass Birmingham. In 1883, Moses toured some mines near Florence, Alabama. Viewing the rolling hills across the Tennessee River from Florence, Moses thought he found the ideal spot for a new city, which he named Sheffield after the great steel producing city in England.
Moses and a partner purchased the site and more than 30,000 adjacent acres of mineral lands. They incorporated a company, then laid out streets and invited railroads to lay tracks connecting Sheffield to Birmingham, Mobile and Chicago. Moses promised to construct a water system and a railroad link to Florence. An investor announced plans to build a blast furnace that would produce at least 100 tons of pig iron per day. In three days in early 1884, Moses sold 75 acres in the proposed town for $350,000, a profit of more than a quarter of a million dollars over the purchase price of the land.
A few days after the land sale, a number of New York banks failed, including two that were financing the rail link to Sheffield. Construction on the line stopped; panicked owners dumped their newly acquired land in Sheffield and the iron foundry investor backed out. Sheffield property became worthless and Alfred Moses's dream seemed a failure.
Yet, Moses possessed the emotional and financial strength to endure and by the end of 1884 he started building houses and grading streets. By 1885, railroad construction resumed and, in 1886, the first blast furnace was operating. In February of 1887, the Alabama and Tennessee Iron and Coal Company decided to make Sheffield the center of its operations and erected three more furnaces. Moses's endurance had borne fruit. Stock in the Moses-controlled Sheffield Land, Iron and Coal Company rose rapidly.
By 1891, however, the enterprise failed permanently, along with the Moses family bank in Montgomery. Alfred Moses had miscalculated the willingness of railroads to link Sheffield with major cities and had overestimated the region's iron ore supply. When the market price for iron dropped below $12 per ton, less than the cost for Sheffield's foundries to produce and deliver it, the town's furnaces were banked and most of its residents departed. Moses and his family moved to St. Louis and lived there for another thirty years in greatly reduced circumstances, his dreams destroyed by the boom and bust cycle of the Gilded Age.
However, all was not lost for the Moses children. Alfred's daughter Adeline met Carl M. Loeb, a twenty-year old Jewish metals dealer employed by a German firm to work in the St. Louis office of their subsidiary, the American Metal Company. Adeline and Carl married, and Carl went on to found the great investment banking firm of Loeb, Rhoads.
Sheffield's blast furnaces were reopened in 1901 but went bankrupt again in 1907. Eventually, U.S. Steel bought the furnaces, but closed them for good on the eve of the Depression in 1929. Today, Sheffield is a small industrial city no longer producing iron or steel. Alfred Moses and his wife are buried in Montgomery, Alabama, where he had his greatest success, rather than Sheffield, a city he envisioned, built but then lost.
---
Michael Feldberg is the director of the American Jewish Historical Society. Comment on this article by clicking here.